How Kevon Looney's understated impact powers the Warriors
Over their last decade of dominance, the Golden State Warriors have had a particular affinity for third quarters. They routinely come out of the break and erase deficits or blow open leads in the blink of an eye, leaving their opponents dazed and bewildered with shot-making barrages and unrelenting pace.
Those runs developed a familiar cadence over time; they'd typically feature Golden State going small with Draymond Green at center, creating heaps of turnovers with swarming defense, and then promptly turning that defense into offense with full-court runouts and pull-up threes in transition. But in the third quarter of their Game 7 against the Sacramento Kings – the defining frame of what had been a nip-and-tuck series up to that point – the Warriors imposed their will in a different way. This time, it was their opponents who wanted to run wild and the Warriors who wanted to sludge things up and turn the game into a rugged half-court battle, in much the same way that teams like the Cavaliers tried to grind them down in the past.
The Warriors had gone into the half on Sunday trailing by two, but they entered the fourth quarter up double digits after winning the third 35-23, mainly because they grabbed an NBA playoff-record 13 offensive rebounds across those 12 fateful minutes. In the thick of it all, as he had been all series, was Kevon Looney, the 6-foot-9 center who barely gets off the ground and somehow still finds a way to completely control the glass. Looney's sticky paws corralled seven of Golden State's 13 third-quarter offensive boards en route to his third 20-plus-rebound game of the series.
His grunt work not only significantly reduced the amount of time Sacramento's high-powered offense got to spend with the ball, it also clearly started to eat at the legs of a Kings team that had looked like the faster and fresher bunch all series. Trying to guard Steph Curry and the Warriors' motion offense is mentally and physically draining enough as it is. Having to do it two or three times in a row, with no reprieve, is basketball's version of the seventh circle of hell. Curry's 50-point masterclass was clearly the story of Game 7, but he wouldn't have been able to hit that record-setting benchmark without Looney generating all those extra possessions and demoralizing the Kings' defense in the process.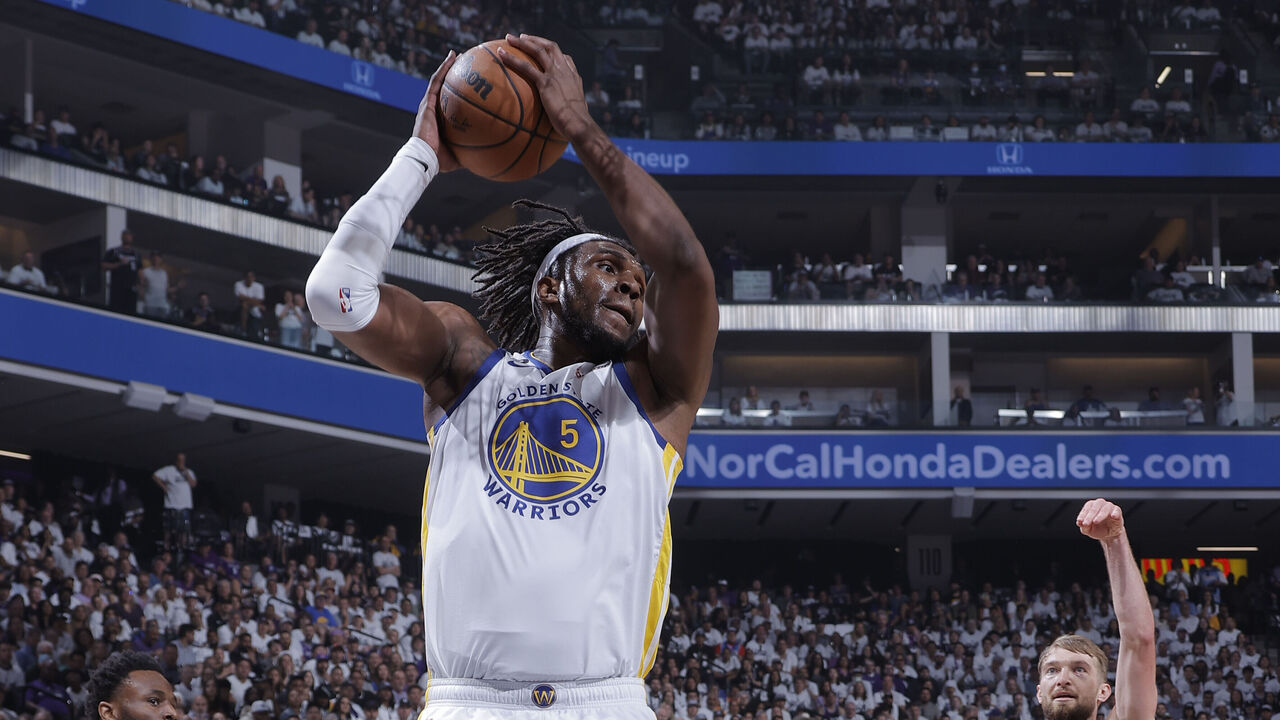 It was the perfect capstone to a series that swung in large part on Looney's workmanlike impact. The 27-year-old obviously isn't the most heralded member of the Warriors' core; he'll never be lumped in with the dynastic trio of Curry, Draymond Green, and Klay Thompson, and on the list of supplemental contributors over the years, he probably still slots in behind Andre Iguodala and even Andrew Wiggins in terms of recognition. But at this point, he's arguably as important as anyone not named Steph, even though he barely ever puts the ball in the hoop. He demonstrated that value against the Kings, not just with his dominance on the boards but with his immovable defense on Domantas Sabonis and his razor-sharp decision-making as a connective passer.
The Warriors rebounded 35.5% of their own missed shots with him on the court, and while Curry deserves some credit for stretching and scrambling the Kings' defense to the point it couldn't get properly matched up on the glass, that wouldn't have mattered if not for his big man's nose for the ball. Consider this: On at-rim attempts specifically, the Warriors recovered 58.6% of their misses with Looney on the floor, compared to 7.1% with him on the bench, per PBP Stats.
Looney was also a bear on the defensive boards, hauling in 9.9 of them a game to go with his 5.3 at the offensive end and ranking fourth among qualified playoff participants in box-outs on a per-minute basis. His 7-foot-3 wingspan helps a lot, but his mastery of this crucial battleground is mostly about instincts, positioning, and strength. It was wild watching him outmuscle and outmaneuver Sabonis, the guy who led the league in rebounding during the regular season, over and over again.
There's intuition and then there's precognition, and some of Looney's rebounds suggest he possesses the latter. In reality, they're the product of rigorous study, the kind that calls Dennis Rodman's genius to mind.
"Being able to know where the ball is going to be at," Looney said of the secret to his success on the glass. "I know where my shooters are shooting from. I know where they tend to miss. I do a lot of studying."
He ultimately helped the Warriors achieve their aim of slowing the Kings down (somewhat). As more and more coaches have begun to realize, it's hard for a team to get out and run when they have to worry about keeping guys back to clean the defensive glass, and that's a big reason the pace of the series dipped from 105.6 possessions per 48 minutes down to 101.2 with Looney out there.
Meanwhile, when Golden State was able to bottle Sacramento in the half court, Looney was instrumental in gumming up the Kings' typically free-flowing attack. The Warriors' defensive scheme called for him to hang way back in the paint and wait for Sabonis to come to him while the rest of their defenders fought through screens and top-locked to take away the Kings' dribble-handoff options. The point was to force Sabonis to be more of a scorer than a facilitator, inviting him to shoot mid-range jumpers or try to post Looney or drive into his chest.
That wouldn't have worked if Looney wasn't able to repeatedly absorb Sabonis' hits without ceding an inch of ground, to stay balanced after those collisions, and to stay down on Sabonis' fakes while shading him toward his weaker right hand.
During the regular season, Sabonis averaged 19.1 points on 66.8% true shooting, with 7.3 assists to just 2.9 turnovers. Across these seven games against the Warriors, he averaged 16.4 points on 51.7% true shooting, with nearly as many turnovers (26) as assists (33).
As a result, the Kings, who produced the most efficient offense in NBA history this year, posted an offensive rating of 101.3 with Looney on court in the series, according to NBA Advanced Stats. (Keep in mind that the worst offense in the league came in at 108.4). With Looney on the bench, that number jumped to 116.7. Golden State performed 20.3 points per 100 possessions better with him on the floor, the biggest on-off impact on the team outside of Curry's ludicrous 39-points-per-100 differential.
Looney isn't a perfect defender; he can struggle to move laterally in space and protect the rim when backpedaling against drivers. Speedy guards like De'Aaron Fox and Malik Monk can exploit him, and they did so at various points throughout the series. You can even argue the Kings left some meat on the bone by continuing to try to ram their offense through Sabonis at the elbow or in the post rather than using those guards to attack Looney more in pick-and-roll. But those limitations exist for almost every big man, and on the whole, Looney took away far more than he gave up at the defensive end. It's hard to pick nits when he helped turn the Kings' offensive fulcrum into an offensive liability.
Sabonis is a three-time All-Star who's likely to be named an All-NBAer this year and may even get some downballot MVP votes. And Kevon Looney, a former bit player whose NBA career nearly ended before it started due to multiple hip surgeries, just spent seven games taking his lunch money and stuffing him in a locker.
When he wasn't snuffing out possessions for the Kings or extending them for the Warriors, Looney was showcasing the underrated playmaking chops he's spent the last few years honing. When Green isn't on the floor, Looney becomes the primary screener in the bulk of Golden State's pick-and-roll, dribble-handoff, and split actions, and throughout the series, he did a damn fine Draymond impression. That is to say, he rapidly diagnosed the Kings' backside help rotations and made flawless short-roll reads that created clean catch-and-shoot threes and, more than anything, cutting layups and dunks. In fact, his 10 assists directly to the rim rank third behind only Nikola Jokic and Draymond himself this postseason, per PBP Stats.
"I feel like I'm a really good passer. I think my teammates trust me in the pocket to make plays," Looney told me back in December. "Draymond is one of the best passing bigs in the league, and I've been learning from him my whole career. So I just do all the things I've been watching him do for a long time."
With Green suspended in Game 3, Looney dished out nine assists. He tacked on 13 more across Games 4 and 5 with Green coming off the bench. When Steve Kerr elected to put Green back in the starting lineup for Game 7 and to stick with the double-big look for the most consequential stretch of the game, Looney helped keep the offense flowing with quick-hitting big-to-big passing. He was able to do that while committing hardly any turnovers, crucial for a team that really struggles with ball security. He finished the series with 30 assists – just three fewer than Sabonis managed – while turning it over only eight times.
Up next for the Warriors are the Los Angeles Lakers, whose frontcourt will present a different type of challenge. Looney will have to keep the relentless Jarred Vanderbilt off the glass, and he'll have to get out on the floor to guard Anthony Davis in a way he didn't have to against Sabonis. Davis will actually step into mid-range jumpers with confidence, and he has the length to finish over Looney in the post or on the drive. Looney will also have to find ways to make an impact on offense against a superior Lakers defense that figures to put two on the ball much less frequently than Sacramento did.
How Looney meets that challenge will have a lot to say about whether the Warriors can win their 20th consecutive Western Conference playoff series and keep their hopes of yet another championship repeat alive.