No stopping AD: What to watch for after Lakers beat Warriors in Game 1
The Los Angeles Lakers drew first blood in their highly anticipated second-round series against defending champions the Golden State Warriors. Here are some Game 1 observations and things to monitor as this Western Conference semifinal series unfolds.
A contrast in styles
The Lakers and Warriors are two very different teams with drastically different play styles based on their respective personnel. That contrast was on full display during Game 1.
Both teams made 43 field goals, but Golden State's jumper-heavy attack did most of its damage from behind the arc, while Los Angeles' bruising offense pounded the Warriors inside. The Dubs outscored the Lakers 63-18 from 3-point territory, while Los Angeles shot 55.2% from 2-point range and got to the rim more often. The Lakers were able to win a 2023 playoff game despite making only six 3-pointers, largely because they paraded to the free-throw line against an opponent that's ill-equipped to do the same.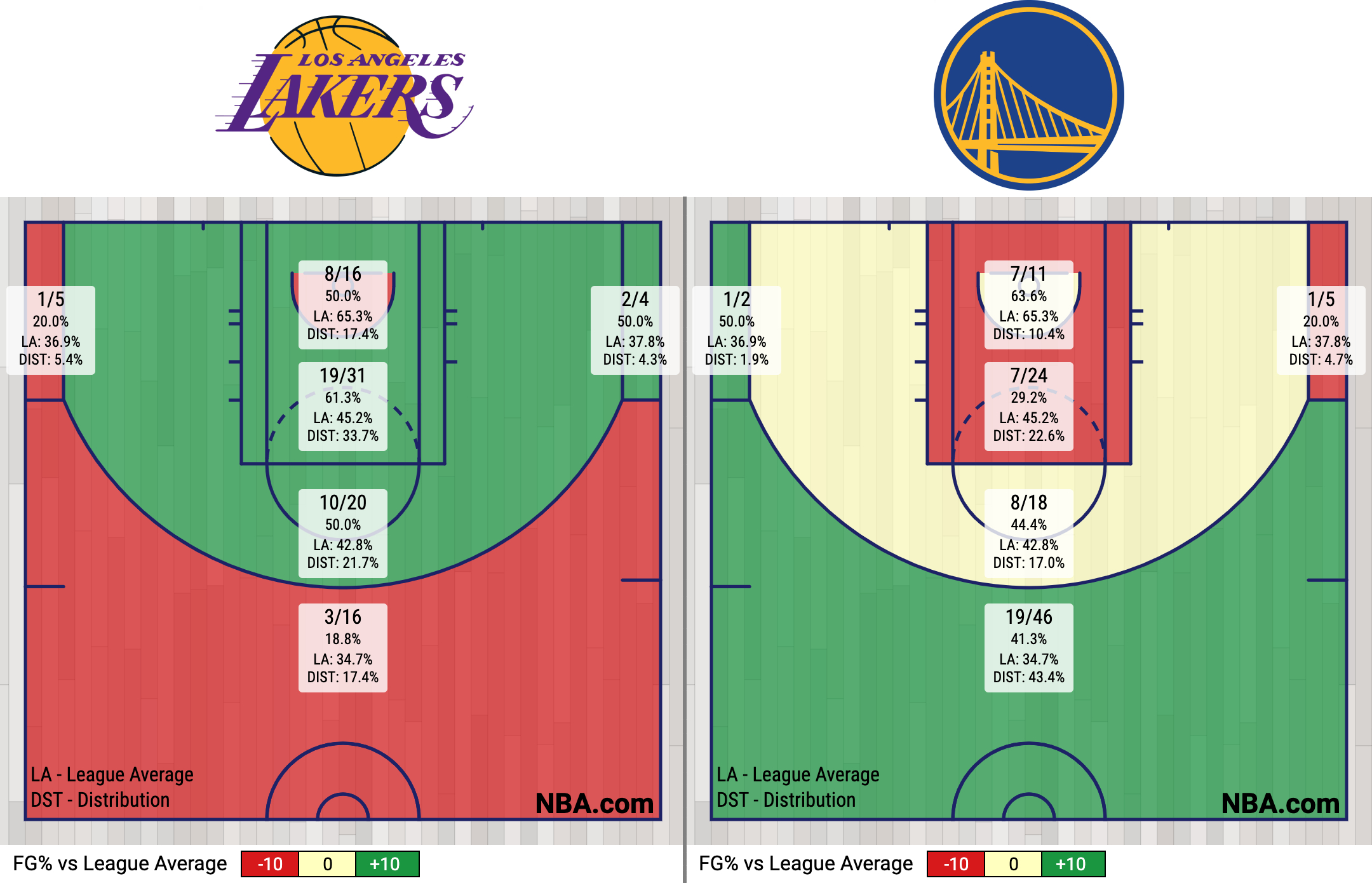 The Lakers outscored the Warriors 25-5 from the charity stripe, accumulating 23 additional free-throw attempts by the end of the night (29-6). Between Anthony Davis, LeBron James, and crafty on-ball creators like Dennis Schroder and Austin Reaves – the latter of whom didn't even attempt a free throw in Game 1 – the Lakers should continue to earn easy points against a Warriors defense that allowed the eighth-highest free-throw attempt rate this season.
On the other end, between Davis' rim-protection and Los Angeles being the league's least foul-prone team when it comes to giving up free throws, the Warriors will likely need to shoot their way past the Lakers from long range.
Obviously, no team is better equipped to do just that, but what hope do the Warriors have if they just lost a game where they outscored Los Angeles by 45 points from deep?
No answer for AD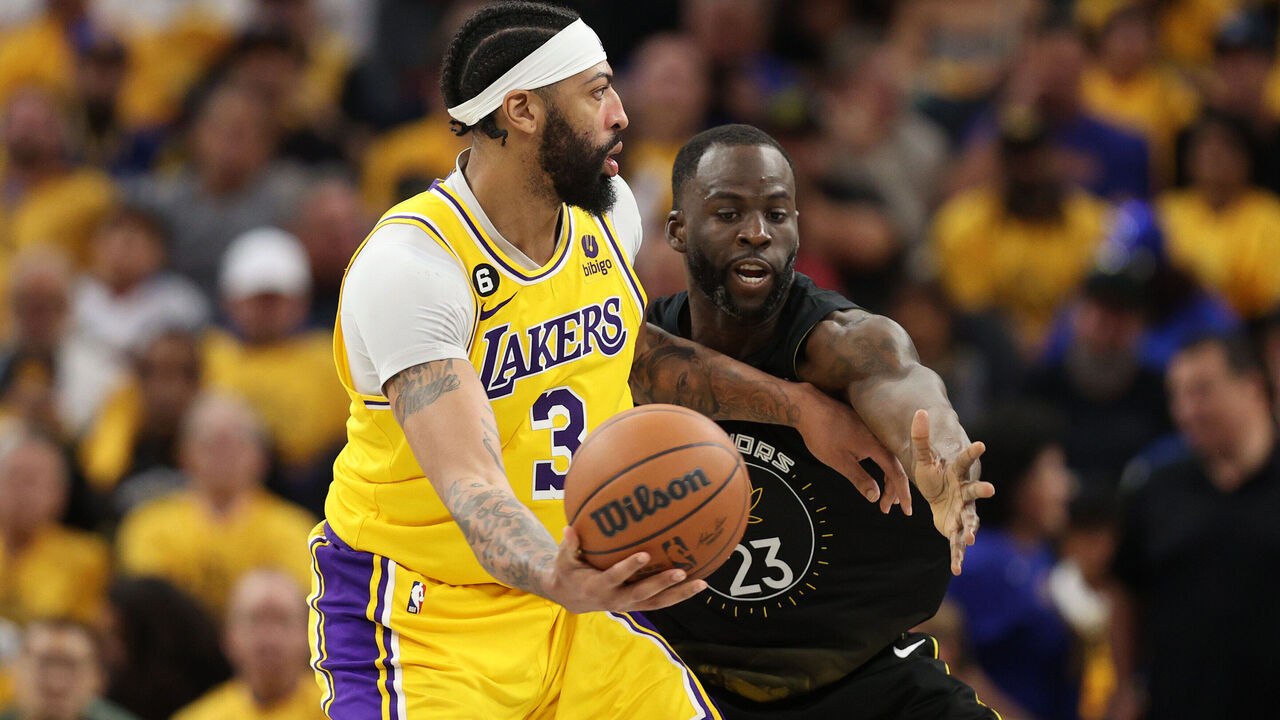 Warriors center Kevon Looney followed up his stellar first-round performance against Sacramento with 10 points, 23 rebounds (including seven offensive boards), and five assists in Game 1 against the Lakers. Draymond Green remains one of the brightest and most effective defensive players on the planet. And yet Davis gave Golden State's frontcourt a rude awakening on Tuesday night in San Francisco. The Warriors aren't playing Domantas Sabonis' Kings anymore.
Looney still brings value to this series with his rebounding, screening, and playmaking, but if he can't come close to containing Davis – who exploded for 30 points, 23 rebounds, five assists, and four blocks – the Warriors face some tough questions. Although Sabonis has more range than Davis, the Warriors' successful strategy of trying to force the Kings center to be a scorer/shooter (while taking away his playmaking power) won't work on Davis. The Lakers big man is a more willing scorer and attacker, and he's not his team's playmaking hub. The Warriors need to actually slow Davis if they want to stymie the Lakers.
Is Green up to the task in ways Looney isn't? If Davis is getting what he wants regardless and the defensive upside isn't there, can the Warriors afford to keep starting two non-shooting bigs? Would Steve Kerr consider stashing Looney on more of a non-scoring threat like Jarred Vanderbilt before benching the big man? Does Vanderbilt's off-ball movement make that a non-starter for Kerr? The answers to those questions, and the domino effects of those answers, will be fascinating to watch.
When Looney is on the court, the Warriors could use him as a screener for Curry more often. With Davis sagging off of Golden State's starting center, Curry should have room to let it fly. Even if the space-devouring Davis plays more of a high drop rather than a deep drop, it's still some form of drop coverage. The one time during Game 1 that Curry dribbled into a 3-point attempt with Looney – guarded by Davis – screening for him, the greatest shooter in basketball history had this much space to walk into: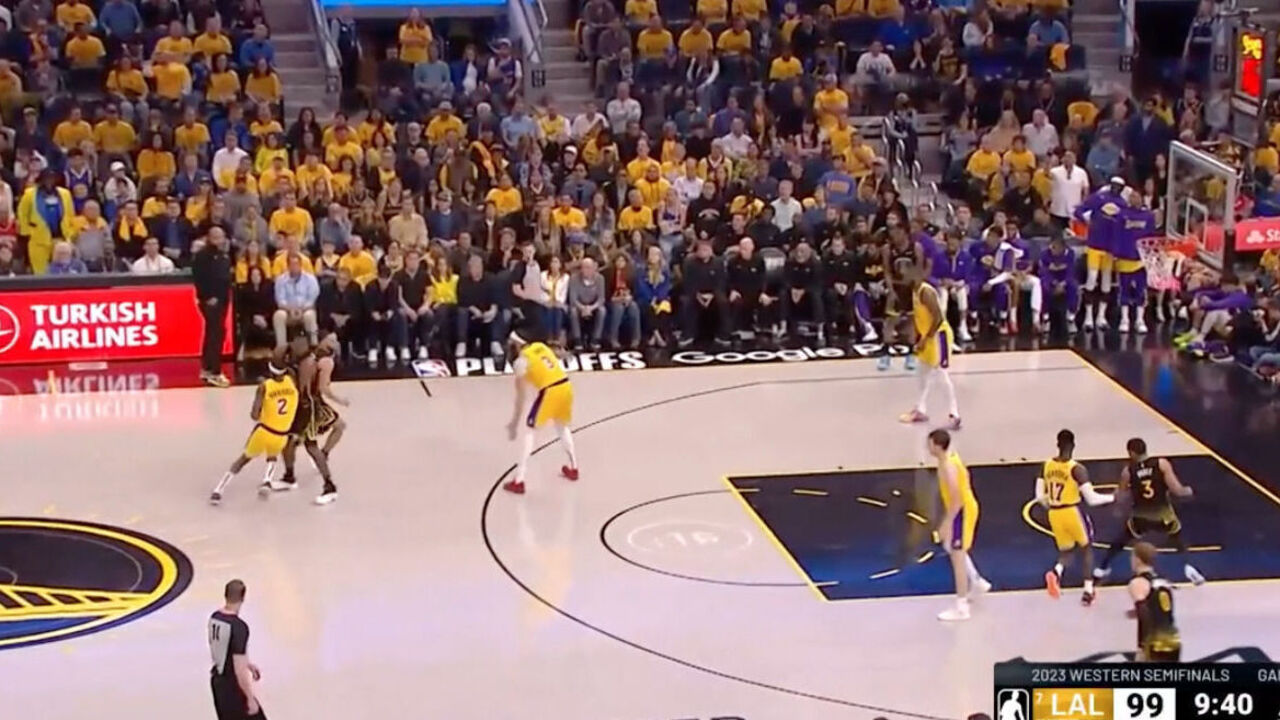 Unsurprisingly, Curry canned a 26-footer.
Forcing Davis to defend higher – and therefore further from the basket he so fearsomely patrols – can't be a bad thing. Whether it's Looney or Green, putting Davis in more screening actions for Curry makes sense.
Time to start Poole?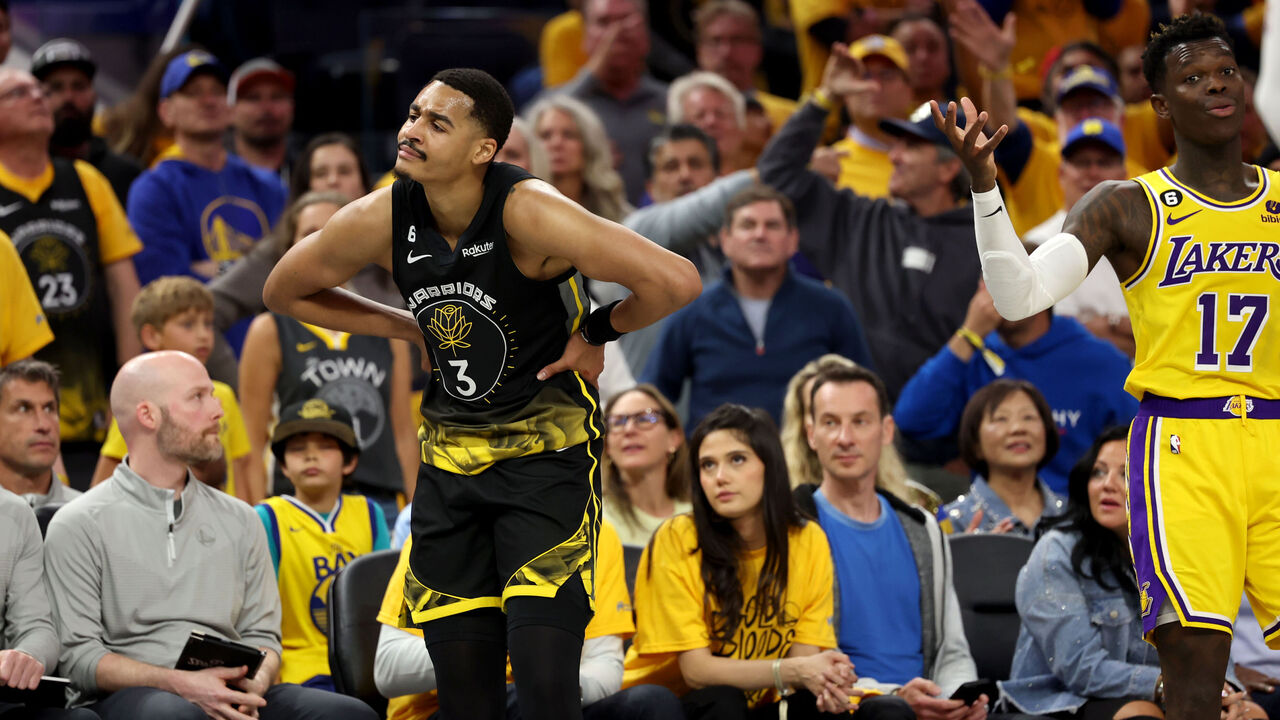 If the Warriors do tinker with their lineup again, the obvious solution is benching Looney for guard Jordan Poole. Golden State's "Poole Party" lineup would put more pressure on the Lakers' guards, force Davis onto Green, and require the Lakers' defense to have to cover more ground.
That comes with big defensive question marks, but again, if Davis is going to feast regardless, the Warriors might as well try their luck with the additional shooting, spacing, and on-ball creation Poole brings. Of course, this would also mean having to stomach more of the ill-advised decisions Poole makes on both ends of the court.
For what it's worth, the Warriors were plus-seven in seven minutes with Curry, Poole, Green, Klay Thompson, and Andrew Wiggins on the court together in Game 1, and minus-five in 13 minutes with Looney on for Poole.
Will Lakers use Vanderbilt more?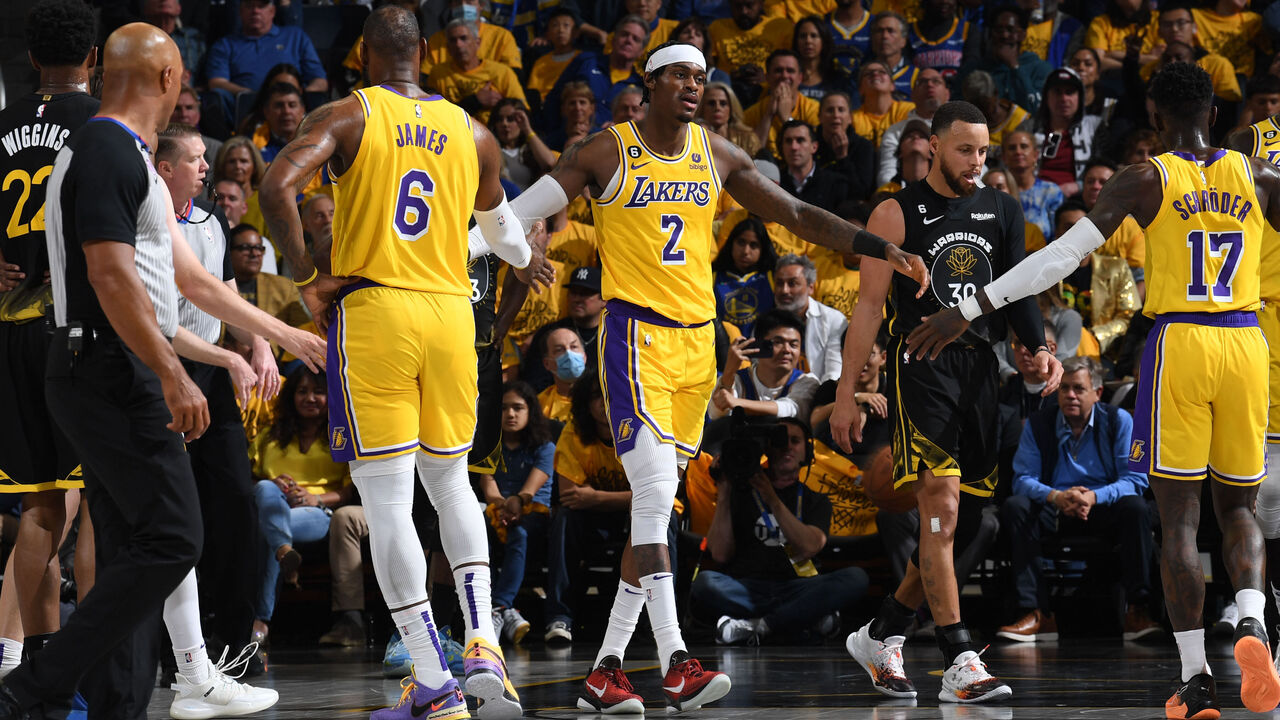 Vanderbilt's arrival in L.A. at the trade deadline helped fuel what became the NBA's second-best post-deadline defense. During the regular season and playoffs thus far, the Lakers have typically started him but not necessarily given him starter's minutes.
Between his Feb. 11 debut for the purple and gold and the end of the regular season, Vanderbilt started 24 of his 26 contests but finished seventh among Lakers players in minutes per game. The same has been true during the postseason: Vanderbilt has started all seven games but ranks seventh on the team in minutes and eighth in fourth-quarter minutes.
Vanderbilt's offensive limitations are the chief reason, as the Lakers often finish games with three offensively capable guards (Reaves, D'Angelo Russell, and Schroder) alongside James and Davis. During the first round, forward Rui Hachimura shot his way into closing lineups. The idea is that the Lakers don't want opposing defenses easily helping off of Vanderbilt during crunch time, which is completely reasonable. But if there was ever a matchup where the defensive trade-off is worthwhile, the Lakers may have found it.
Vanderbilt worked tirelessly and admirably to disrupt Curry throughout Game 1, pressuring him on the ball, chasing him around the Warriors' seemingly endless off-ball screens, and even man-marking Curry nearly the length of the court at times before the reigning Finals MVP so much as touched the ball.
On the other end, Vanderbilt's own off-ball movement and his penchant for attacking the offensive glass forced Curry to expend more energy than usual defending.
It's no wonder that one of the Warriors' most threatening sequences of the game came during a late fourth-quarter stretch with Vanderbilt, who finished with the game's highest plus/minus (plus-8), on the bench. The Lakers survived that onslaught, but they may not get away with it again. Head coach Darvin Ham shouldn't be so quick to yank Vanderbilt in this series.
Kerr's Warriors will find ways to adjust, and Vanderbilt's offensive limitations might cost the Lakers some points (plus Curry may not guard him anymore), but considering what we saw in Game 1, his absence might cost the Lakers more defensively than his presence ever would offensively.
Joseph Casciaro is theScore's senior content producer.