Azerbaijan GP Takeaways: Checo forcing title fight, Max goes at Russell
Following each race weekend this year, theScore's editors offer their takeaways. We continue the 2023 schedule with the Azerbaijan GP.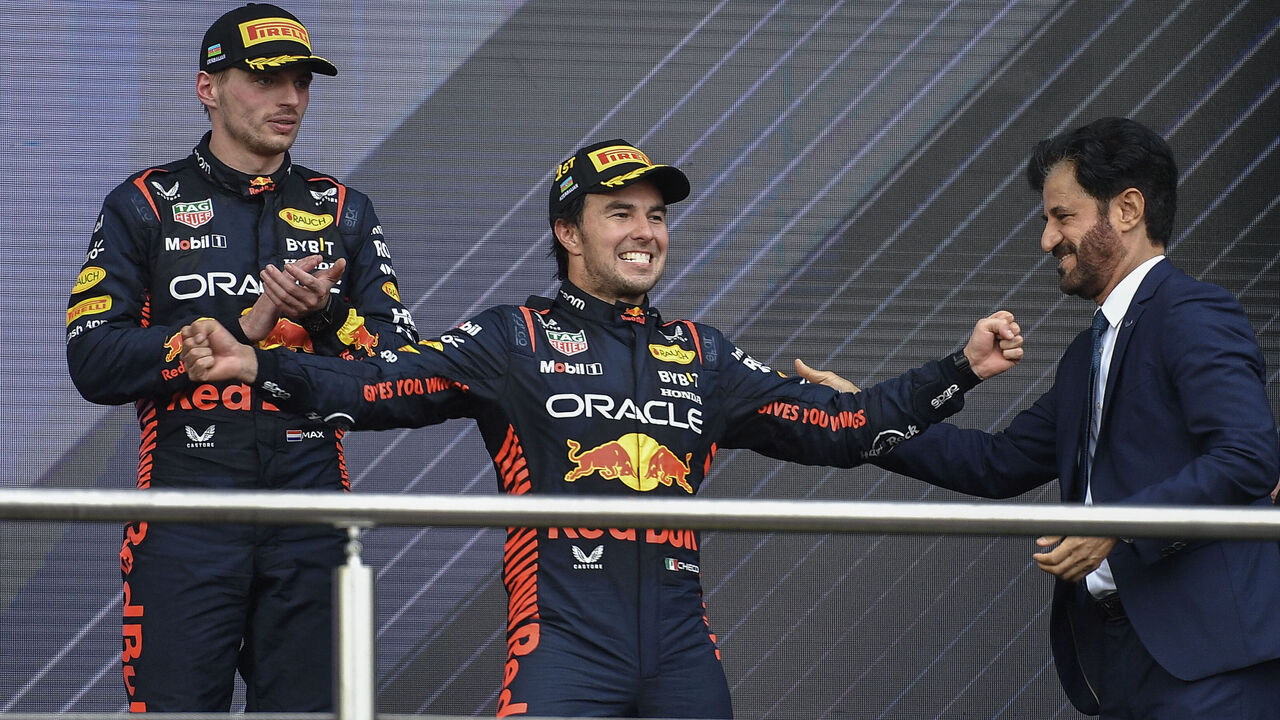 Checo beats Verstappen on merit
A little over a month ago in Saudi Arabia, we said that Max Verstappen should take notice of Sergio Perez as a title rival. Well, if he hasn't already, he definitely should now after Perez beat the reigning champion on merit for the first time in Azerbaijan.
Checo is known for being the master of the street circuit but typically only takes victory when Verstappen finds himself out of contention. While he affirmed the first notion in Baku by winning not only the main race but also the sprint, he refuted the second point as he finally went one-on-one with his teammate on an equal playing field and came out victorious.
The final result shows that the Mexican pilot edged his teammate by just over two seconds. In reality, the victory never really felt that close. Capitalizing on an early on-track incident that saw Verstappen pit from the lead just before a safety car was declared, Perez came out ahead of the Dutchman. From there, he showed off a blistering pace on the hard tire to fend off his main rival. Most impressively, he kept Verstappen out of the DRS range – which has been a huge advantage for the RB19 – for the entire stint.
"I think it was very close between us; we pushed to the maximum today," Perez said Sunday. "We both clipped the walls a few times. We were pushing out there. The way Max pushed me throughout the race was really hard, but we managed to keep him under control."
There's an argument about whether Perez would have won if Red Bull hadn't made a rather uncharacteristic poor call to pit Verstappen a lap prior to a safety car despite seeing Nyck De Vries parked stationary on the circuit. Even Christian Horner came on Verstappen's radio after the race and put down the decision to the luck of the draw. The issue with that is it completely ignores that Perez was closing down on Verstappen even before the incident, with the champion complaining about tire grip as well.
"He's had a sensational weekend. He's always been outstanding on this track," Horner said about Perez. "I don't know what it is about Azerbaijan, but he absolutely excels here, and he got a little lucky with the safety car, but he converted that and pulled the gap, and he had the pace, and he really controlled the race. A phenomenal drive by him all weekend."
While luck factored into the pit-stop equation, it may not have affected the result. Perez incredibly showed the pace to close in on Verstappen and keep him at bay, which isn't something that we've seen before from the 33-year-old. Perez had his teammate's number in Azerbaijan, which now leaves just six points between them in the championship. It's game on at Red Bull. – Daniel Valente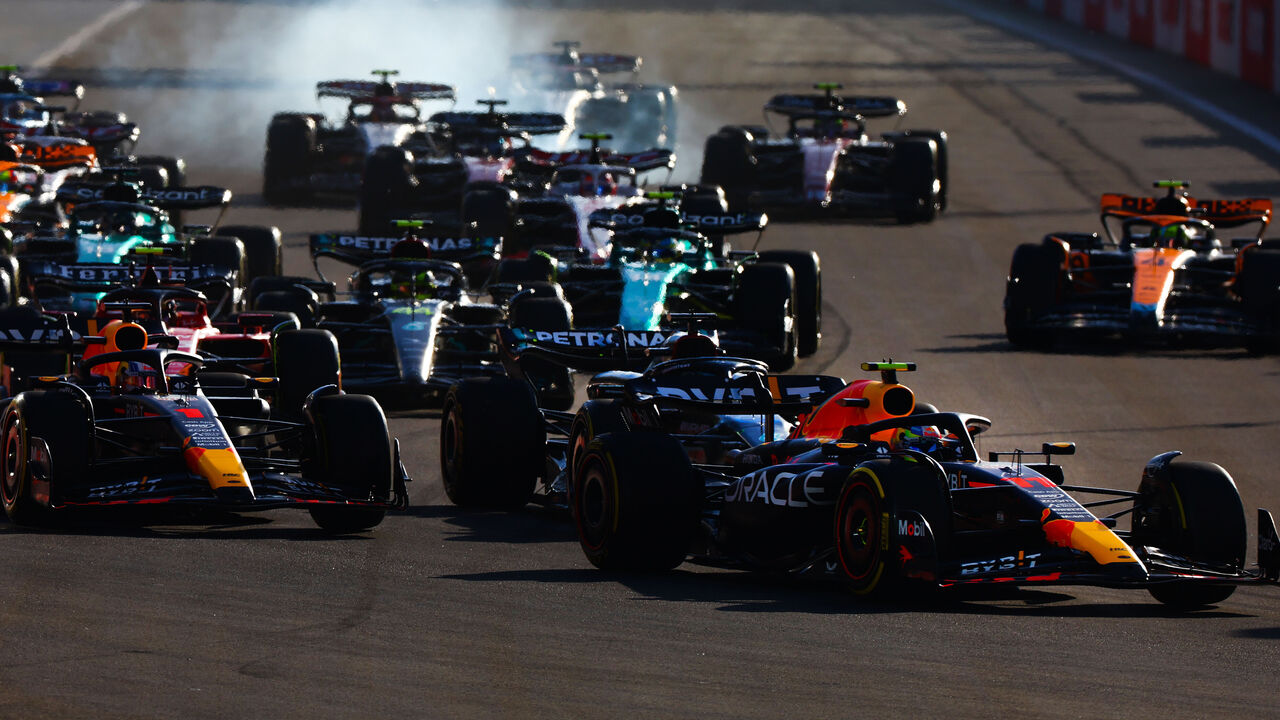 Was the new sprint format a dud?
It's never a good sign when the reigning world champion of your sport calls a rule change meant to bring more excitement to fans "terrible." But that's exactly what Verstappen did when he threw a gigantic bucket of cold water on Formula 1's redesigned sprint format that debuted this weekend.
The worst part for Formula 1's leadership though is that he probably wasn't wrong.
The sprint race format, which initially started in 2021, has always been a conflicted topic among purists – a group that also includes Verstappen – and Formula 1, which has been hungry to retain its emerging fanbase in recent years. However, while the 2023 changes may have taken a small step in the right direction, the new structure still couldn't ditch its obvious flaw: It felt like an awkward and unnecessary fit in the weekend's schedule.
No longer does the sprint race determine the starting grid for Sunday's main race, a common gripe with the previous format that has sensibly been eliminated. Instead, the sprint is now its own separate minigame of sorts, with a Saturday "shootout" qualifying session that carries specific tire allocations determining the grid for the shorter race that occurs shortly after. This leaves the main qualifying session that locks in Sunday's grid for Friday.
Moving qualifying back to being a standalone event for the full race is the right call, but that's about the only positive Formula 1 found with the new model. While it's great that those in attendance get another day of competitive action rather than just two free practice periods, a large portion of viewers likely still miss out on Friday's crucial qualifying stage due to its scheduled time.
Maybe the most ironic detail of the new sprint format is that it likely ends up doing more harm than good to the entertainment value. The biggest issue is that it often spoils and takes away all the intrigue from the main action before it happens. Charles Leclerc took pole for Sunday's race, but after getting quickly overtaken by Perez in the sprint, it became clear that he would have no chance of fighting the Red Bulls over the course of a 51-lap event. Any slim hope about the Ferrari driver's chances was zapped in a span of just over 30 minutes Saturday.
Not only that, but with only one free practice session before parc ferme locks in teams' setups, there's less unpredictability for qualifying as teams will focus more on collecting data for Sunday's race in the limited time available. To no surprise, Leclerc was the fastest in both qualifying events. Verstappen even went as far as saying he got "bored" during Saturday's shootout.
"Scrap the whole thing," Verstappen said after Saturday's sprint. "I think it's just important to go back to what we had and make sure that every team can fight for a win. That's what we have to try and aim for, (rather than) implement this kind of artificial excitement."
Williams driver Alex Albon also wasn't captivated by the sprint and fears it offers little to nothing for the midfield. Albon came home ninth in the shortened race but walked away empty-handed since only the top eight finishers score points.
"Well, this is such a shit format," Albon said on the radio Saturday. "Top eight (are the) top four teams. It's boring."
He later elaborated: "I'm on the fence with the sprint, if I'm honest. It's rewarding the top four teams, and they're already a step ahead of everyone else."
Though these are some of the most vocal complaints, there are other valid ones, such as the sprint's risk-to-reward ratio. Fans want to see brave overtakes, but there's no point risking a collision when running below the bottom eight or considering one measly point separates positions at the top. There's more to lose than gain. Not to mention, budget cap ramifications also loom for costly crashes caused by an extra qualifying period or sprint.
Verstappen and Albon aren't wrong. For a sport built on innovation, Formula 1 was neither any more bold or exciting than usual with its new sprint format. Perhaps if those running the sport want to continue growing its momentum, they should focus more on naturally increasing parity rather than artificially trying to create on-track entertainment. – Valente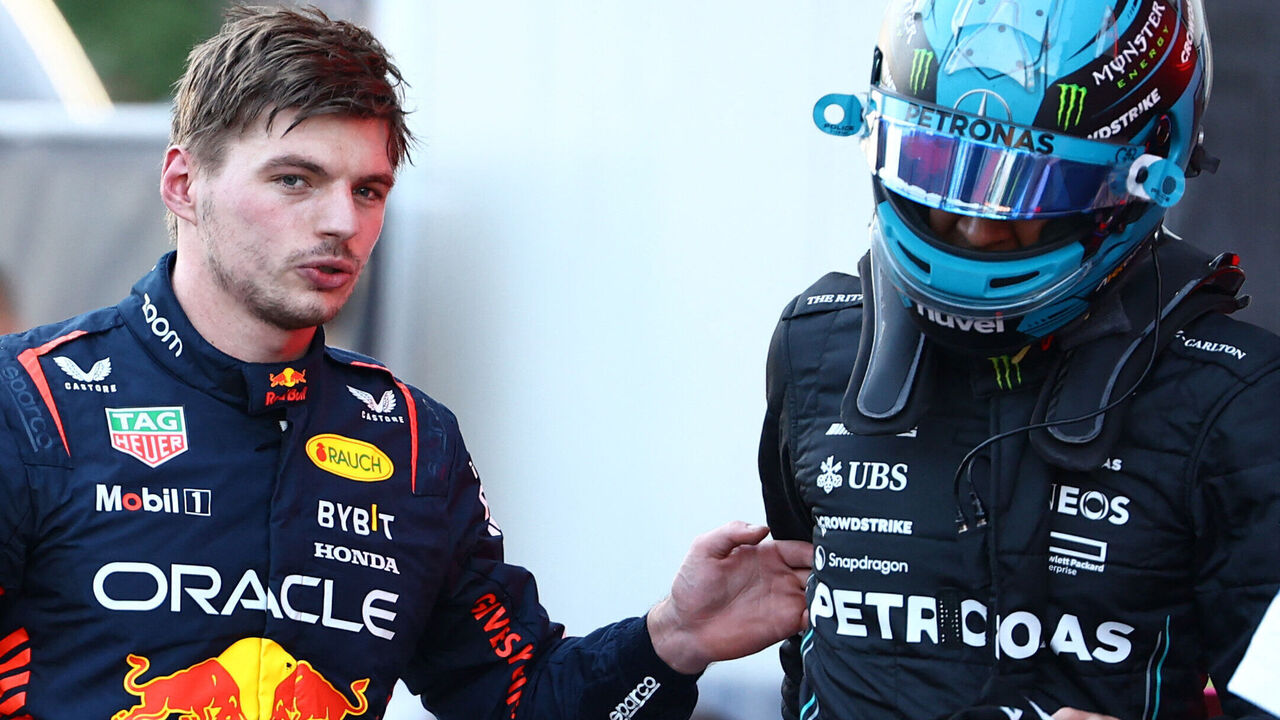 Verstappen, Russell clash provides much-needed drama
With F1 returning after four weeks away and for the 2023 debut of the new sprint format, there was still somehow a dearth of real drama. However, thanks to an event Verstappen deems "artificial," there was some manufactured excitement in Baku.
In Saturday's running of the sprint race – which is now a standalone event that has no bearing on Sunday's grid positions – the championship leader found himself immediately in a clash with Mercedes' George Russell that lasted for the first three corners of the opening lap and ended with Verstappen eventually ahead with a damaged sidepod.
Despite getting ahead and finishing on the podium, though, Verstappen kept that skirmish on his mind for the full 17 laps as he pulled into parc ferme, checked out the damage on the side of his car, and promptly confronted Russell.
"I was quite surprised," Russell said on the broadcast. "I thought he was coming over to say 'good battle,' to be honest."
That makes two of us.
While Verstappen's anger isn't necessarily misplaced – Russell does seem to run him wide due to a lock-up on the second corner even though the two-time champ is ahead entering the turn – this all qualifies as entertaining racing.
"I'm not just going to wave him by because he's Max Verstappen in a Red Bull," Russell continued. F1 needs racing, and so long as the maneuvers don't put other drivers at genuine risk, it's what the fans come to see.
By the end of the weekend, Russell and Verstappen's battle really seemed like the only bit of racing there was despite there being four separate events. The reigning champ may want the new format scrapped entirely and may take issue with Russell's lack of caution. But, without either of those things, this really wasn't a race weekend at all. – Michael Bradburn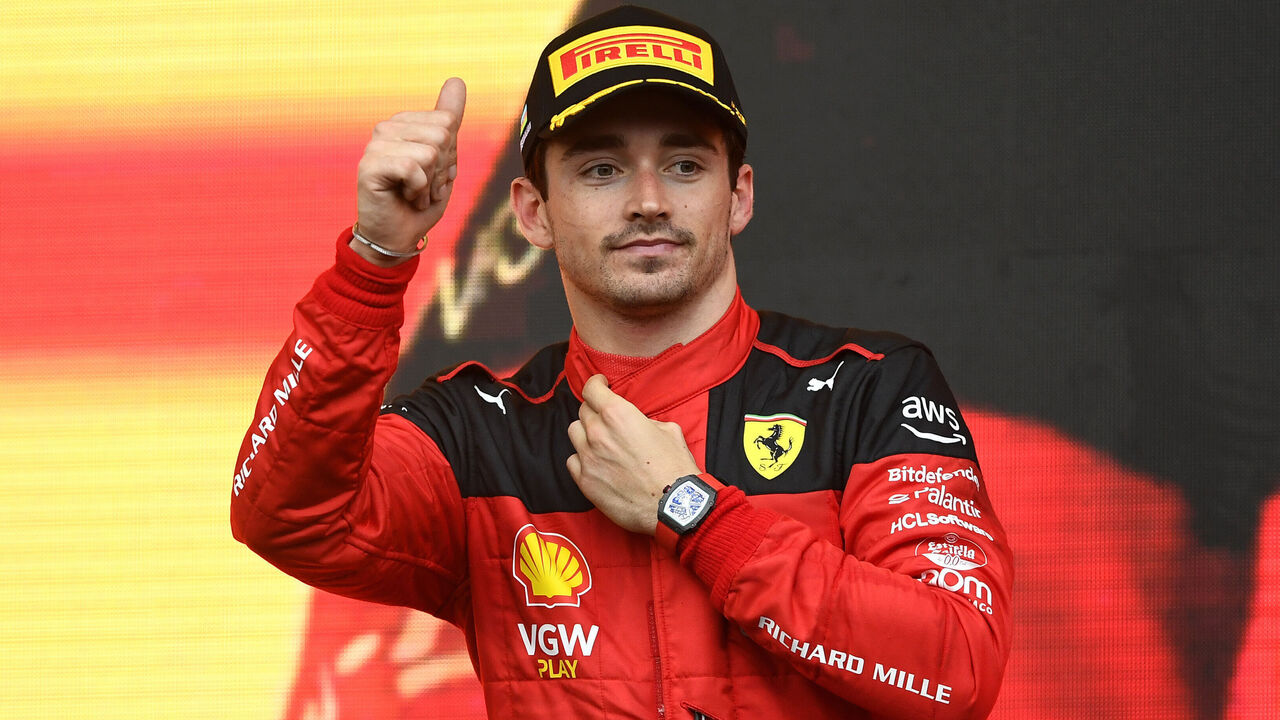 Finally a good week for Ferrari
Ferrari found itself on the podium for the first time in 2023 in Baku.
A third-place finish has to come as a major relief and a sign of progress for a team that has really struggled coming into the weekend.
"That was the absolute maximum we could do today," said Leclerc, who finished third.
After sandwiching a seventh-place finish between a pair of retirements to start the year, Leclerc took pole position on Friday, finished second in the sprint race Saturday, and came third on Sunday to walk away from the weekend with 22 points. Not bad, considering he arrived in Azerbaijan with just six.
While Ferrari has shown strong qualifying pace, it's still evident that race pace is severely lacking – especially compared to the Red Bull. Even with the safety car, Leclerc still finished 21 seconds behind Perez and 19 seconds behind Verstappen.
"Strategy was really good, but we don't have enough pace to compete with the Red Bulls," Leclerc said. "At the end, the reality is we have a lot of work to do to be back (fighting) for wins.
"We have some upgrades coming, but I don't expect any miracles."
Even the fact that Carlos Sainz was disappointed finishing fifth – his second-best result on the season – has to be encouraging for team boss Frederic Vasseur. Despite being visibly frustrated with the car post-race, Sainz did manage to secure important points for a team that looks to be in a tight fight for second. He also finished ahead of both Mercedes and Lance Stroll's Aston Martin.
"I think we will have plenty of opportunities in Miami," Sainz said of next week's race. "We've unlocked some pace recently in the car, but we lack pace during the race."
Ferrari finished second and third at the inaugural race in Miami last season, though the team also entered the event leading the constructors' standings at the time. – Brandon Wile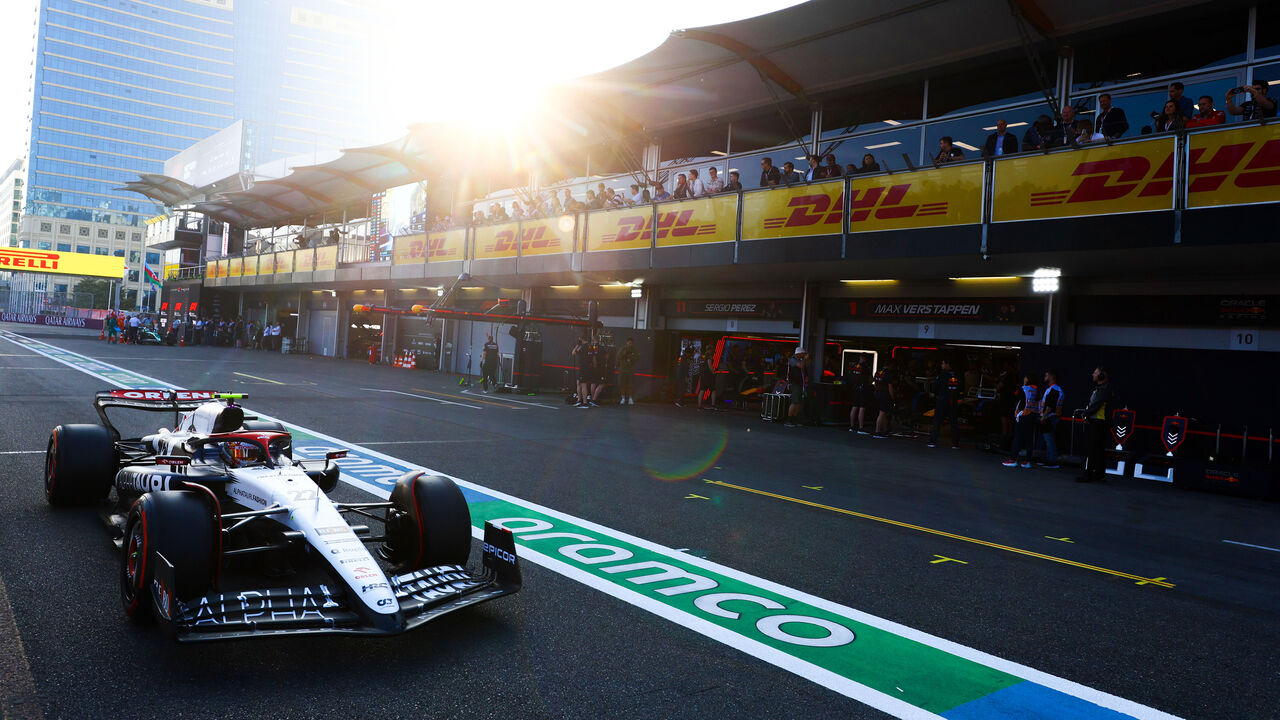 F1 lucky to avoid disaster
"Absolute shambles."
That's how the familiar voices of Ted Kravitz and David Croft, looking on with a combination of astonishment and disgust, described the bizarre scene as Esteban Ocon entered the pit lane on the penultimate lap for his lone stop. Instead of his mechanics and their wheel guns, he was greeted by an unwelcome gaggle of officials and photographers who were setting up and preparing for the podium celebrations.
People were literally jumping aside to avoid a collision. It was almost as if they were surprised a race car was fast approaching during an active grand prix. It was a mess.
The French driver, thankfully for everyone, was able to slam on the brakes before any damage was done. It could have been much, much worse.
"It was definitely scary," Ocon told Sky Sports after the race.
He added, "It could have been a big, big issue for everyone there – I'm arriving at more than 300 kph, leaving my braking as late as I can, and they were just after the (speed limiter) line as well, so if I miss my braking point …"
The FIA promised "immediate steps" to review its end-of-race procedures and make sure a similar scene never plays out again. How it was allowed to happen at all this time is baffling. Everyone knew Ocon still needed to make a stop as the race was winding down; he would've been disqualified if he didn't come in for his mandatory tire change to a different compound from which he started.
In nearly every other instance, a sprinkle of unexpected chaos on the track can greatly improve the entertainment value and viewing experience of a Formula 1 event. A safety car, some timely – or untimely – weather, or even just an interesting strategic decision tend to spice things up in a positive way. This wasn't one of those cases. Everyone involved is lucky nobody was injured. Formula 1, where almost everything is measured to the nth degree, shouldn't be relying on luck to ensure safety. – Gianluca Nesci