Thoughts and analysis from penultimate weekend of Premier League season
theScore examines the most important developments and biggest talking points from the weekend's slate of action in England's top flight.
Man City assert their dominance
The dynasty continues.
Before even kicking a ball on the weekend, Manchester City were officially crowned Premier League champions for the third successive season, further solidifying their status as English football's domineering force.
Here are some of the most eye-popping numbers in the wake of City's fifth league title in six seasons:
2 – Pep Guardiola joins Sir Alex Ferguson as the only managers in the history of English top-flight football to capture three consecutive league titles. They're breathing rarefied air and likely drinking some decent bottles of wine.
5 – Phil Foden, who doesn't turn 23 until next week, already has five Premier League medals to his name. That's more than some of the league's most notable players, including the likes of Cristiano Ronaldo, Patrick Vieira, Eric Cantona, Frank Lampard, Didier Drogba, and City alum Yaya Toure.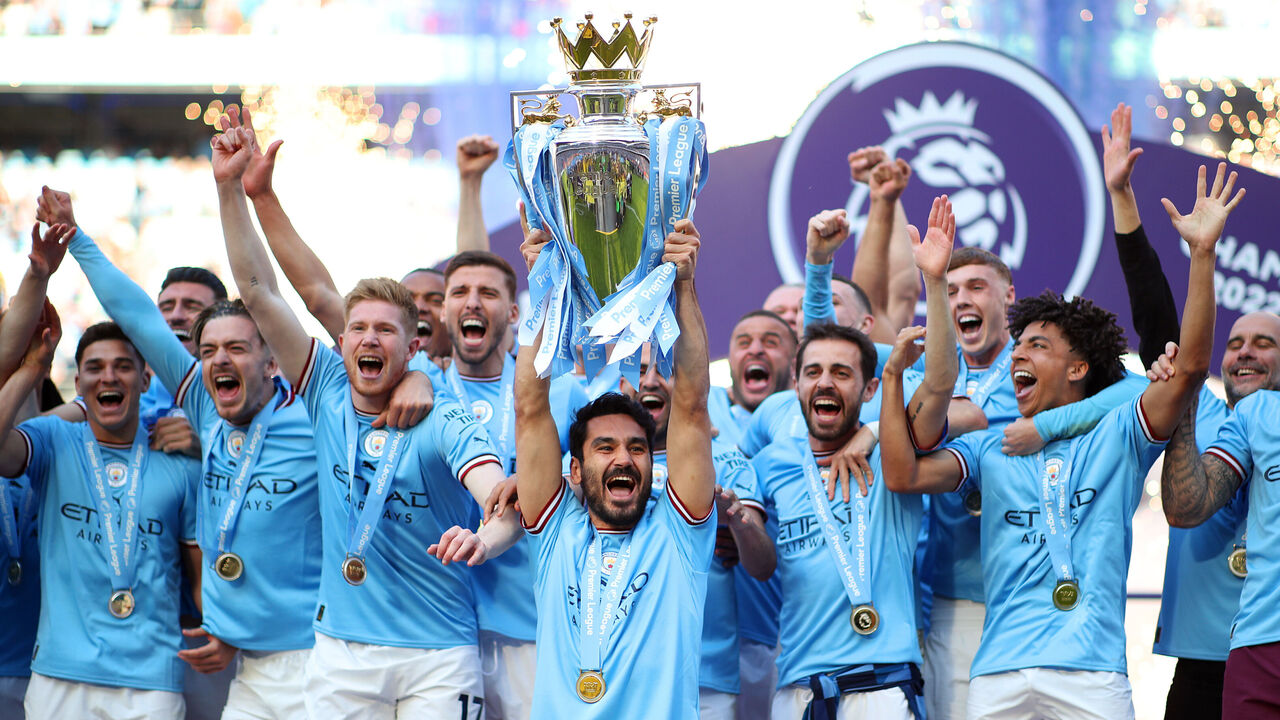 10 – In just seven seasons with Manchester City, Guardiola has won 10 major honors. He'll be hoping to add two more – including the most desirable trophy of all – between now and the end of the season.
14 – It's not how you start but how you finish. Manchester City went on a tear to overtake Arsenal and eventually capture the title. Sunday's victory over Chelsea was City's 14th win in their last 15 league matches; the lone blemish was a draw against Nottingham Forest. Guardiola's juggernaut hasn't tasted defeat in the league since the first week of February.
52 – Since the calendar flipped to 2023, City have collected 52 of a possible 60 points in the Premier League. The freight train couldn't be stopped.
A tale of 2 seasons for Arsenal
Arsenal's rip-roaring start to the Premier League season was unsustainable. No one would've thought they'd have 50 points through the first 19 matches – a feat not even the famous Invincibles side of 2003-04 could manage. There's just no way a team as young and inexperienced as the Gunners could replicate such form over the final 19 fixtures.
But they didn't just suffer a minor dip in form; they became a different team entirely. Gone was the swagger that drove so many of Arsenal's match-winning performances in the opening half of the campaign. Gone was the belief that carried them to comeback wins over Manchester United, Aston Villa, and Bournemouth.
The identity crisis hit Arsenal just as Manchester City found their confidence. With 31 points from 18 games, Mikel Arteta's side fell far of City's standards and ceded the title in relatively meek fashion. As much as the title run exceeded expectations – Champions League qualification was Arsenal's primary objective – the feeling was one of emptiness.
For the second straight season, Arsenal couldn't perform to their abilities in the business end of the campaign. A similar loss of conviction cost them Champions League qualification last season, with late-season defeats to Tottenham Hotspur and Newcastle United keeping Arsenal out of the top four.
Now that they've shown they can compete with the best England has to offer, expectations around Arsenal will increase tenfold. Recruitment is necessary, as is rotation, to prevent another catastrophic loss of form.
But the club should still celebrate what it has achieved. Arsenal will play in the Champions League for the first time in six seasons, and they have a solid foundation, with William Saliba, Bukayo Saka, Gabriel Martinelli, and Martin Odegaard yet to enter their primes.
Leeds deserve to be relegated
Let's be clear: Sam Allardyce isn't the reason Leeds United are on the verge of being relegated. The damage was done long before the 68-year-old came out of quasi-retirement to take the job.
Leeds' tailspin truly started when majority owner Andrea Radrizzani sacked Marcelo Bielsa in February 2022. Bielsa paid the price for a downturn in form largely caused by injuries to key players Liam Cooper, Kalvin Phillips, and Patrick Bamford. Though they saved themselves from the drop last season, Leeds' lack of depth was laid bare.
The squad became even thinner with the sale of match-winner Raphinha to Barcelona and Phillips to City. Radrizzani sanctioned their departures without securing suitable replacements, and the ones who arrived didn't really fit in. Bielsa's replacement, Jesse Marsch, couldn't put his stamp on the team even with fellow Americans in the squad, and like Marsch's successor, Javi Gracia, Allardyce has been unable to stop the bleeding.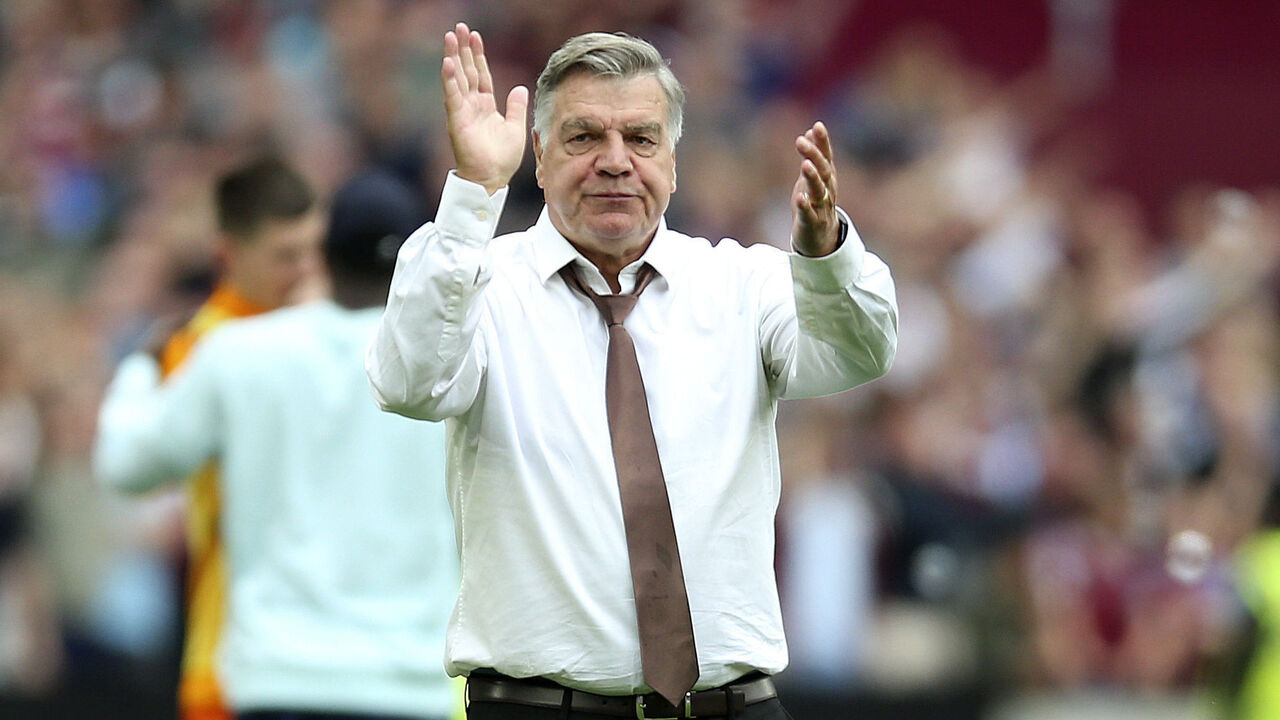 But few managers could have made significant change at Elland Road, even less so Allardyce, who built a reputation as a survival specialist by keeping the ball out of his goal. Leeds' squad wasn't built to play defensively, and it has too many significant holes to compensate for such seepage at the back. Bamford's health has been questionable for some time, and forward Georginio Rutter, signed for a club-record fee in January, has yet to score a single goal in 12 total appearances for Leeds.
The club's scattergun approach to signings, coupled with Radrizzani's poor succession planning, torpedoed the entire project. Now, Leeds have to beat Tottenham next weekend and hope Everton and Leicester City both lose their remaining games to stay up.
Quick free-kicks
Too little, too late for Liverpool
It's a shame that one final moment of Roberto Firmino magic at Anfield will end up being just a footnote for Liverpool. The Brazilian, playing in his final home match for the club, salvaged a 1-1 draw against Aston Villa with a dramatic late goal on Saturday. Ultimately, though, the result all but confirmed that the Reds' late-season push for an unlikely Champions League berth will fall short. A seven-match winning streak gave Liverpool hope of nabbing a top-four spot. But on the evidence of the entire season, in which Jurgen Klopp's team was erratic and defensively frail, a Europa League place is a more appropriate reward. "We were for too long not good enough or ourselves," Klopp admitted. Liverpool are no strangers to remarkable comebacks, but the hole was too deep for even them to climb out.
Forest's faith in Cooper rewarded
Nottingham Forest could've fired Steve Cooper at any point, and the viewing public would've understood why. Even with significant reinforcements – 30 signings, to be exact – Cooper struggled to keep the specter of relegation at bay. But larger-than-life owner Evangelos Marinakis stuck with the man who steered Forest to the Premier League in the first place. The Greek media mogul's faith in Cooper was eventually rewarded Saturday when Forest confirmed their top-flight status with a momentous 1-0 win over Arsenal. As all the teams below them in the standings changed managers, Forest showed that stability can deliver even better results.
Brighton's momentous achievement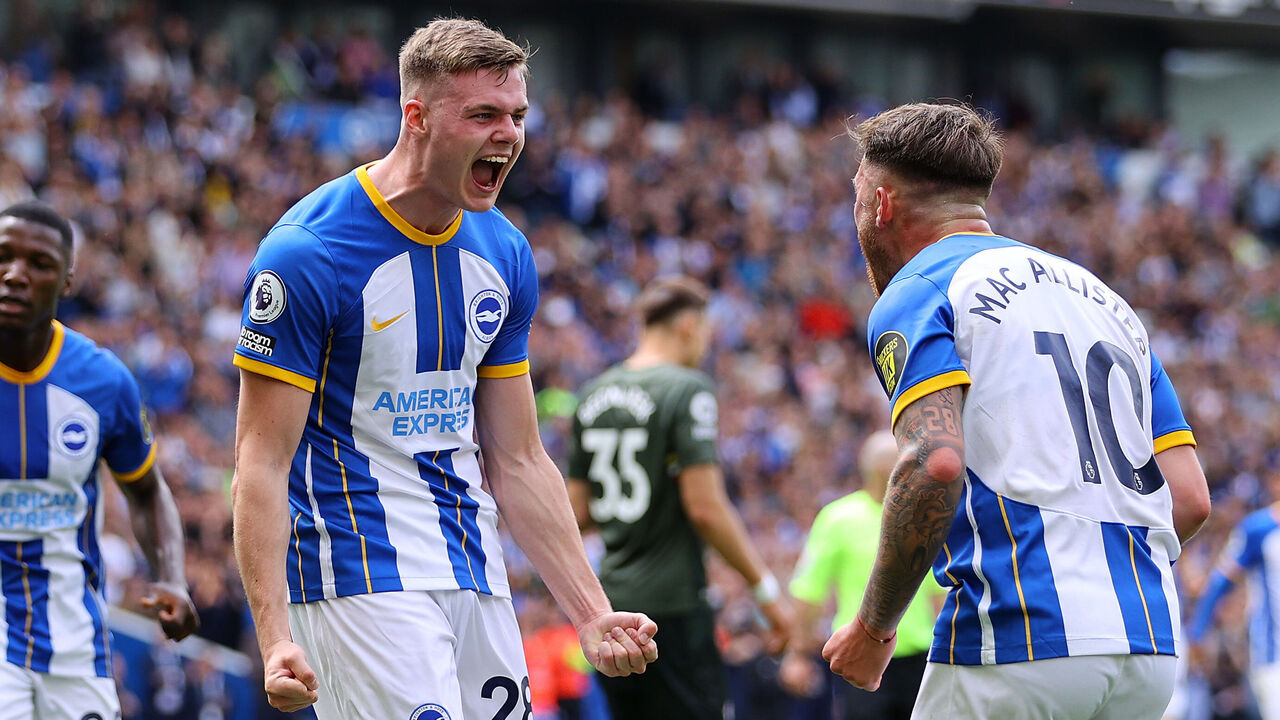 For the first time in their 121-year history, European football beckons for Brighton & Hove Albion. The Seagulls ensured a top-seven finish on Sunday and, in all likelihood, will finish sixth once the final whistle blows on the campaign next weekend. It's a truly remarkable achievement for a club that lost its celebrated manager during the year – Graham Potter likely wants a mulligan on that one – and consistently has its top players poached by "bigger" teams each year; star midfielder Moises Caicedo nearly left in January, and Alexis Mac Allister is likely on his way out in the summer. No matter, Brighton just keep reloading. It's a testament not only to the incredible job Roberto De Zerbi has done since his arrival on the south coast but also to the club's continued ability to unearth young talent and keep the squad stocked with rising stars at all times. This is the model other teams of a similar stature should be trying to replicate.
Hey, look, it's Kalvin Phillips!
Manchester City signed Phillips for £45 million last summer. He only made his full Premier League debut for the club on Sunday, the penultimate weekend of the season. Between being unveiled by City and then finally starting against Chelsea, the England international played a measly 113 league minutes, was called "overweight" by his manager, and experienced what he described as one of the "lowest" points of his career in terms of self-confidence. And, ultimately, it didn't make a lick of difference for City. That's a luxury afforded to few other clubs, if any; City can spend first and ask questions later. And if it never works out for Phillips or any other high-priced signing, they can wipe their hands of the situation and try again. The unlimited riches of the club's majority owners in Abu Dhabi have been a huge factor in City's rise. So, too, has Guardiola's on-pitch genius. Both can be true. Acknowledging City's vast financial resources isn't meant to diminish their accomplishments, but not doing so would be disingenuous.
Chelsea's miserable, no-good season
The end of the season can't come soon enough for Chelsea. Sunday's loss to Manchester City confirmed that Frank Lampard's beleaguered team will finish the campaign in the bottom half of the Premier League table for the first time since 1996 – that's five years before midfielder Enzo Fernandez was even born. It's been a while since the situation was so bleak for the west London outfit, which will surely continue to spend lavishly in the coming months to reverse course. Mauricio Pochettino, reportedly on his way to try to right the ship, has an enormous task on his hands to deliver a tangible return on Todd Boehly and the ownership group's massive investment.
Stat of the weekend
When Guardiola gets his hands on a trophy, he tends to not let go of it.
Tweet of the weekend
The streets of Manchester will be rocking for City's title party.