Playoff hierarchy: Who have been this NBA postseason's best players?
Parity has suddenly struck the NBA, with a 7-seed and 8-seed advancing to the conference finals in the same postseason for the first time. And yet, all four teams that made it this far have one thing in common: true star power.
The NBA's talent pool is arguably deeper than ever, but the playoffs are still where the stars shine brightest. A team's top players producing MVP-caliber play can be the difference between a first-round exit and hanging a banner.
Let's break down the top 10 performers of the 2023 NBA playoffs.
1. Nikola Jokic
Jokic's sheer dominance this postseason has been remarkable to watch. The numbers speak for themselves: 31 points, 13.5 rebounds, and 10.1 assists through 12 contests. He's got six triple-doubles, already tied for the second-most in a single playoff run ever. Jokic elevated his game against the Suns, who came into the playoffs as the betting favorite among Western Conference teams. The two-time MVP bumped his scoring average to 34.5 points on an unbelievable 66.3% true shooting in a six-game series victory over Phoenix. Jokic scored efficiently from every area of the floor – mid-range jumpers, bruising post-ups, odd floaters, and a little 3-point shooting.
As much as he dominates at getting buckets, Jokic's all-time great passing separates him from other stars. He's created good shots for others nearly every possession he touches the ball, making it impossible to double-team him. It's no coincidence the Nuggets have the top offensive rating of the playoffs through two rounds and one conference finals game.
2. Jimmy Butler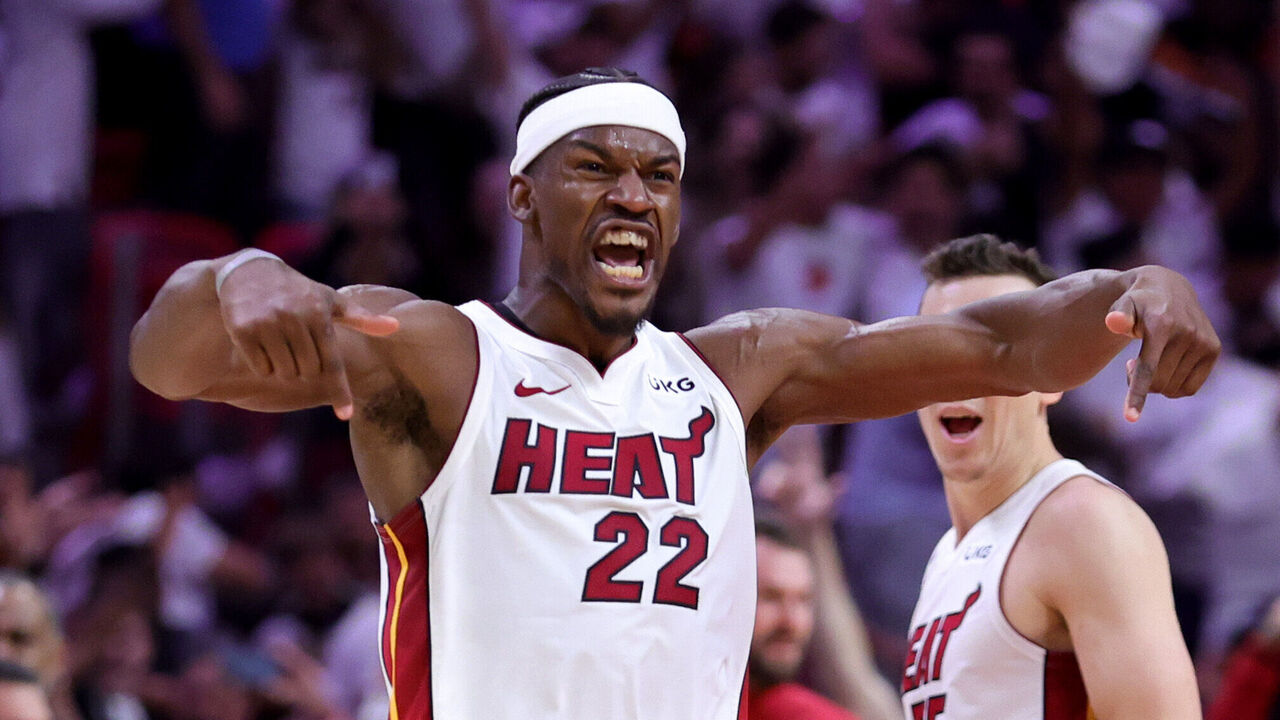 Butler swears up and down that "Playoff Jimmy" isn't a real thing. However, it's tough to believe the Butler carrying the Heat through this postseason is the same one we saw throughout the 82-game campaign.
Against the Bucks in Round 1, he scored a scorching 37.6 points per contest on just under 60% shooting, including 44.4% from deep. That's a sizable improvement for a player who never fared better than 38.1% on threes over an entire regular season. Butler torched Milwaukee for 56 and 42 points, respectively, in the final two games of the series, ruthlessly putting away the postseason's No. 1 overall seed with precision. He took a slight step back in the second round against the Knicks but was still easily the series' top all-around performer with 24.6 points, 7.2 boards, six assists, 1.6 steals, and 1.2 blocks per game.
3. Anthony Davis
Davis has been an absolute force on both ends. Neither the Grizzlies nor the Warriors appeared to have an answer for the eight-time All-Star inside. Golden State also struggled mightily to keep Davis off the glass, as he recorded two games of 20-plus boards in the series. Entering Tuesday's series opener against Denver, he averaged a league-best 3.3 blocks in the playoffs to go with 1.4 steals, seemingly throwing off nearly anyone who dared to challenge him at the rim. And, though lineup data can be hazy under small sample sizes, Los Angeles' offense suffered its most drastic drop-off over the first two series when Davis sat – a team-high difference of 20.5 points per 100 possessions.
The Lakers' trade deadline overhaul was instrumental in getting them into the postseason in the first place. But make no mistake, Darvin Ham's squad wouldn't be this deep into its run without this version of Davis.
4. Stephen Curry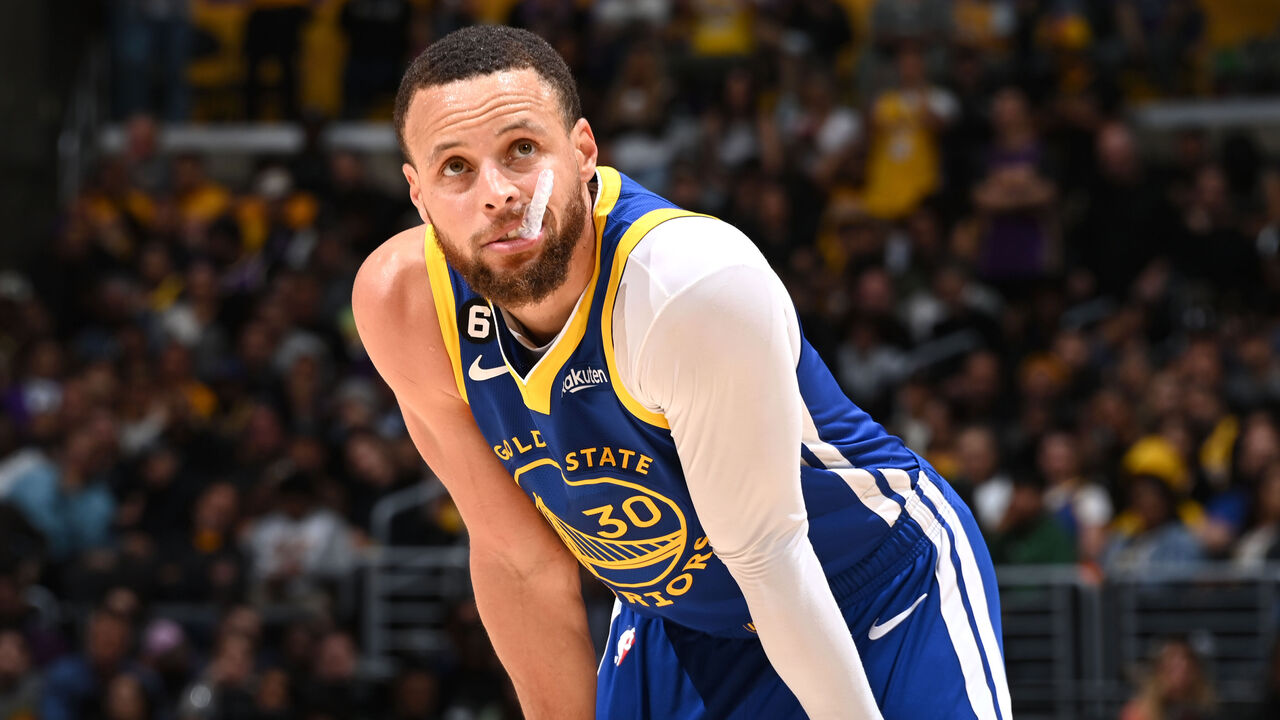 He's seven years removed from his unanimous MVP campaign, but is it crazy to suggest Curry has never been better? The four-time champion and reigning Finals MVP averaged a playoff career-high 30.5 points, shooting 57.1% from inside the arc – the best two-point efficiency he's ever produced in a postseason.
Curry put Golden State on his back out of necessity, as his supporting cast didn't perform as it has in years past. The veteran superstar willed the Warriors to a series victory over the Kings with a 50-point masterpiece, which stood for about two weeks as the Game 7 scoring record (until Jayson Tatum had other plans).
5. Devin Booker
There's no way around the fact that Booker's postseason ended embarrassingly. However, the Suns' elimination can be attributed to Denver's excellence and Phoenix's lack of depth more so than an indictment on Booker. The dynamic wing averaged 33.7 points to lead all qualifying players this postseason. His 64.9% effective field goal shooting is incredible efficiency for any player, let alone one with Booker's high degree of difficulty. He scored 45 or more on three occasions, guiding the Suns to victory in each of those contests.
Booker already proved his merits as a playoff performer when he led Phoenix to the Finals in 2021. But this year, while his team didn't make as deep a run, Booker's individual excellence was perhaps even more impressive. At age 26, he's still on the rise.
6. Jayson Tatum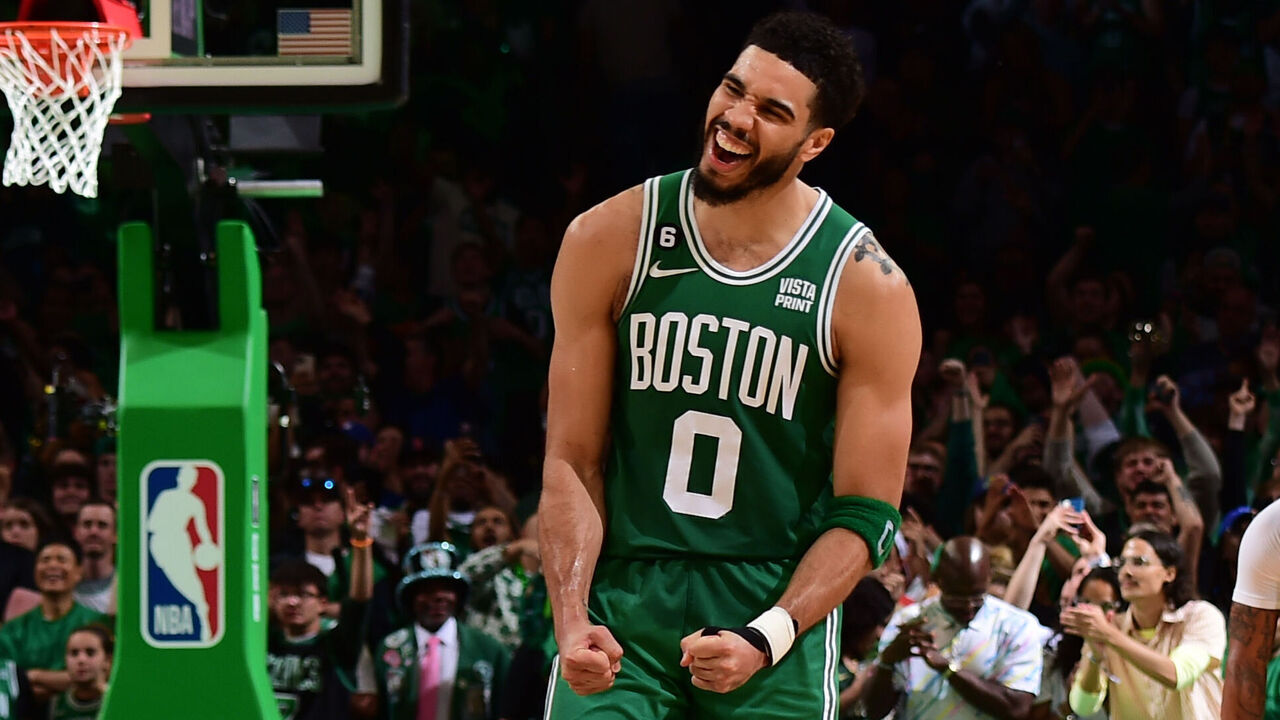 If there were any doubts left about Tatum's postseason expertise, his Game 7 masterpiece to put the 76ers away on Sunday should wash those out for good. When Boston has needed him, Tatum has answered the call – and then some. Prior to dropping 51 on Philly in a do-or-die situation, the Celtics star was already averaging 26.3 points, 10.4 rebounds, and 5.2 assists. He surpassed all those marks Sunday.
Replacing the 60% shooting from that contest at any point against an intrepid Heat squad is a near-impossible task for Tatum in the conference finals. But if he maintains his all-around production, Miami will have its hands full in not just keeping him quiet but impeding the Celtics' chase for a second straight Finals berth.
7. LeBron James
Stop us if you've heard this before: James is in Year 20 of his career. Yes, the Lakers star's longevity has been well drilled into everyone's mind. But it bears repeating after watching the 38-year-old meticulously carve up the Warriors and Grizzlies during these playoffs. Those teams, on paper, should have given the aging Hall of Fame-bound forward a run for his money.
James' scoring and shooting have been down a touch this postseason from his usual standards. However, his sense of determination feels revitalized with a supporting group that has more than done its part amid his chase for a fifth title. The top-seeded Nuggets should be one of his toughest playoff foes since signing in L.A., but we've come to learn time and time again that you can never count out James in the postseason.
8. Jalen Brunson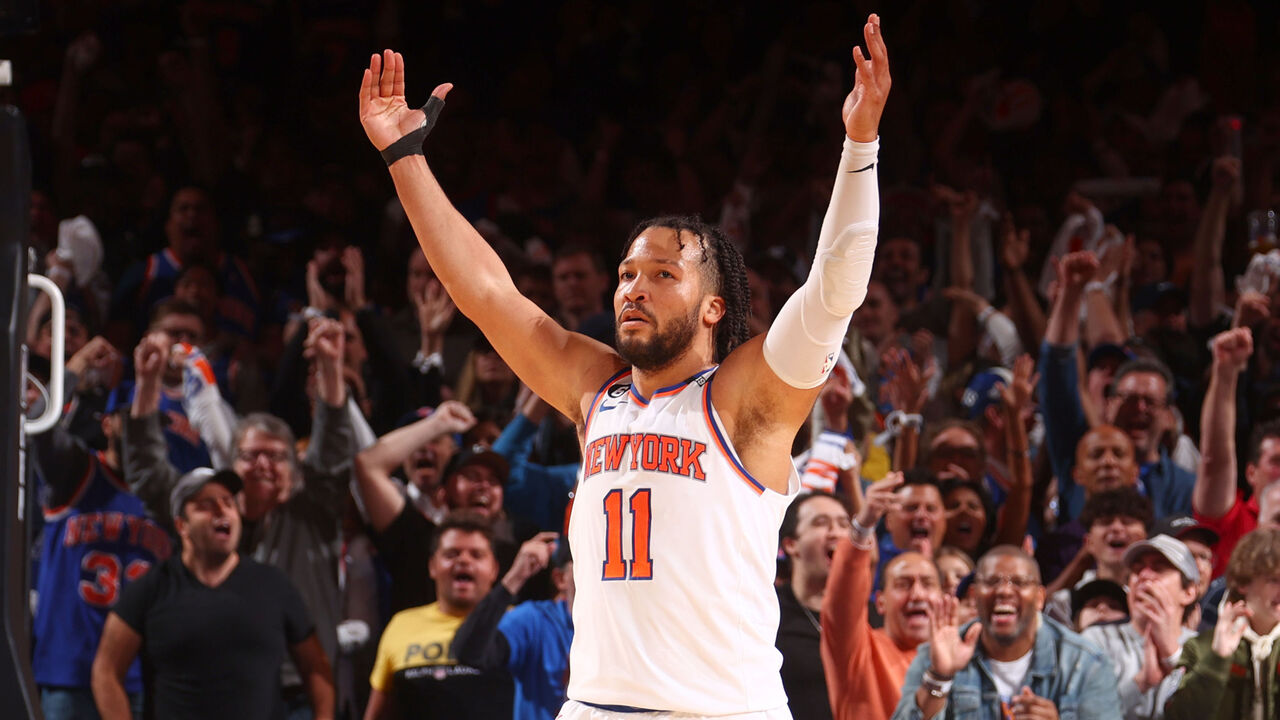 Brunson shined in his first playoff experience with the Knicks to the tune of 27.8 points, 5.6 assists, and 4.9 rebounds through 11 games. His most impactful display was a 38-point, nine-rebound, seven-assist gem to save New York's season in Game 5, in which he played all 48 minutes. If that wasn't enough, Brunson followed that up with 41 points in Game 6 but got little help from the rest of Tom Thibodeau's squad as it fell short.
Still, Brunson proved himself worthy of his deal and worthy of being the Knicks' central piece for future postseason runs. If they continue to surround him with the right parts, there will be more to come.
9. Kevin Durant
By Durant's standards, this postseason was nothing to write home about. And yet – at age 34, coming off an ankle injury that kept him out until 10 days before the playoffs – he averaged 29 points, 8.7 rebounds, and 5.5 assists on 59.9% true shooting. He wasn't spectacular, but even a B-plus Durant showing is on par with many of the league's best players.
Durant was outshone by his own teammate in Booker, and it's fair to say he ran out of steam as Phoenix fizzled out against Denver. Even so, the Suns were essentially a two-man show, and Durant held up his end of the bargain for the most part. Phoenix will need to drastically revamp its supporting cast around him and Booker this offseason.
10. Jamal Murray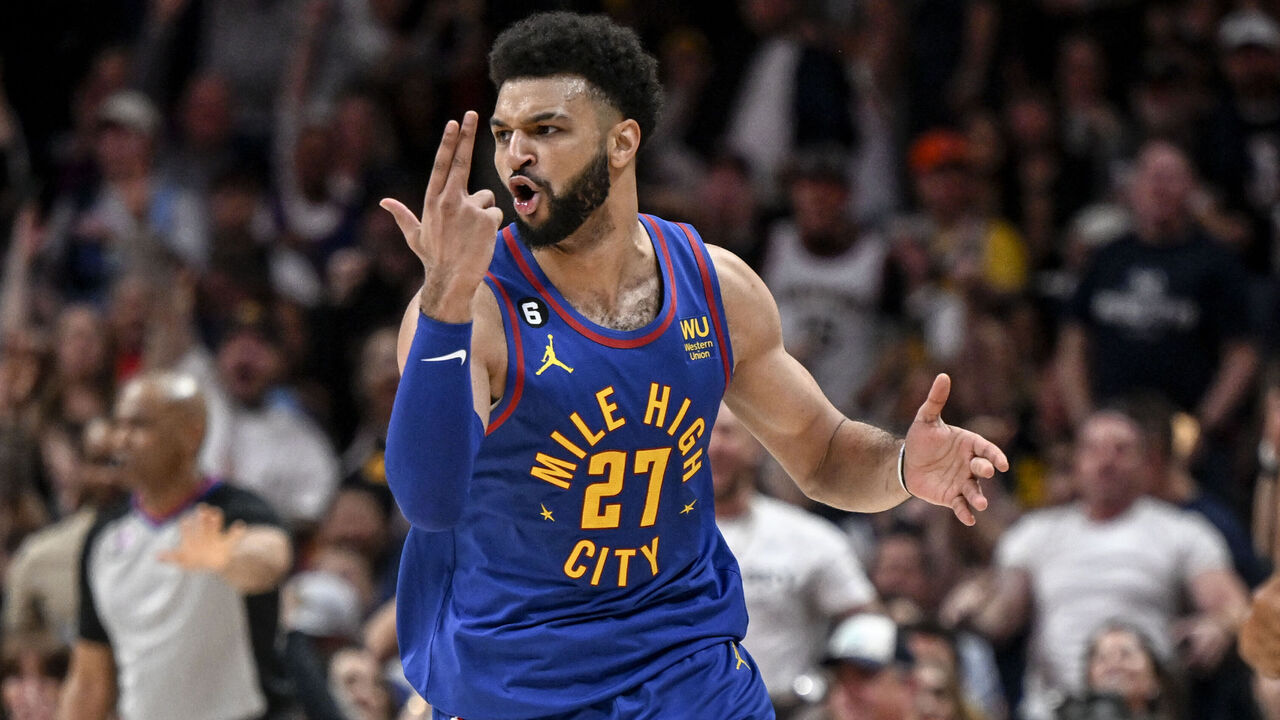 He said it himself: Forget "Bubble Murray," it's just healthy Murray. After missing the last two postseasons following his ACL tear in April 2021, the Canadian guard is back and as good as ever. He's bumped his scoring average from 20 points in the regular season to 26.3 in the playoffs, to go with increases in assists (6.3) and rebounds (5.2).
Murray has taken over stretches of games, scoring 30-plus points five times so far this postseason, including a 40-point performance. His smooth shooting and explosive downhill attacks off the dribble are pivotal for Denver. Perhaps most importantly, Murray has incredible pick-and-roll chemistry with Jokic, which is the foundation of the Nuggets' terrific offense.