NBA Roundtable: Breaking down the biggest early-season headlines
With the first month of the 2022-23 campaign all but in the books, Footballlifestyle's NBA editors answer some of the biggest questions around the league.
Who's been the most impactful offseason addition?
There are a few worthy names here, but the best answer right now might be … Lauri Markkanen? The Utah Jazz have turned the NBA upside-down early on, and Markkanen has been instrumental in that, posting 21.8 points and 8.6 rebounds per contest. The presumably rebuilding Jazz have scored 8.8 points per 100 possessions more with the Finnish forward on the court, and he seems to have developed instant synergy with incumbent Jazz guards Mike Conley and Jordan Clarkson. – Jonathan Soveta
The Portland Trail Blazers' acquisition of Jerami Grant is the biggest reason for their 9-4 start. Grant – who was under-utilized during previous stints in Oklahoma City and Denver but overstretched with the Detroit Pistons – has found the sweet spot in The City of Roses. Grant provides another offensive option outside of Damian Lillard and Anfernee Simons, ranking third on the team in scoring with 20.7 points. The 28-year-old forward is also having a career year from three, making 2.4 per game on 46% shooting from beyond the arc. His length and versatility have helped revamp Portland's defense – a squad that ranks sixth in defensive rating per 100 possessions. – Donald Higney
Donovan Mitchell has been all the Cleveland Cavaliers could have asked for and more when they traded with the Jazz for him this summer. The 26-year-old guard is sixth in the NBA in points with 31.6 per game while leading the entire league in minutes for the 8-5 Cavs. On top of that, Mitchell is shooting a sparkling 51.3% from the field and 43.4% from beyond the arc while dishing out a career-high 6.1 assists a night. It's rare for borderline playoff teams to turn into potential championship contenders with just one addition, but that's the case with Mitchell and Cleveland. – Matthew Winick
Which team's hot start is the most sustainable?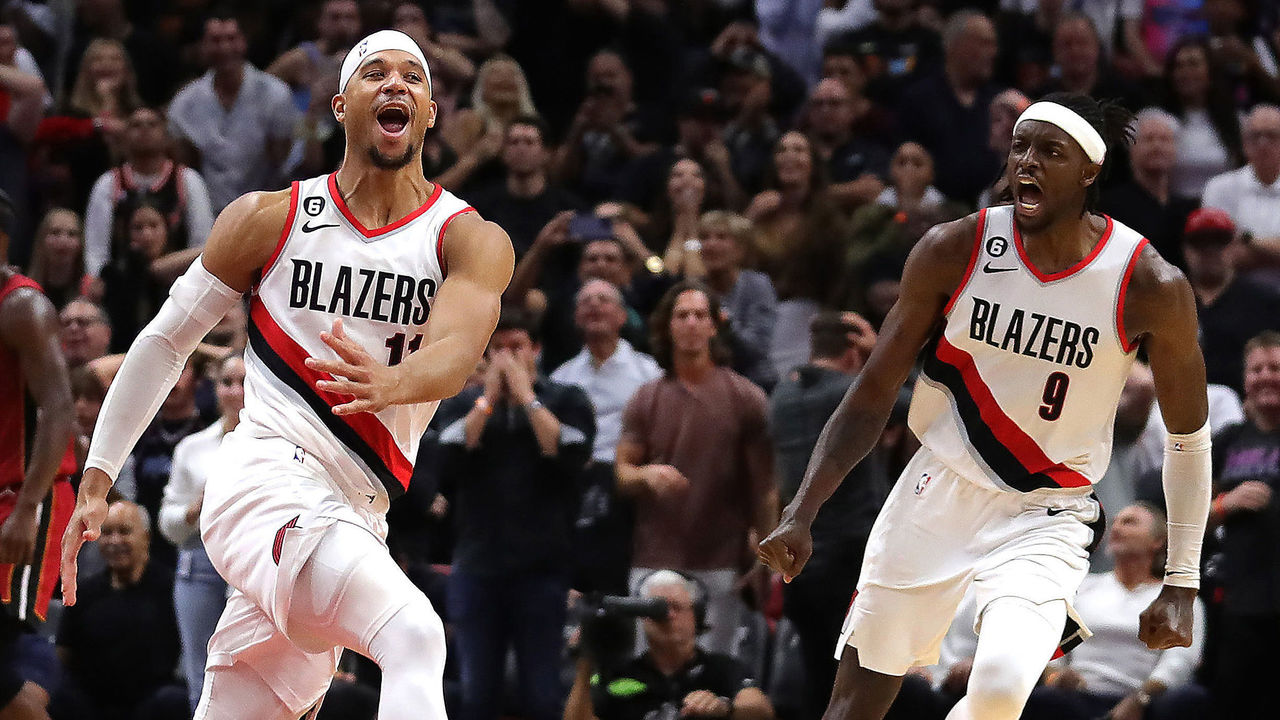 The Trail Blazers' much-improved defense has fueled their quick start, and they now sit sixth in defensive efficiency after ranking 29th a year ago. Josh Hart, Justise Winslow, and Grant have all been instrumental in the turnaround, with Hart and Winslow each averaging more than a steal, while Grant sits among the league leaders in charges drawn. Additionally, their ability to guard multiple positions provides head coach Chauncey Billups with more lineup flexibility than last season. The Blazers bench boss now has a trio of defensive weapons at his disposal and is set to add another once free-agent signee Gary Payton returns from injury. – Chicco Nacion
Some might say the Cavaliers have already cooled off a tad after an 8-1 start, but all five of their losses have come down to one possession in the final two minutes. Cleveland owns a second-best plus-6.8 net rating, with two impressive overtime wins over the Boston Celtics. After finishing fifth in defensive rating last year despite missing rim-protector Jarrett Allen for 26 games, the Cavs are currently fourth in that metric, buoyed by Allen and rising star Evan Mobley. On the other side of the ball, Mitchell's addition has Cleveland rolling to the third-best offensive rating, and his one-on-one shot creation is giving the Cavs one of the only dimensions they didn't have last season, which resulted in their elimination from the play-in tournament. They should earn home-court advantage in the first round this time around. – Lior Kozai
Sitting atop the Eastern Conference with a 10-2 record, the Milwaukee Bucks are playing championship-level basketball early into the campaign. The key difference in this Bucks squad is a change in defensive philosophy – Milwaukee is allowing 11.3 3-pointers per game, down from a league-leading 14.5 last season. What's most impressive about the Bucks' start is how wing reserves, including Jevon Carter, Wesley Matthews, and MarJon Beauchamp, have stepped up defensively in the absence of Milwaukee mainstays Khris Middleton and Pat Connaughton. With continued success in rebounding and rim-protection, the Bucks have shored up their only glaring defensive weakness. – Higney
Who's been the most surprising player?
The San Antonio Spurs, severely lacking in talent after trading Dejounte Murray to the Atlanta Hawks, kind of had a blank slate, and someone had to step up. Early on, that has been third-year wing Devin Vassell, who may be leading the Most Improved Player race. Vassell bumped his scoring (12.3 to 21 points per game), passing (1.9 to 3.8 assists per game), and 3-point shooting (36.1% to 43.5% from long distance), all while only playing four more minutes per game than last season. – Winick
Did anyone really expect Bennedict Mathurin to accustom to life in the NBA this quickly? The sixth overall pick is on fire to start his Indiana Pacers career – he ranks second in scoring in a loaded rookie class with 19.9 points per game, and his 45.3% mark from deep is also among the best first-year rates. But the beauty of it is that he's doing it all off the bench. Sooner or later, he'll start alongside Tyrese Haliburton, and the Pacers will have themselves one of the best young backcourts in the entire league. – Soveta
Bol Bol was a McDonald's All-American and the top-ranked high school center in the class of 2018. The 7-foot-2 big man immediately lived up to that billing at Oregon, averaging 21 points, 9.6 boards, and 2.7 blocks, but Bol Bol's collegiate career lasted just nine games due to a season-ending foot injury. The 22-year-old's health has continued to plague him during his brief time in the Association. The Orlando Magic took a low-risk flyer on Bol Bol this summer and are reaping the rewards. His ability to space the floor, protect the paint, crash the glass, and handle the rock has earned him a starting gig. It may be early, but Bol Bol's two-year, $4.4-million deal already looks like the biggest bargain of the offseason. – Nacion
Which team has been the biggest surprise?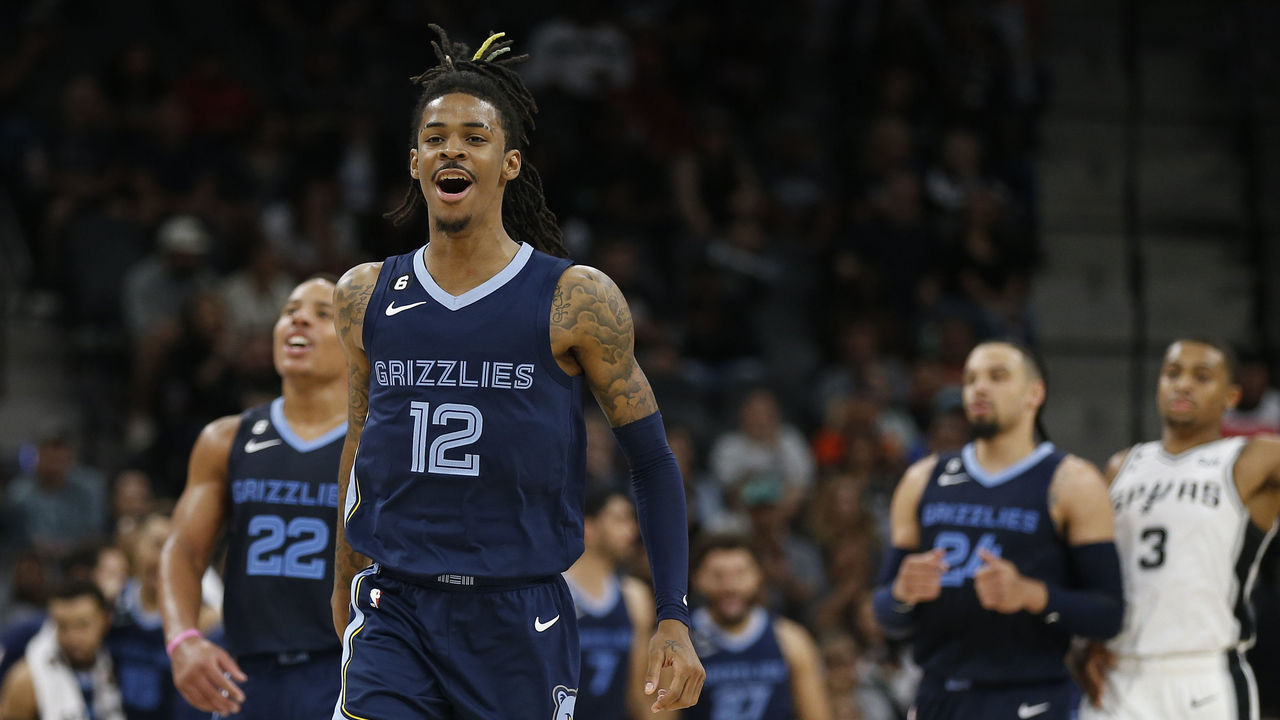 The 9-5 Memphis Grizzlies have hit the ground running with a new cast of supporting players. Second-year forward Santi Aldama has entered the starting lineup for the injured Jaren Jackson Jr., more than doubling his scoring average from his rookie year. Sharpshooting reserve John Konchar has seen more playing time since the team moved De'Anthony Melton to Philadelphia in the offseason. Rookie forwards David Roddy and Jake LaRavia have held down the backup wing spots, with Ziaire Williams sidelined and Kyle Anderson departed. That's not to mention the surge from Most Improved Player candidate Desmond Bane, whose scoring average has jumped to 24.7 points from 18.2 last season. – Higney
For a Golden State Warriors side that's gone 171-75 on the road across the last six campaigns that the Steph Curry-Klay Thompson-Draymond Green core has been healthy, a dreadful 0-7 start is extremely surprising. Curry has not been the problem, but Thompson's horrendous 35.1% mark from the field is a concern. However, the biggest disappointment for the Warriors has to be the play of their young up-and-comers. Jordan Poole has been ice cold after signing a massive extension, and the lottery-pick trio of James Wiseman, Jonathan Kuminga, and Moses Moody have all contributed significantly less than expected. There is suddenly very little room for error if Curry is having an off night. – Winick
The Jazz have already run away with this designation. Despite trading away its two best players – Mitchell and Rudy Gobert – Utah is tied atop the Western Conference with a 10-5 record. Things may change if the team ships away veterans like Conley, but at least for now, the Jazz own the league's fourth-best offense and fifth-best net rating. Conley and Clarkson are each averaging career-highs in assists while working a deadly pick-and-roll game with excellent spacing provided by big men Markkanen and Kelly Olynyk. First-year bench boss Will Hardy will have a case for Coach of the Year if the Jazz maintain anything close to this level of play. – Kozai
Who's leading the way among Victor's losers?
After picking No. 2 in 2021 and No. 3 in 2022, the Houston Rockets are vying for their turn at the top spot. They have a league-worst 2-11 record with a net rating better than only the Detroit Pistons. The Rockets' dreadful defense should keep them in the race to the bottom all season. Unfortunately for Houston, its woes are partially due to rookie Jabari Smith's rough start, as the highly touted prospect is shooting just 31.5% from the field through his first 12 games. Second-year guard Jalen Green is also shooting just 42.6%, a disappointing start after his strong finish last campaign. – Kozai
The Charlotte Hornets are back in the Wenbanyama sweepstakes thanks to an eight-game losing streak. Gordon Hayward and Cody Martin have been sidelined for large portions of the campaign. Former lottery pick Dennis Smith has been a nice story early on, but he simply isn't LaMelo Ball, who only recently returned to the lineup after missing 13 games. The Hornets' offense has looked lost without its starting point guard's shotmaking and court vision, ranking 23rd in clutch field-goal percentage and 28th in offensive efficiency. – Nacion
You have to commend the way the New Orleans Pelicans put themselves in an incredible position. Thanks to the mammoth Anthony Davis swap in 2019, the Pels are guaranteed the better first-rounder between them and the Los Angeles Lakers in 2023. With L.A. down horrendously to start the season, New Orleans is free to focus on its squad's exciting developments while potentially setting up for a top pick. Admittedly, a LeBron James-led side is unlikely to linger around last place, but the Pelicans will salivate for as long as they do. – Soveta