Mike Budenholzer's Bucks legacy will be complicated – and enduring
Any accounting of Mike Budenholzer's time in Milwaukee should start here: When he took the job in 2018, the Bucks hadn't won a postseason series since 2001. In his five years on the job, they won eight, including all four they played in 2021 en route to the franchise's first championship in 50 years.
It doesn't finish there, and there are a lot of threads to try and untangle now that Budenholzer's tenure with the organization (triumphant in so many ways, disappointing in so many others) is officially over. But let's go back to the beginning.
Schematically, the Bucks were a mess before Budenholzer arrived. Jason Kidd's blitz-heavy defense, whether under his care or that of interim replacement Joe Prunty, had been solved and exploited many times over. The team's offense was aimless, congested, and frustratingly slow, with few discernible organizing principles. Giannis Antetokounmpo had grown into one of the most terrifying two-way forces in the league, and Khris Middleton had developed into a worthy sidekick, but Milwaukee had little to show for it, having peaked as a 44-win first-round out.
Budenholzer came in and undertook a full-scale stylistic renovation. He dialed back the aggressiveness on defense, crafting a drop-and-chase system that invited long jumpers and prioritized rim protection at all costs. He relied on the screen-evading physicality and rear-view pressure of Eric Bledsoe (and later Jrue Holiday) to funnel ball-handlers into the sunlight-blotting duo of Antetokounmpo and Brook Lopez. It was a perfect marriage of system and personnel that allowed the Bucks to take away the highest-value shots on the court, clean the defensive glass, and defend without fouling. They posted the league's best defensive rating in Budenholzer's first season at the helm. The following season, they authored the ninth-best defense of all time relative to league average.
At the offensive end, Budenholzer enhanced the team's spacing, overhauled its structure, and turbocharged its pace. Seemingly overnight, he turned the sludgy Bucks into an uptempo, four-out, 3-point bombing machine powered by the most souped-up drive-and-kick engine in the sport. They finished no worse than eighth in offensive efficiency in any of Budenholzer's seasons until this last one when Middleton played just 33 games. Milwaukee racked up 23 more regular-season wins (271) than any other team during his tenure.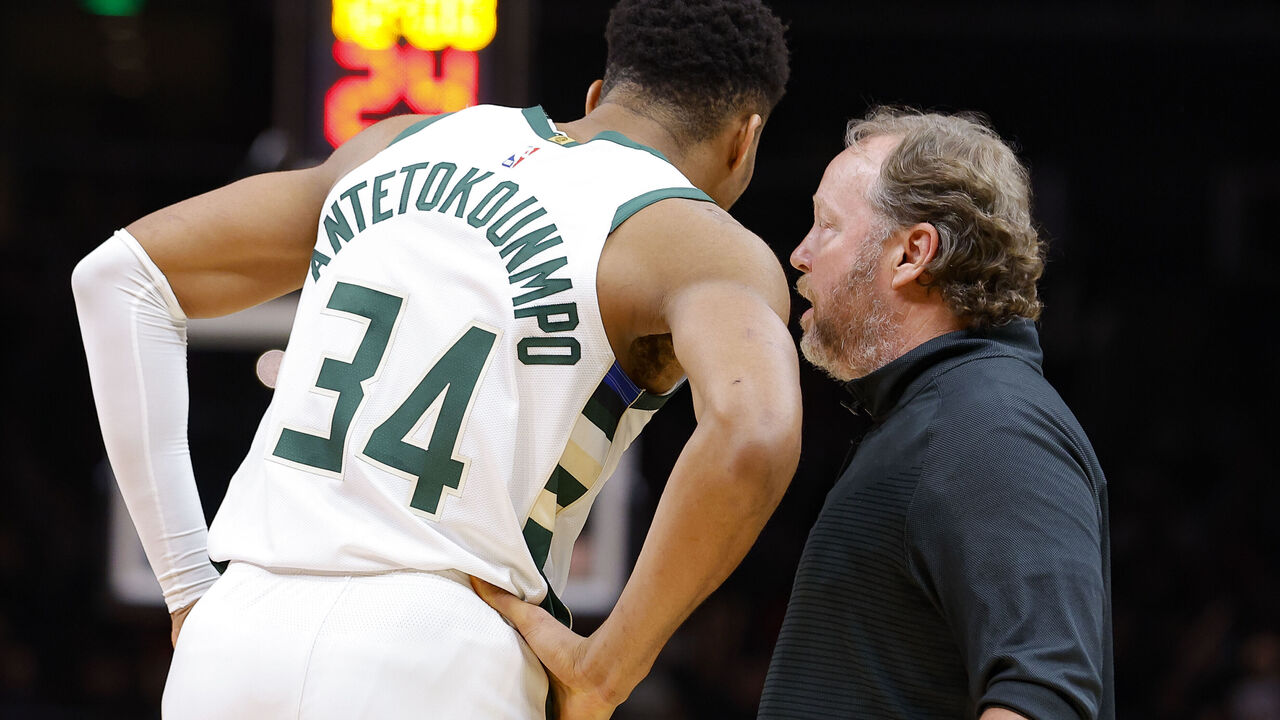 Sure, it helped to have a roster led by one of the best players of his generation squarely in his prime, along with an All-Star-level lead guard, a quality secondary guard who's also one of the best perimeter defenders in the game, and an All-Defensive stalwart at center. But no coach wins a championship without a championship-caliber roster, and simply having the pieces to win doesn't guarantee that one will. Budenholzer had to figure out how to best utilize those pieces in concert with one another, and for the most part, he did so brilliantly.
Consider the aforementioned All-Defensive center. Lopez was nothing of the sort when Milwaukee signed him with a $3.4-million bi-annual exception in 2018, the same year Budenholzer came aboard. If anything, Lopez's reputation at the time suggested he was going the way of the Al Jeffersons of the world – another in a line of lumbering, anachronistic big men who couldn't keep up with a rapidly changing league.
Instead, Lopez adapted. And while Lopez obviously deserves the bulk of the credit for his metamorphosis – whereby he turned himself into a viable floor spacer and arguably the league's best drop defender – so does Budenholzer for seeing the possibility and coaxing it out of him. Antetokounmpo, for his part, won two MVPs and a Defensive Player of the Year award in Budenholzer's first two years on the job, and again the coach merits some credit for fostering an ecosystem that helped maximize his superstar at both ends of the floor.
The Bucks rolled to a league-high 62 wins in 2018-19, the first of three seasons across Bud's five years in which they finished as the NBA's top overall seed. Alas, it was also the first of those three seasons in which they failed to even reach the Finals after posting the league's best record, blowing a 2-0 lead to the Raptors in the East finals that year. The following season, they crashed out of the Disney bubble with a five-game, second-round loss to the Miami Heat – a loss that prompted their all-in trade for Holiday in the offseason.
The championship that ensued provided some breathing room, and the Bucks got a pass last season for losing a spirited seven-gamer to the eventual East champion Celtics without Middleton. But this season brought their most embarrassing playoff flameout yet: another five-game ouster at the hands of the Heat, this time in a 1-seed versus 8-seed matchup in the first round. It was the first time a No. 1 had ever failed to win at least two games in a first-round series, and it was the straw that broke the back of Budenholzer's tenure. He was handed his walking papers on Thursday.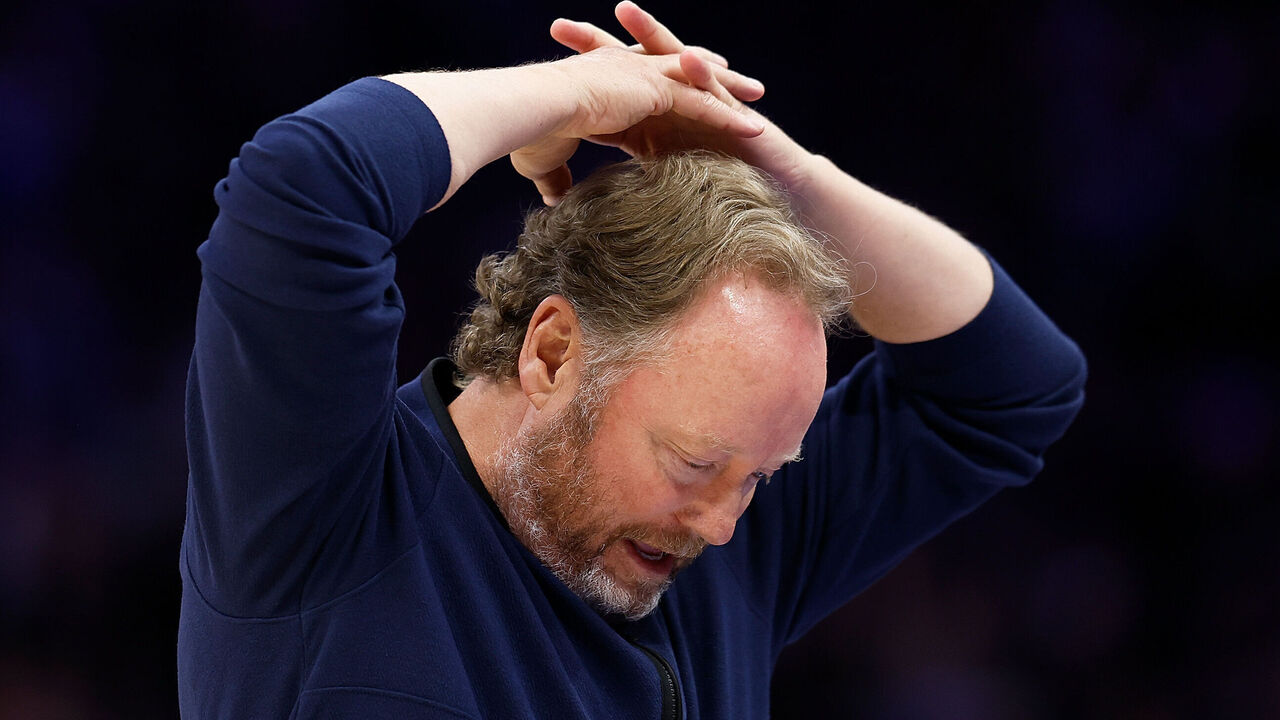 There were extenuating circumstances in the defeat. Antetokounmpo missed most of the first three games after suffering a back injury in the first quarter of Game 1 and returned at less than 100%. The Heat had an insane shooting series, canning 45% of their 3-point attempts after ranking 27th in the league during the regular season at 34.4%. And more than anything, there was the fact that Budenholzer was coaching through immense personal tragedy. Obviously, we can't get inside his head or know how present he was on the sidelines with that tragedy weighing on him. But perhaps it helps explain why a coach who's typically so conscientious about timeout usage accidentally left one in his pocket at the end of regulation after the Heat tied Game 5 with 0.5 seconds to play.
Ultimately, those caveats and circumstances weren't enough to save Budenholzer's job, given the way the series ended: with blown double-digit fourth-quarter leads in Games 4 and 5; with Jimmy Butler going supernova, while Milwaukee continued to play him almost exclusively in single coverage; with the Bucks shooting 5-for-27 and committing seven turnovers in the fourth quarter and overtime of their elimination game; with that timeout gaffe at the end of regulation; and with the overtime buzzer sounding while Grayson Allen was in the middle of a misbegotten Eurostep drive after Budenholzer had again declined to call timeout when his team gained possession down two points with 10 seconds still on the clock.
It would've been easier to brush those failures aside as aberrations if we hadn't seen them crop up multiple times before. The collapse of Milwaukee's half-court offense was basically an annual springtime tradition by that point. So, too, was Budenholzer's rigid adherence to his base defensive scheme and his refusal to tighten his rotation or extend his best players' minutes in a way that reflected the desperation of the moment. He had a habit of treating playoff games like regular-season games – waiting and waiting for shot-making variance to level out over time and for the math to tilt back in his team's favor until suddenly, there was no tomorrow.
The Bucks held a 15-point lead with 14 minutes remaining in Game 6 of the 2019 conference finals, but a dash of zone defense caused their offense to short-circuit, and they surrendered a 26-3 run that effectively ended their season. They barfed away Game 3 of their second-round series against Miami the following year in unthinkable fashion, watching a 12-point lead turn into a 15-point defeat in the most lopsided fourth quarter in NBA playoff history. Even the year they won the title, they barely got out of their own way in time to escape a badly banged-up Nets team that came within a Kevin Durant shoe size of knocking them out in the conference semis. At a certain point, you lose the benefit of the doubt.
So, yeah, Budenholzer's legacy in Milwaukee is bound to be a complicated one. But for all his warts, it should never be forgotten that he inherited a meandering, middle-of-the-road team and helped turn it into a regular-season wins machine – and a champion.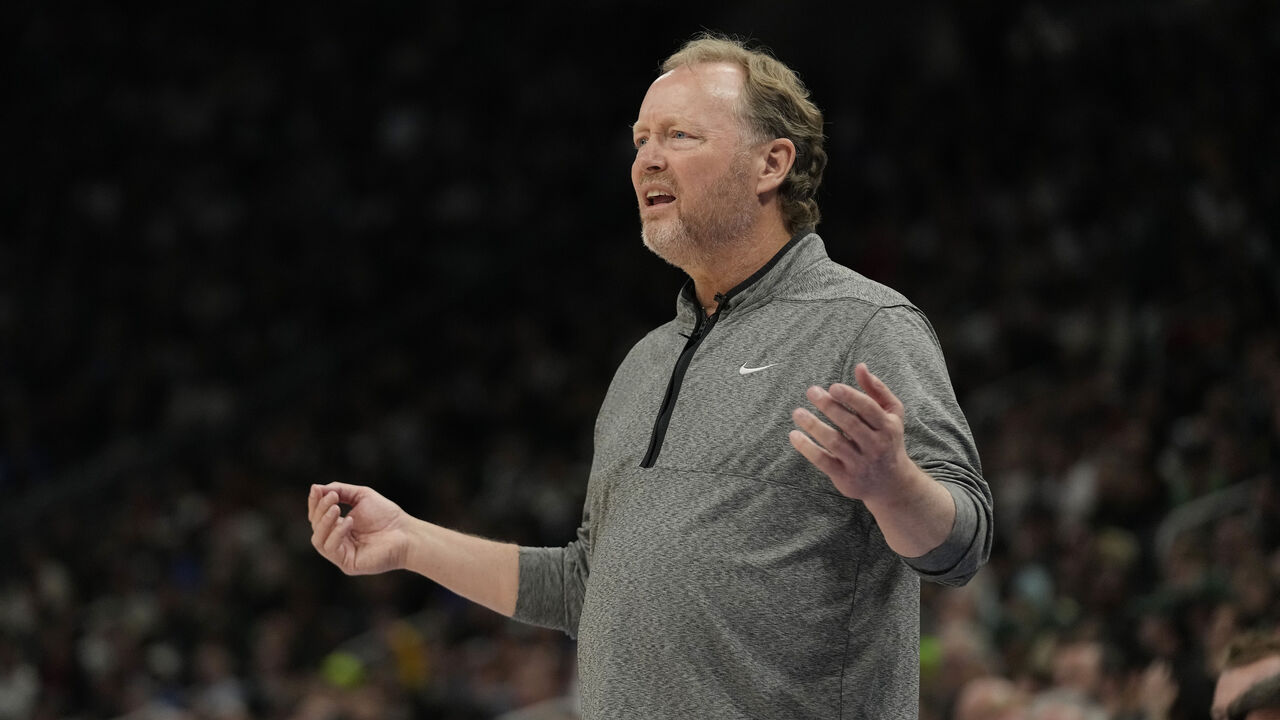 Whatever you want to say about his inflexibility when it comes to making in-game or between-game adjustments in the playoffs, he's unquestionably one of the great macro tacticians in the sport. His defensive principles and the success they engendered helped change the way defense was played around the league. There were seasons (including this last one) in which he helped the Bucks outperform their true talent level to the point that their playoff loss felt worse than it probably was.
He made all those sweeping changes upon taking the job in Milwaukee, but he didn't stop there. He layered in new, big-picture schematic tweaks each season. The year the Bucks won the championship, he radically altered the team's spacing once again, this time by moving an extra player inside the arc and emphasizing the dunker spot. He also spent that year tinkering with different defensive looks, sacrificing a bunch of regular-season wins in order to build up different tactical muscles. Late in that run, he started leaning hard into offensive rebounding, and he carried that over into the next two seasons, turning Milwaukee from one of the league's most crash-averse teams into one of its most voracious second-chance hunters.
This year brought one more shift in defensive philosophy. After years of allowing opponents to bomb away from deep as a consequence of their emphasis on rim deterrence, Bud and his staff decided, why not take away both? With a less help-conscious approach, they were able to do just that, finishing the season with the league's third-lowest opponent rim frequency and fifth-lowest opponent 3-point rate, per Cleaning the Glass.
The cruelest part of their latest loss to Miami is that Budenholzer's new mandate was designed specifically to avoid getting burned by the long ball – and specifically off-the-catch threes – the way the Bucks had been in the past. And from a process perspective, the scheme worked exactly as intended; the Heat shot fewer catch-and-shoot threes than all but two teams in the first round and shot more pull-up jumpers than any team except Phoenix. The Bucks gave up the shots they wanted to give up; Butler and the Heat just made them all.
Coaches can only control so much at the end of the day. The players have to play the game, and there were plenty of times over the last five years when the Bucks' players just didn't execute: couldn't make shots, committed inexplicable turnovers, made mental miscues on defense, and wilted in the face of pressure. Heck, if Antetokounmpo had simply shot 75% from the free-throw line in all of the team's playoff runs, there's a good chance there'd be another banner in the rafters at Fiserv Forum, the Bucks would still be alive in this year's postseason, and we wouldn't be having this discussion.
But that's how it goes sometimes. The margins of playoff basketball can be microscopic, and teams' fortunes so often turn on a knife's edge. Just like how in 2021, the Bucks' fortunes turned on a Game 7-tying Durant jumper that would've ended Milwaukee's season (and likely Bud's Bucks tenure right then and there) if his toe hadn't grazed the edge of the 3-point line.
Perhaps Budenholzer's proclivity for big-picture thinking is exactly what's made him ill-suited to the immediacy of a playoff series, where one game can change everything. Still, while his blind spots certainly cost the Bucks at times, we shouldn't let those shortcomings overshadow the impressive body of work built on his big-picture brilliance. Wherever the team goes from here, it will benefit from the foundation he laid.