Miami GP Takeaways: Max makes statement, Stars come out, Alpine roasted
Following each race weekend this year, theScore's editors offer their takeaways. We continue the 2023 schedule with the Miami GP.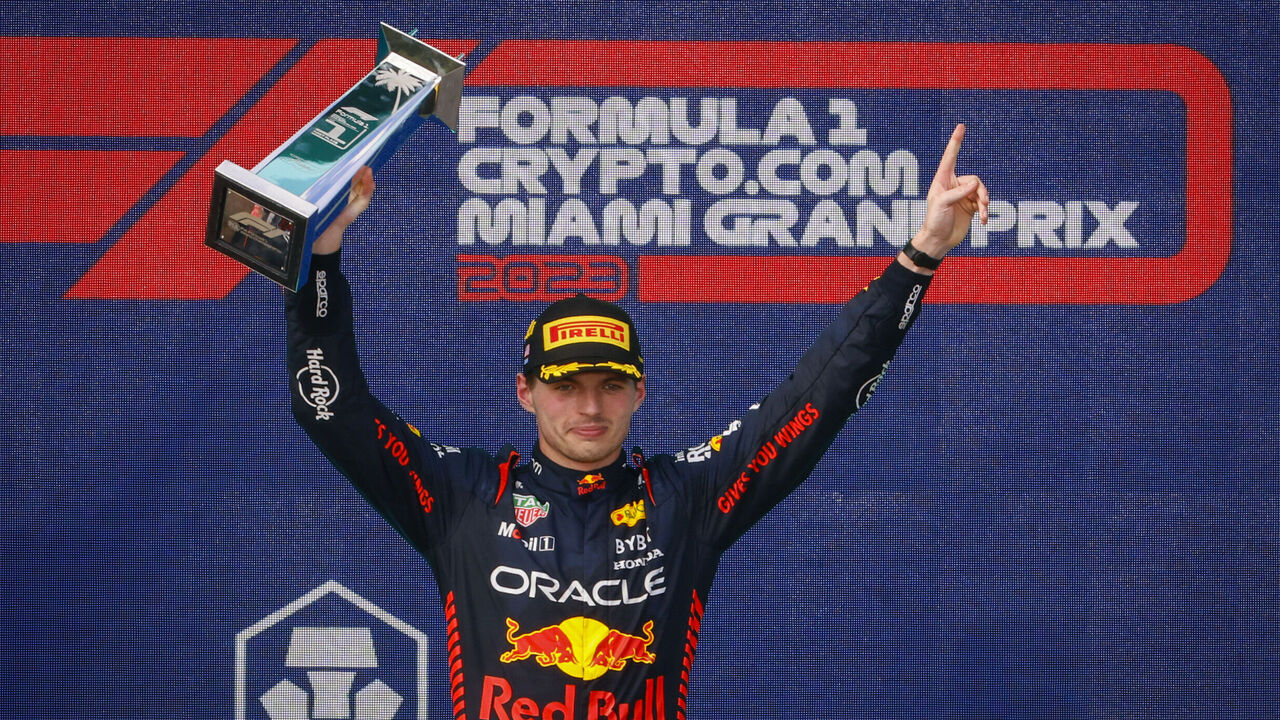 Verstappen makes it look easy … again
Any thought that Max Verstappen couldn't win Sunday's race quickly dried up in the Miami heat as the championship leader stormed back from ninth on the grid to take the checkered flag.
Though the reality is the RB19 will always leave Verstappen, who has won from further back multiple times before, in contention for victory, this may have been his most impressive recovery drive. Not only did the Dutch pilot have to overtake eight other drivers, but he also passed teammate Sergio Perez to win. Perez has had Verstappen's number twice before – Saudi Arabia and Baku – and had the benefit of starting on pole. But, despite being in equal machinery, Verstappen was simply in a field of his own in Miami.
The reigning world champion opted to start on the hard tires, seemingly hoping to run long and perhaps benefit on a late safety car. In the end, his pace didn't need a safety car. Verstappen not only rose to second, but he then impressively matched his teammate's second-stint times, which ultimately sealed him the win.
"He made it work without the safety car," team principal Christian Horner said. "The crucial part was probably from Lap 20 to Lap 42 where his pace on that worn tire, that was where he was able to match and better Checo's pace."
Average lap times:
| Driver | Laps 22-44 | Laps 37-44 |
| --- | --- | --- |
| Verstappen | 1:31.563 | 1:31.171 |
| Perez | 1:31.551 | 1:31.509 |
It all started when Perez relinquished the lead after 20 laps with the hopes of building a big enough gap to withstand a charging Verstappen at the end. On the simulations, it may have been feasible, but Verstappen had other plans. The gap when the Dutch driver emerged from the pits after a 45-lap hard-tire stint was just over one second. The overtake was inevitable, but the statement delivered by Verstappen felt a whole lot more meaningful.
All the talk coming into Sunday's race was Perez's legitimate title bid. With two victories over Verstappen this season, a third coming in Miami would have likely given him the championship lead. However, the two-time champ squashed all hopes of that with unworldly pace, tire management, and composure.
"To be honest with you, today, I think with the pace he had, it wouldn't have mattered if he decided on the softs or the medium or the hard tire (to start on)," Horner said. "His pace, as it has been all weekend, has just been outstanding."
Sometimes, it really feels like it doesn't matter what tire Verstappen chooses to start on or where he lines up on the grid. Sunday certainly felt like one of those times. – Daniel Valente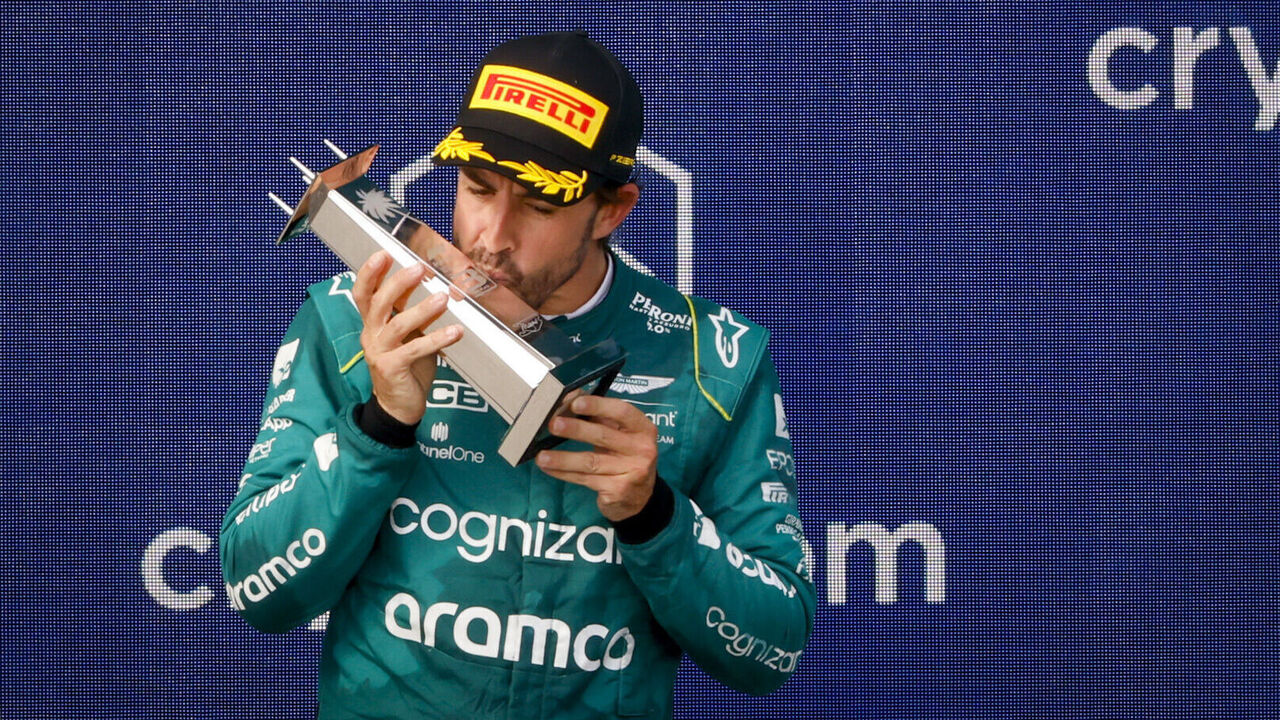 Alonso gets 'boring' wish, but Aston needs more
After qualifying second on Saturday – and getting some help from a late red flag caused by Charles Leclerc in Q3 – Alonso said Aston Martin would be hoping for a "normal, boring race," with rain potentially in the forecast for Sunday. Well, the second-ever Miami GP came and went with a dry track, and sure enough, the two-time champ got his wish with his fourth podium finish in five races.
It's funny, though: At the outset, Aston and Alonso were elated to be on the podium. It was a remarkable leap from a team that finished seventh in the constructors' standings. They now sit second and have already surpassed their 2022 points total. Now, though, Alonso seemed to be warning against complacency.
"At the beginning of the year, a podium was amazing," the veteran driver noted. "Now, after four races, we want more – at least a second place, but the two Red Bulls are unbreakable and super fast. But as I said, maybe Monaco, maybe Barcelona, we have a possibility."
Of course, he's right: The Red Bulls are unbreakable because, as Alonso clinched his fourth podium through five races a full 30 seconds back of Verstappen, the Red Bulls also secured their fourth one-two finish of the year. It's a staggering run, and third-place finishes might be the best anyone else can hope for.
One thing that'll be incredibly important, though, is if Aston hopes to challenge at Monaco at the end of May or at Alonso's home circuit in early June, the team will need more reliability from Lance Stroll.
To date, Stroll had been a perfectly fine second driver behind the former champ. However, the Canadian had a dismal qualifying session, failing to make it out of Q1 and running 18th. It didn't get much better Sunday, finishing 12th out of the points. Considering his teammate in the same machinery is beating everyone except Red Bull on the track, that's simply not good enough. Mercedes and Ferrari are running into their own troubles, and Alonso's result keeps Aston at the top of the midfield, but the team needs more from Stroll. If Aston can get that, maybe Alonso and the rest of the team become the beneficiaries of more exciting Sundays. – Michael Bradburn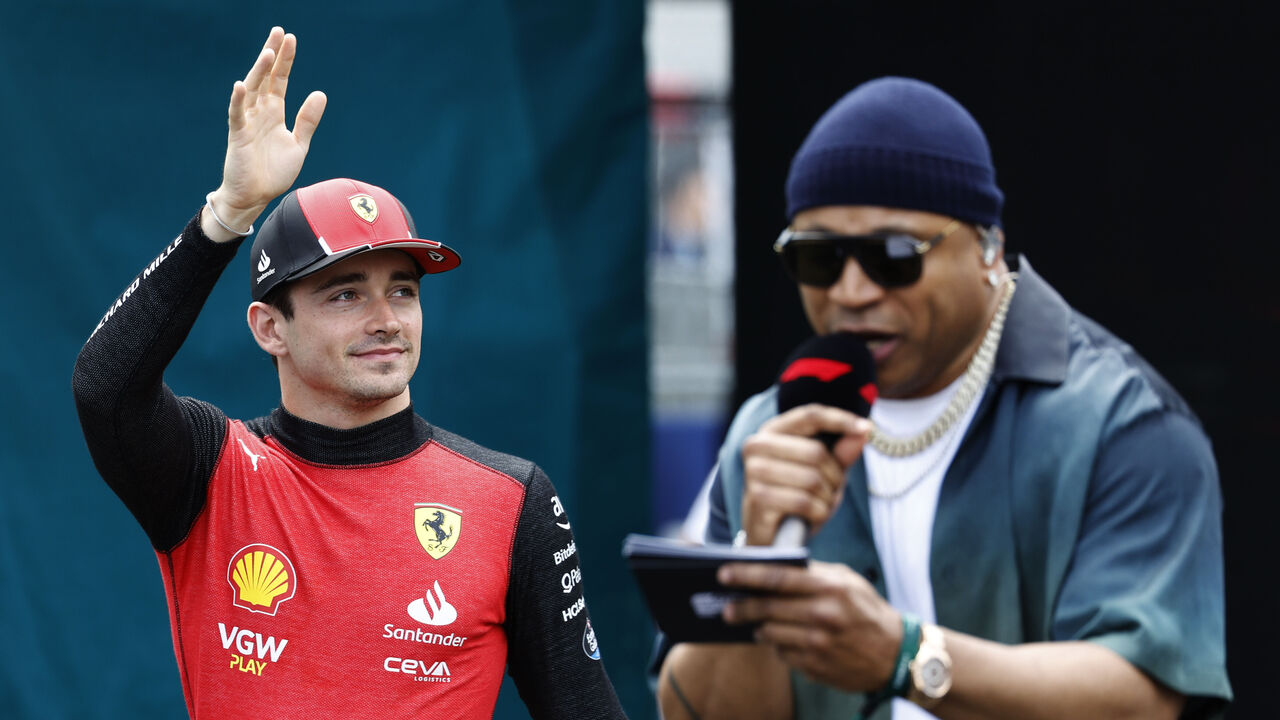 Miami GP delivers … just not on the track
Formula 1 has made a conscious effort in recent years to capitalize on its soaring popularity in the United States. It's working.
The Miami Grand Prix has, rather quickly, established itself as one of the marquee events on the Formula 1 calendar. It's quite the accomplishment, especially considering the race itself, for a second consecutive year, lacked much in the way of drama. Not to worry. There was plenty of star power to make up for the underwhelming on-track action. Verstappen's procession through the field and onto the top step of the podium – which felt like an inevitability despite his starting position on the grid – didn't sully the star-studded spectacle.
Vin Diesel and Michelle Rodriguez, stalwarts of the apt "Fast & Furious" franchise, headlined a pre-race hype video. Tom Cruise auditioned with the Mercedes pit crew. Iconic athletes like Roger Federer, Patrick Mahomes, Venus and Serena Williams, and Lindsey Vonn strolled through the paddock.
LL Cool J and will.i.am then combined to introduce all 20 drivers, WWE style, onto the grid. You may scoff at the pomp and circumstance of it all – some of the scripted introductions for the drivers were, admittedly, stilted – but this is about entertainment as much as sport. And, crucially, the approach is delivering tangible results: F1 announced a weekend attendance of 270,000 in Miami, an increase of 30,000 from last year's inaugural event. Be it for celebrities of all types, hardcore race fans, or those whose interest has been piqued of late, this has quickly become one of the hottest tickets around.
Like any notable event in the social media age, it also doubled down on its virality.
Martin Brundle's infamous – and immediately viral – chat with Paolo Banchero ahead of last year's race, when he mistakenly thought he was interviewing superstar NFL quarterback Mahomes, was simultaneously one of the worst and best moments of the season. Never bashful, Brundle redeemed himself on Sunday when he reconnected with the NBA Rookie of the Year, with whom he's developed an organic bond since their awkward first encounter.
Mahomes, ironically, was in attendance on Sunday. Perhaps that interview is being saved for 2024. Building drama and anticipation is a hallmark of any good production, after all.
Let's see what F1 has planned for an encore in Las Vegas later this year. – Gianluca Nesci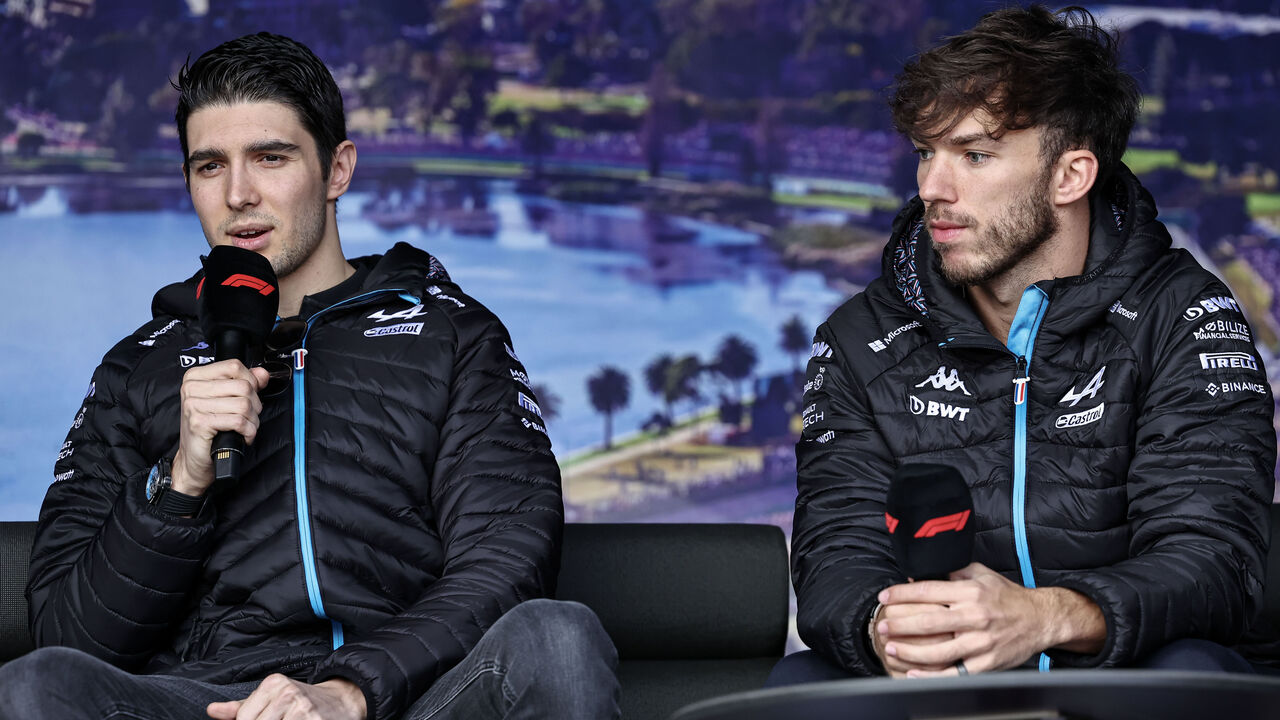 Alpine drivers respond to CEO's criticism
Alpine CEO Laurent Rossi had every reason to be disappointed in his team heading into Miami, and he let everyone know about it.
Rossi labeled the team's performance as "unacceptable" after sitting in sixth in the constructors' standings with only 14 points through the first five races.
"It's disappointing; it's actually bad," Rossi said, according to Motorsport.com's Jonathan Noble. "This year ended up starting with a flawed performance and flawed delivery. It's obvious our position in the standings is not worthy of the resources we spend, and we are quite far – in fact, very far – from this year's end goal.
"I'm noting not only an obvious lack of performance and rigor in the delivery but also potentially a state of mind that is not up to this team's past standards."
Even Alonso got in on the roasting, taking a shot at his former team during Friday's practice session.
The comments from Rossi may have lit a spark under the drivers – at least during qualifying. Pierre Gasly qualified fifth ahead of both Mercedes, while Esteban Ocon was eighth. While things didn't go quite as well on race day – with Gasly finishing eighth and Ocon coming in ninth – the team still had both drivers score points in a race for only the second time this season.
"Eighth and ninth for us is pretty much where we are," Gasly said after the race, noting that he had to preserve fuel at the end, which cost him lap time. "Clearly shows we made a big improvement from last weekend." – Brandon Wile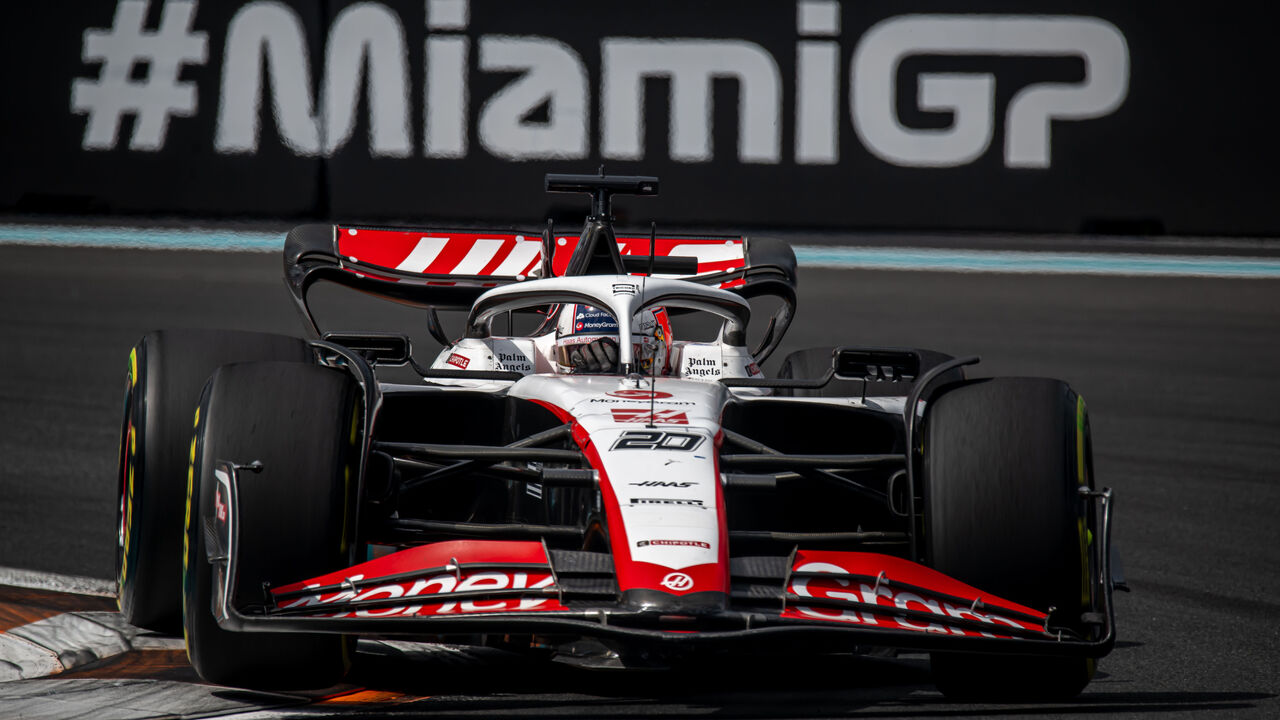 Take a bow, KMag
Without any context, praising a driver who began fourth for securing a 10th-place finish may seem perplexing. However, Kevin Magnussen put on a show en route to bringing Haas a well-deserved single point.
Despite starting fourth, points were never guaranteed for the Danish driver, thanks to Haas' lack of pace compared to its foes. After losing a few places at the start, it was easy to come to the conclusion that Magnussen would continue dropping the field.
Instead, the veteran not only held his own, he even outsmarted and outraced Leclerc at multiple points throughout the event. Magnussen got the better of the Ferrari driver after a sequence that spanned through Laps 3 to 4. It didn't end there, though, as he later set up Leclerc for another overtake down the pit straight on Lap 37 during their second stint. Though Leclerc would end up getting ahead for good shortly after, it was refreshing to see a customer team battle its supplier without one hand tied behind its back.
Magnussen was well rewarded for the entertainment he provided as he was able to hang on to a crucial 10th place ahead of Yuki Tsunoda and Stroll. More importantly, he was able to chip away at the lead held by teammate Nico Hulkenberg.
The 30-year-old had been outscored by Hulkenberg 6-1 coming into Sunday's race. In Miami, Magnussen added another point to his total while also finishing over 10 seconds ahead of Hulkenberg. That 10th-place finish, coupled with his masterclass wheel-to-wheel battle with Leclerc, should only boost his confidence moving forward. – Valente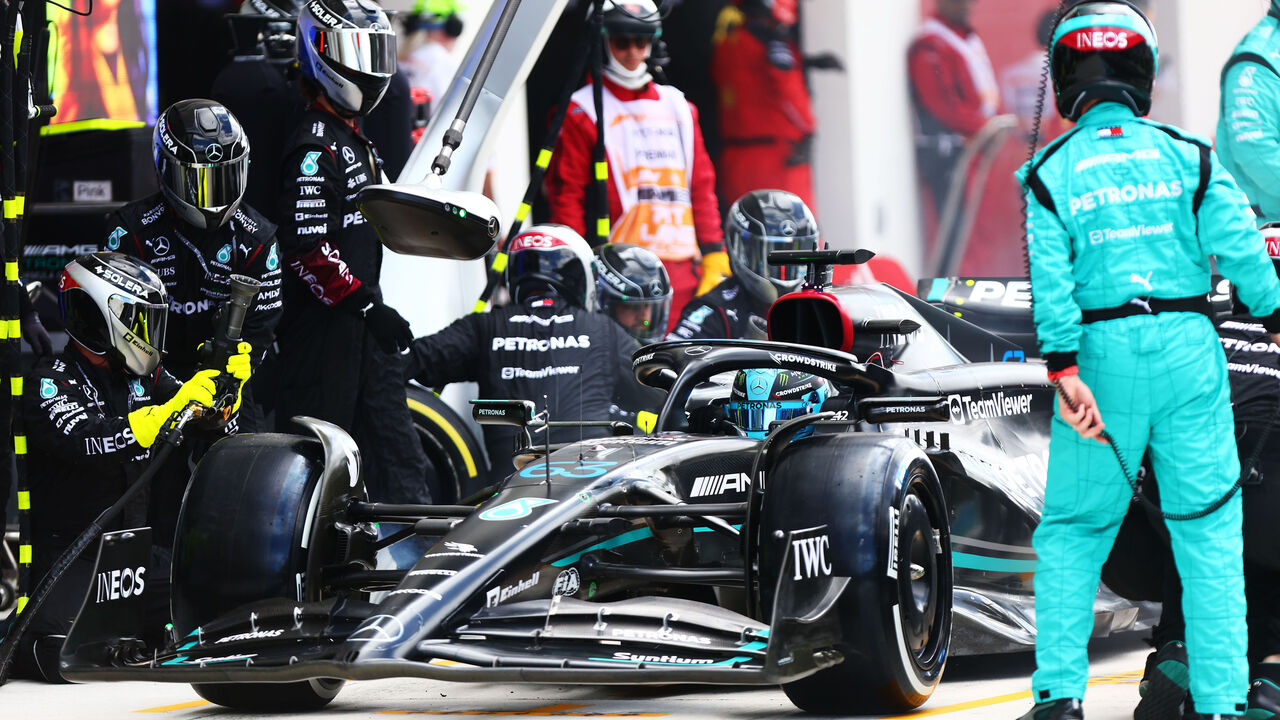 Mercedes bounces back from qualifying disaster
If anything, Mercedes has made things somewhat interesting this season with its wild inconsistency.
Some weekends, the team looks like it could compete for podiums; other times, it barely squeaks into Q3.
That was the case in Miami, where Lewis Hamilton qualified 13th on merit, and George Russell started the race sixth – benefiting from Verstappen not being able to clock a time in Q3.
But still, on Sunday, the team pulled itself together to once again secure valuable points. Hamilton, who at one moment early in the race sounded over team radio like he just wanted to pull the car over and walk away, managed to place sixth. Meanwhile, Russell secured his second fourth-place finish on the season.
"Two years ago, (to finish) fourth and sixth, I don't think we would have been as delighted as we were today," team principal Toto Wolff said. "But we have a difficult car; qualifying was difficult. Fourth and sixth is a solid recovery."
Mercedes is expected to bring sizeable upgrades to Imola. While that would seem like an encouraging development for the team – as it sits just six points back of Aston Martin for second place – everyone in the garage is also likely holding their breath. If the upgrades don't drastically improve things, what will that do for the morale of the team? What will that do for the ongoing contract negotiations with Hamilton? Wolff has already said at the beginning of the year that the plan with the car hasn't worked, so maybe we'll get a glimpse of Mercedes' long-term direction. – Wile