Major conference preview: Biggest challenge for each SEC team
The SEC underwent as many drastic changes this offseason as any major conference in college basketball.
Six programs hired new head coaches, seven of the nine all-conference first-team players moved on, and nine of the top 20 freshmen in ESPN's rankings signed with SEC schools.
With so much movement across the league, we take a look at the biggest obstacle each team will face this campaign.
Auburn (28-6) – Replacing two first-rounders
Jabari Smith, a 6-foot-10 sniper, went third overall in this year's NBA draft. Walker Kessler put up college basketball's best individual block percentage since 2008. Now, Auburn will try to replicate their production with a four-star freshman in Yohan Traore and a mid-major transfer in Johni Broome.
Because the Tigers' frontcourt faces many questions, the team will have to rely on last season's inconsistent guard corps. KD Johnson and Wendell Green combined to shoot 269 of 718 (37.4%) from the field last season, which won't cut it this go-around.
Either the inexperienced big men or the inefficient guards will have to step up in a big way for Auburn to replicate last season's success. This program has a very high ceiling but also a low floor.
Kentucky (26-8) – Finding tournament success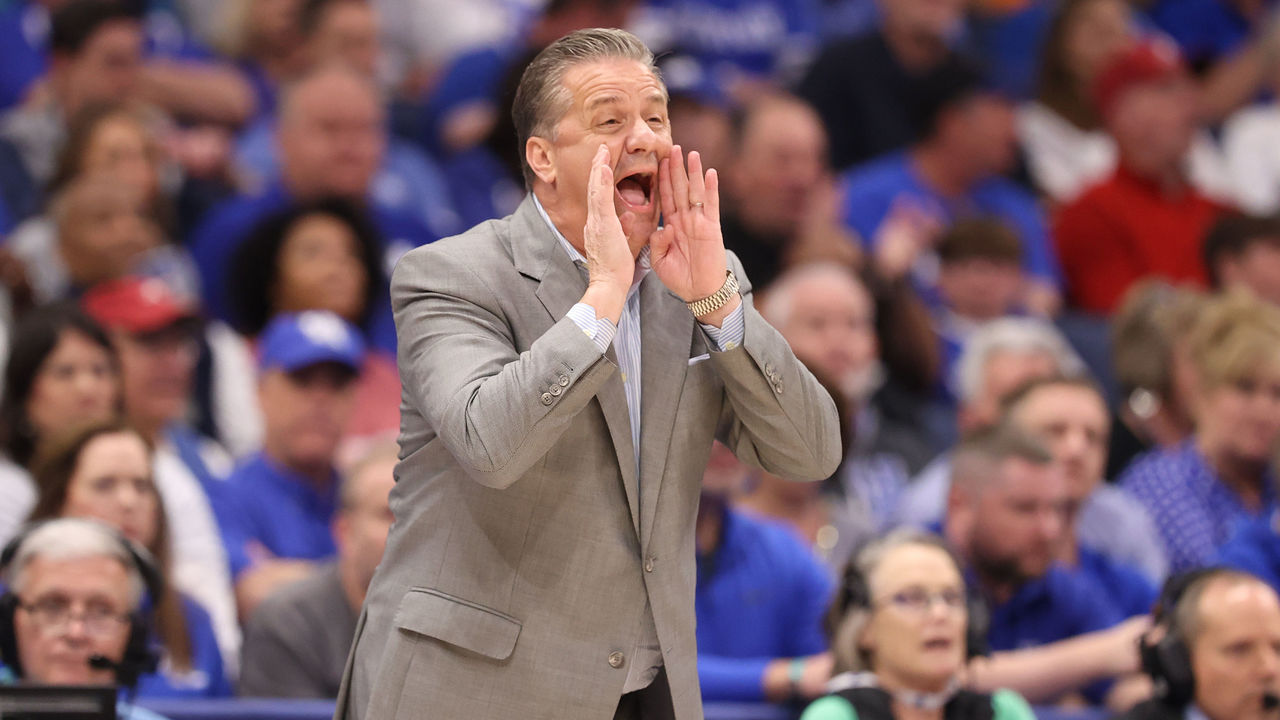 Kentucky is almost guaranteed a great campaign with reigning Player of the Year Oscar Tshiebwe and starting point guard Sahvir Wheeler back in Lexington. However, this squad has a lot to prove after falling victim last season to one of the biggest upsets in NCAA Tournament history against No. 15 seed Saint Peter's.
March's postseason failure will linger for head coach John Calipari and Co., though the program brought in a couple of highly regarded freshmen and some veteran transfers to complement the returning stars. Plus, role players Daimion Collins and Jacob Toppin are primed for a leap.
Even if Kentucky wins the SEC and secures a top seed in March, the Wildcats' season will be measured solely on their tournament performance.
Tennessee (27-8) – Discovering offensive consistency
Tennessee ranked 35th in KenPom's offensive efficiency rating last season, but it was the Volunteers' second-best mark in seven seasons under head coach Rick Barnes.
It's not like this team couldn't score, but Tennessee mixed in some dreadful offensive performances with some excellent ones in conference play.
With leading scorer and passer Kennedy Chandler gone to the NBA, off-ball guard Santiago Vescovi and the diminutive Zakai Zeigler will need to be All-SEC-caliber players to keep up a solid scoring pace. That's a reasonable but difficult ask. The Volunteers will also look for a good season from Finnish big man Olivier Nkamhoua, who showed flashes last campaign.
Being a great defensive team has become the norm for Tennessee, but the team will need to take a step up offensively to truly compete with the top SEC squads this season.
Arkansas (28-9) – Building team chemistry
Arkansas head coach Eric Musselman completely retooled his program, nabbing three five-star freshmen and five high-level transfers over the summer. Wing Davonte Davis is Arkansas' only returnee who averaged over 10 minutes per game last season.
On paper, the Razorbacks have one of the most talented rosters in the country, led by potential top-five pick Nick Smith. However, there are lots of players on the squad who'll be looking for minutes and shots, and there are only so many of both to go around.
In order for Arkansas to maximize its potential, each rotation member will be required to know their role and accept it. If the team chemistry in Fayetteville is clicking, the Razorbacks will be an extremely difficult team to beat.
LSU (22-12) – Starting over
In a conference chock-full of personnel changes, LSU's offseason stands above the rest. Not only did the Tigers replace head coach Will Wade with Murray State bench boss Matt McMahon, but they also lost nine of their 10 leading scorers from last year.
The program is starting over, and while there are certainly some talented pieces on this roster, the reset could make the new campaign a difficult one.
Still, McMahon filled his roster with intriguing transfers. Three of his best players followed from his former stop, and three potential starters came from other high-major programs. The thought of starting from scratch is a daunting one, but it could be fruitful in the long run in Baton Rouge.
Alabama (19-14) – Rediscovering an identity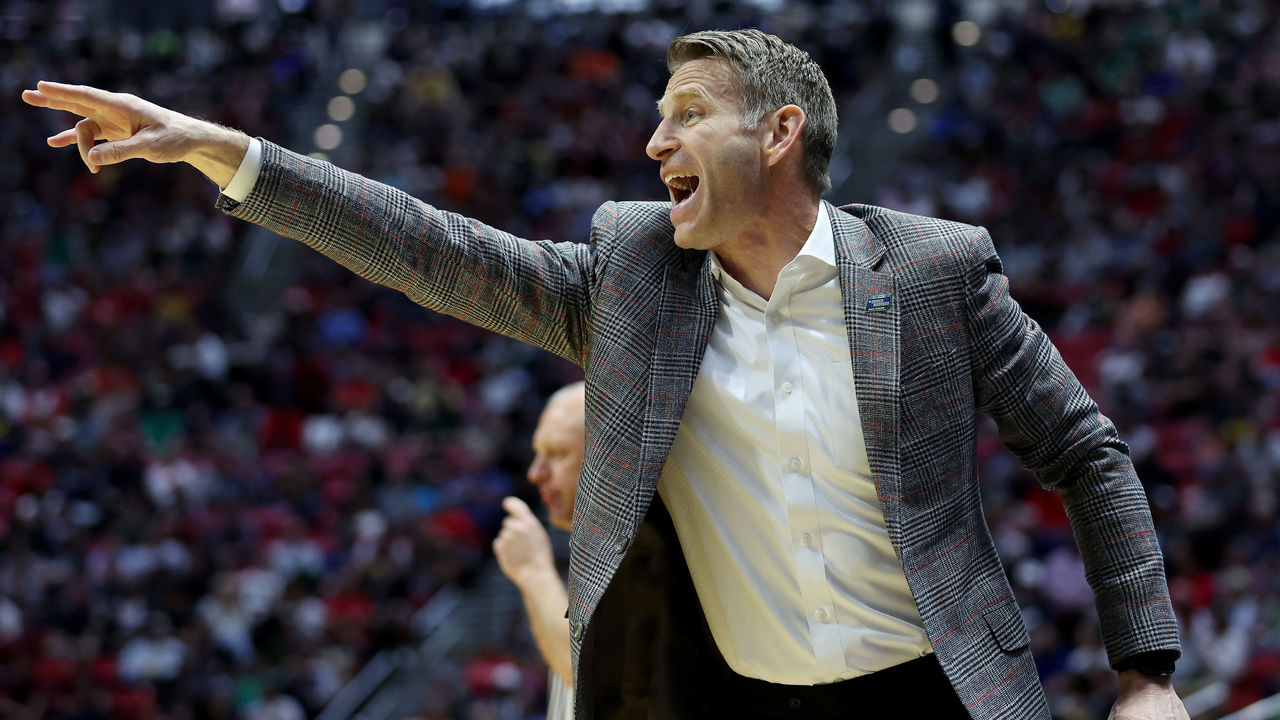 Alabama head coach Nate Oats has a relatively straightforward offensive philosophy: Play at a super-fast pace and shoot as many 3-pointers or layups as possible. His plan worked well during the 2020-21 campaign. The team earned a No. 2 seed in the NCAA Tournament thanks to one of the nation's fastest paces and a 35% hit rate on perimeter jump shots.
However, that number dipped to 30.9% last season – which ranked 303rd in the nation – as the Crimson Tide stumbled to a poor record. With that deficiency in mind, Alabama made a concerted effort to add shooting this summer.
Mid-major transfers Mark Sears and Dom Welch have each connected on over 37% of their career 3-pointers and should blend in well with Alabama's plethora of high-level athletes. If the Crimson Tide can get back to efficiently running and shooting, they could have a solid bounce-back season.
Texas A&M (27-13) – Improving on last year's finish
Texas A&M finished its last campaign on a tear, winning four of its last five conference regular-season games to reach the SEC Tournament finals and advance to the NIT championship game. With many returning pieces, it's natural to expect even more.
It may not be that simple, though. Despite their strong finish, the Aggies dropped eight straight games between January and February. They also lost defensive leader Quenton Jackson.
Head coach Buzz Williams still has a solid collection of players in College Station, but they lack the star power that many of the SEC's top teams possess. While the team could improve, Texas A&M's finish last season might've been its peak.
Florida (20-14) – Accepting Golden's SEC philosophy
As one of the country's youngest head coaches, 37-year-old Todd Golden is bringing his analytical approach to basketball and unconventional method of player acquisition from mid-major San Francisco to SEC powerhouse Florida. Can the new kid on the block compete with a plethora of legendary head coaches in the sport's most athletic conference?
On paper, the Gators certainly have the roster to be competitive. Potential All-American Colin Castleton returns, and he's joined by a couple of key returners as well as four high-end transfers. If Golden can blend his style with this group, Florida could shatter expectations. But that's a very big "if."
South Carolina (18-13) – Improving guard play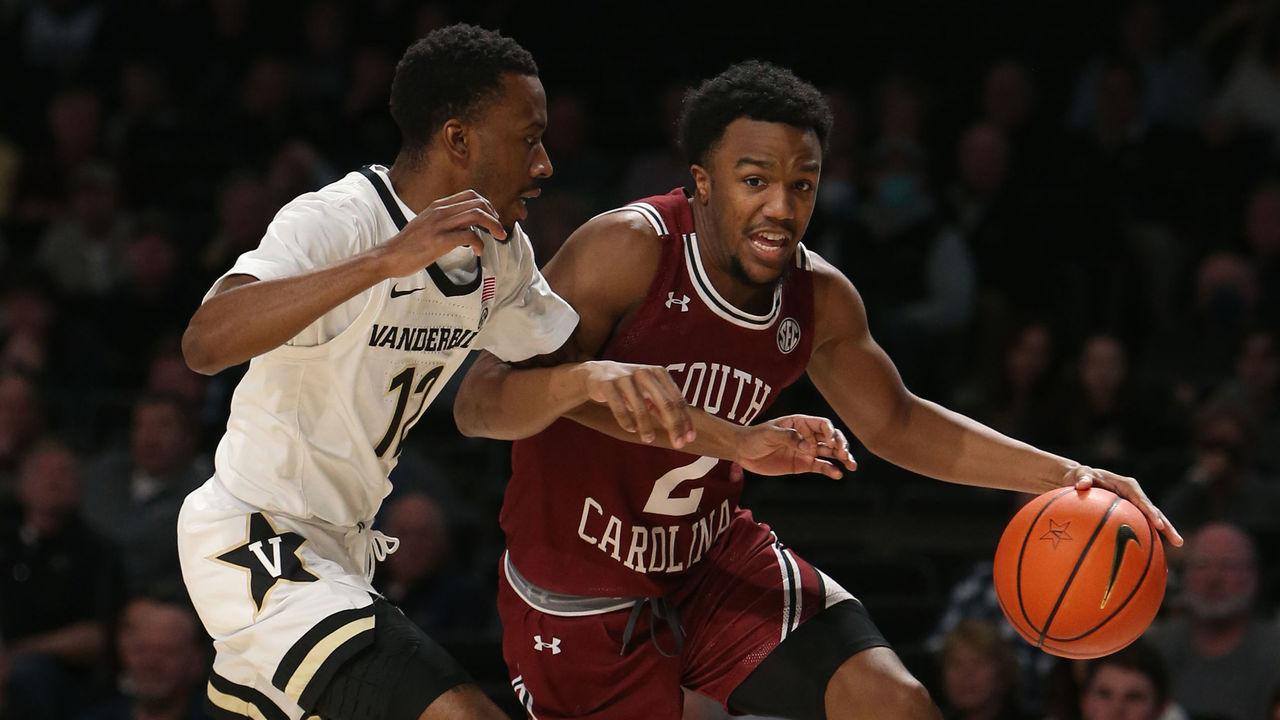 Following Frank Martin's firing, new South Carolina bench boss Lamont Paris brought in five-star wing GG Jackson, signed two promising frontcourt transfers in Hayden Brown and Benjamin Bosmans-Verdonk, and retained some depth forwards and big men.
However, the backcourt is extremely thin and unproven. Chico Carter and Jacobi Wright return, but the pair combined for just 7.6 points and 2.4 assists per game last season. Former four-star Ohio State guard Meechie Johnson transfers in, but he shot just 32% from the field across two seasons with the Buckeyes.
It won't matter how well Jackson and the bigs play unless the backcourt can carry its weight.
Mississippi State (18-16) – Taking a leap
Mississippi State won at least 18 games each season under the last five years with head coach Ben Howland, but no more than 25. The Bulldogs finished SEC play no better than four games over .500 and no worse than two games under. The school only made one NCAA Tournament in that stretch.
Now, with former New Mexico State bench boss Chris Jans taking the reins with a solid mix of returners and newcomers, the program will look to finally jump into conference contention. While the roster doesn't feature any superstars, there are a handful of players who should be impact SEC performers.
It may not happen in Year 1, but there's certainly hope in Starkville that Mississippi State can climb out of the middle of the pack. But until then, they'll continue to be just average.
Vanderbilt (19-17) – Replacing Pippen
Vanderbilt has a giant hole to fix at the point of its offensive attack with Scotty Pippen Jr. – who finished in the top two in both percentage of team's shots taken and assist rate among SEC players in each of the last two seasons – now a member of the Los Angeles Lakers.
Truthfully, head coach Jerry Stackhouse couldn't find a Pippen replacement this offseason. UC Davis transfer Ezra Manjon has never proved himself at the high-major level, and he shot 20% from 3-point range last season. Returner Trey Thomas averaged less than one assist per game last year and took 134 of his 170 shots from beyond the arc.
The rest of the roster is filled with wings and big men. The Commodores were a bottom-half team in the conference even with Pippen, and they don't have the luxury of his services anymore. It's anyone's guess who takes on the bulk of the scoring load without him.
Missouri (12-21) – Integrating up-transfers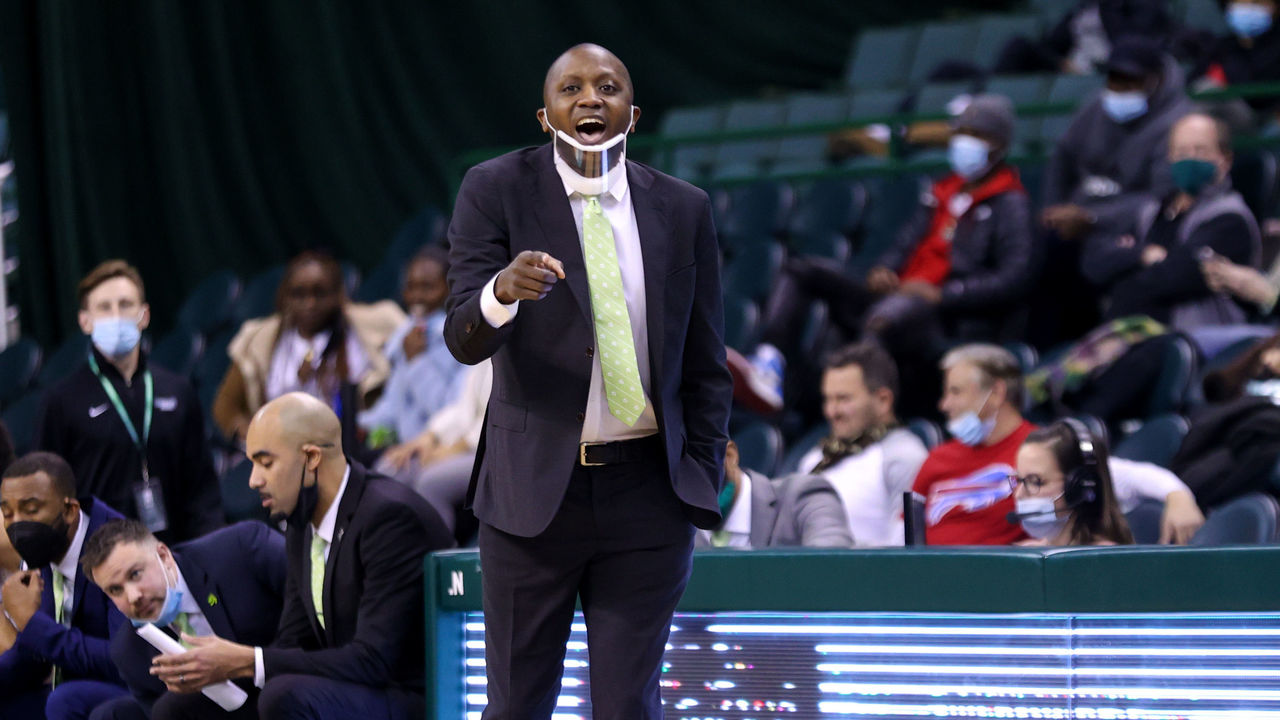 An unprecedented 10 of Missouri's 13 players this upcoming season started their careers at a mid-major or non-Division I program. Dennis Gates, the team's new head coach, has no experience leading a team at the high-major level.
Granted, the Tigers' roster still features players with impressive resumes. Lone key returner Kobe Brown made an All-SEC team last season, as did Missouri State transfer Isiaih Mosley in the Missouri Valley Conference. Point guard Sean East won the Junior College Player of the Year, and big man Mohamed Diarra was ranked as the No. 1 JUCO transfer.
Still, it's highly unlikely many of the lower-level transfers become true impact performers at the game's grandest stage. Count out Missouri at your own peril, but a finish near the top of the SEC alongside teams laced with five-star prospects and All-Americans may be too tough an ask.
Mississippi (13-19) – Securing a rotation
Eight players racked up at least 10 starts for Mississippi last year, and nine played in at least 20% of the team's total minutes. Meanwhile, no Rebels player finished in the top 500 in minutes percentage last season. All this is to say, there was no clearly defined rotation in Oxford in 2021-22.
Coach Kermit Davis needs more consistency from his roster and attempted to reach that end by mixing returners with impressive transfers. Ole Miss brings back four players who played at least 20 minutes and scored at least seven points per game. The team also brings in three transfer forwards who won the Defensive Player of the Year award in their respective leagues, and a fourth big, Josh Mballa, who averaged nearly a double-double at Buffalo.
On paper, the pieces all fit well. But then there's the matter of nailing down a proper rotation and hoping for a strong performance within that grouping. The Tigers were unable to do so last year, but the hope is that with a reinvigorated frontcourt, that goal will be met this season.
Georgia (6-26) – Forgeting last season
Georgia's final ranking of 219th on KenPom was the worst finish for an SEC team in nearly a decade. If that doesn't say enough about how bad the Bulldogs were last season, their 6-26 overall record, 1-17 conference mark, and 318th-ranked defense should do the trick.
As any team should do after such a poor campaign, Georgia cleaned house. In comes former Florida bench boss Mike White, six impact transfers, and what the team hopes will be a new identity in Athens.
Expectations are extremely low for the Bulldogs this season, which should play to their advantage. Frankly, anything is an upgrade over their previous campaign, so forgetting about the past and moving forward would be their greatest accomplishment this year.