Key thoughts and analysis from riveting Real Madrid-Man City draw
Real Madrid and Manchester City treated everyone to a thoroughly enjoyable 90 minutes of football Tuesday, playing out an absorbing 1-1 draw in the first leg of their Champions League semifinal tie. Below, we dissect the biggest talking points from the contest at the Santiago Bernabeu.
Man City channel their inner Madrid
About halfway through Tuesday's semifinal first leg, Manchester City's focus turned to survival. Real Madrid's confidence was surging, and so was their time on the ball. Before City could get back into the tie, they had to make sure they could stay in it.
The first half was all about City's dominance. And yet they stared at a 1-0 halftime hole. It paid little to have the ball for 70% of the opening stanza. Madrid needed just one chance to score. If City hadn't learned their lesson last year – when Los Blancos flipped a two-goal deficit with a pair of last-minute goals from Rodrygo – they must've understood now that the only thing that matters in the Champions League is surviving long enough to lift the trophy.
Just like that, City went from poetic to pragmatic in the second half. They managed the game well enough after Kevin De Bruyne's piledriver of a finish to see out a 1-1 draw. Like Vinicius Junior's opener, De Bruyne's equalizer came against the run of play, punishing Eduardo Camavinga for a giveaway in midfield. Suddenly, Madrid were the ones toiling in possession and City the ones defending resolutely. Suddenly, Madrid were showing all the emotion, the players flailing their arms at every missed call and Carlo Ancelotti, usually the coolest manager on Earth, collecting a yellow card for a rare outburst of frustration.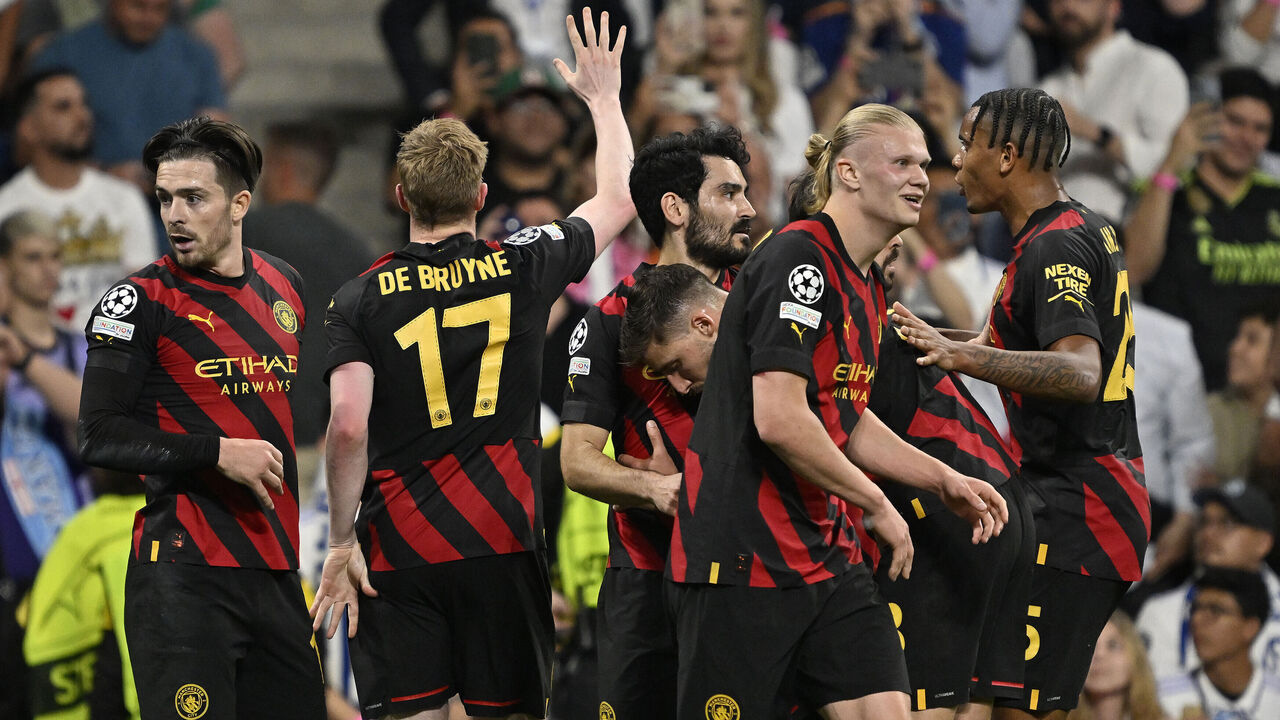 The role reversal was quite extraordinary. But then, so are Pep Guardiola's City. Despite falling short of winning the Champions League on more than one occasion, Guardiola has always had the capacity to adapt. He hasn't imposed the same style of play on every team he's coached. He learned quickly after a first trophyless year in England that his usual pass-first, metronomic football would have to accommodate more dynamic and direct sequences of play.
He changed tactics and approach here, too. Guardiola made no substitutions Tuesday – and not for the first time in this competition. He did the same thing against RB Leipzig in the round of 16. That game finished 1-1 as well, and Guardiola's priority then was the same: to avoid making a tricky situation even worse. City were under tons of pressure in the first leg. They hammered Leipzig 7-0 in the second.
Had City pushed for a comeback here and left space in an aggressive pursuit of goals, Madrid would've had even more of a chance to hurt them on the counterattack. The tie may have been over by then. Instead, Guardiola turned cautious and relied on one of his best players to produce a moment of astonishing technique.
City did to Madrid what they so often do to other teams. They have life because of it.
Camavinga making left-back role his own
Camavinga is a manager's dream.
The pliable Frenchman, still only 20, continues to excel in an unorthodox left-back role, filling a big hole in Carlo Ancelotti's squad with aplomb. He was, yet again, one of the standout performers for Real Madrid on Tuesday. Camavinga showed both his continued defensive growth and the ball-carrying instincts that make him such a unique and difficult matchup for the opposition when he lines up in the ostensibly defensive position, something he's doing with increased frequency since the World Cup.
Camavinga, a natural midfielder, was a force in both directions against City; he had the most touches, final-third entries, chances created, and fouls won of any Real Madrid player on the pitch. He also recorded the most tackles and successful duels for his side.
He already has many of the qualities needed to thrive at the full-back position. His elasticity allows him to make a variety of tackles – something Bernardo Silva learned Tuesday – and his instincts are solid, deciding when to vacate his position to pounce on a loose pass and when to be more conservative and drop in line with his fellow defenders.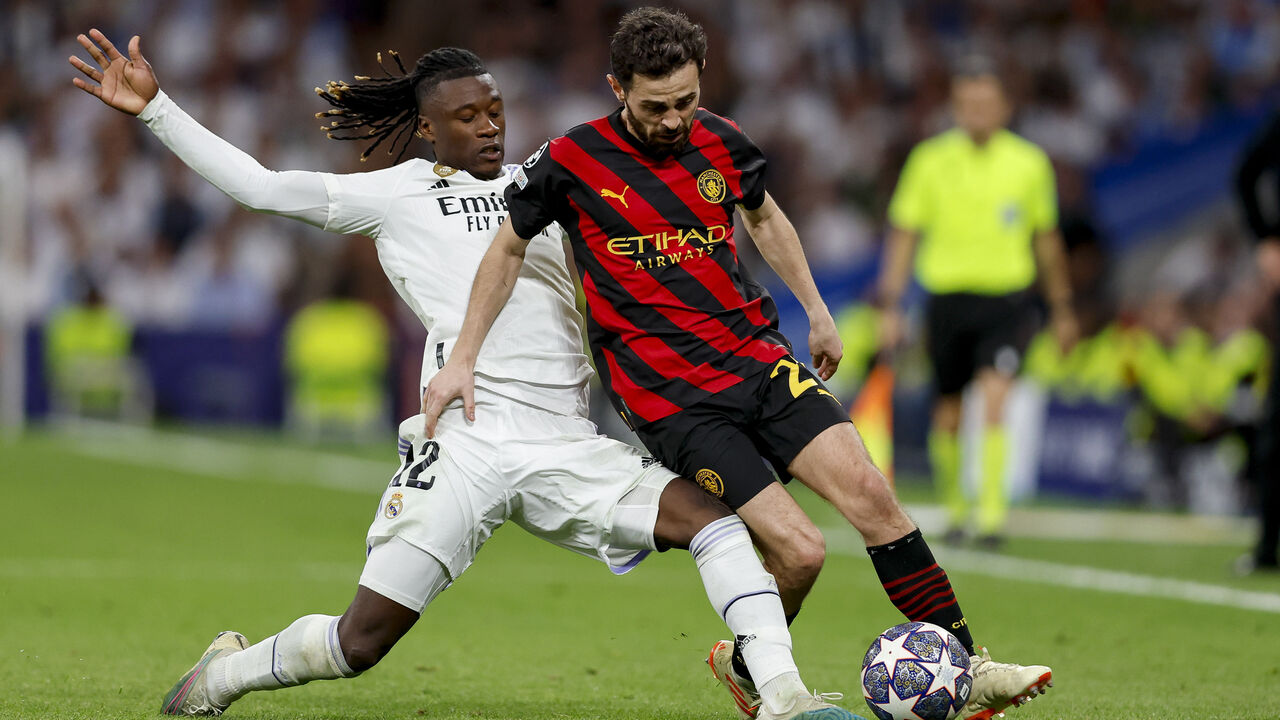 His comfort on the ball in tight spaces was crucial to helping Madrid play out of pressure when City pressed them deep in their own end, and he often tucked inside into familiar midfield spaces to give his teammates a passing lane during the buildup phase. His dribbling ability and top-flight speed came into focus, too, when his bursting run created Vinicius' goal. Silva was simply a spectator as Camavinga raced forward from inside his own half and forced the City defenders to retreat, thus creating space for Vinicius to uncork the opener from outside the box.
And all this from someone who's admitted, on multiple occasions, that he doesn't particularly enjoy playing the position. Imagine if he did. There'll be some growing pains along the way – his wayward pass that ceded possession to City ultimately led to De Bruyne's goal – but with Ferland Mendy constantly sidelined by various injuries, Madrid need Camavinga just as much as they need Vinicius, Benzema, or any of their celebrated veteran midfielders. It's no coincidence he's appeared in more matches than any Real Madrid player this season across all competitions. Ancelotti trusts him fully.
"I'm so happy with him, whether he plays at left-back or in midfield," the Italian coach said earlier this year. How could he not be?
Quick free-kicks
De Bruyne is Man City's true MVP
As prolific as Erling Haaland has been this season, Manchester City's most important and valuable player remains De Bruyne. On top of scoring the tie-saving equalizer Tuesday, the Belgian midfielder showed incredible fight off the ball, conducting City's press and contributing to it when he saw fit.
"I think Kevin's brain is the best I've seen," Thierry Henry said on CBS Sports Golazo. "We're talking about the way he sees the game. I don't know what he thinks about sometimes. You look at him, and it's almost like he's not with us. That can sometimes be a problem because you're not at his level. I think he's the most clever player I've seen."
Guardiola has recently offered De Bruyne the license to roam around the pitch, and he's been responsible with that freedom, stepping into space his teammates create with brilliant runs of the ball. He's also been unpredictable when he has the ball. His shot from distance seemed to surprise Thibaut Courtois in goal, and that's because he's so tough to read.
Individual quality through the roof
Football was the biggest winner today.
So many times, matches of this magnitude fail to deliver. This one didn't. Even though only two goals were scored, Tuesday's affair was totally captivating. The finesse from both teams stood out, especially as they each took turns playing out from the back, coping with intense pressure by knocking the ball around quickly, smoothly, and with supreme confidence. Kyle Walker, with a smile beaming across his face, saluted Vinicius after the final whistle to commemorate their intense battle over the 90 minutes. The mutual respect was evident. Both sets of players, and their managers, enjoyed this one.
With no disrespect to either AC Milan or Inter, the two combatants in the other semifinal, this matchup was befitting of the tournament's showpiece match. Maybe it's better that it wasn't, though. Otherwise, we wouldn't get to see them do it all over again in the second leg next week.
Rudiger, Alaba neutralize Haaland
You wouldn't know that Real Madrid were without their first-choice central defender Tuesday based on the way they largely kept Haaland quiet. In the absence of Eder Militao through suspension, Antonio Rudiger and David Alaba were outstanding against the prolific Norwegian. The German embraced the physical battle with the imposing striker, trying to make his presence known early and often, while the Austrian was always there in support to sweep up whenever Haaland was able to break free.
He had some looks on goal – of course he did – but his best chance was erased by a superb diving block from Alaba. Overall, Madrid defended deeper to ensure there was no space behind the backline for Haaland to exploit, an approach that helped limit Manchester City's record-breaking forward to just 21 touches all game, fewer than even Ederson.
"Defensively we were good. Rudiger against Haaland did really well. The midfield covered well the position in front of the defense," Ancelotti explained. "We are satisfied. Sometimes the result doesn't give you credit, but the performance was really good."
Carvajal knows every trick in the book
Dani Carvajal learned from the very best. For years, Sergio Ramos and Casemiro's unrivaled mastery of the dark arts gave Real Madrid an edge over their opposition. Since the decorated duo's departure, Carvajal has assumed the mantle as Madrid's chief instigator of commotion, using whatever nefarious means are necessary to rankle his foes.
He subtly knocked Haaland over inside the penalty box early in the match and had Jack Grealish fuming after some persistent fouling. Then, rather blatantly, he sent the Englishman flying into the advertising boards before trying to bamboozle the referee into thinking he was the wounded party in the altercation. That Carvajal wasn't booked on Tuesday was a minor miracle. He got away with all of it. Ramos and Casemiro would be proud.
Carvajal's been viewed as the weak link in this Madrid side, and there's some merit to that – the Spaniard, now 31, isn't the indefatigable presence down the flank that he once was. But Tuesday was a reminder of the intangibles he brings to the table, and why the coaching staff and club still trust him to perform in the biggest matches and moments.
Stat of the day
De Bruyne is absolutely lethal from long range.
Tweet of the day
Remember when there were critics of the Vinicius signing? That feels like a lifetime ago now.