Is Josh Okogie the final piece of the Suns' puzzle?
The Phoenix Suns' blockbuster trade for Kevin Durant was a no-brainer for a team in their position, and one they'd surely make a thousand times over.
Even at age 34, Durant is one of the game's five best players; stars of that caliber never, ever get traded, let alone with three-and-a-half seasons left on their contracts. The move has paid immediate dividends; Phoenix is 3-0 with Durant in the lineup, he's averaged 27 points on 81% true shooting in those three games, and the team has outscored opponents by 21.3 points per 100 possessions with him on the floor. Bringing him aboard makes the Suns, at worst, co-favorites to win the Western Conference.
But the trade still posed some lingering questions and lineup challenges, insignificant though they may feel in the face of the Suns' assembly of elite talent. Sending out Mikal Bridges, Cam Johnson, and Jae Crowder (who wasn't playing for Phoenix this season anyway) left them top-heavy and thin on the wing, while creating a vacancy in the starting lineup without an obvious candidate to fill it.
Their answer, to this point, has been to plug in Josh Okogie, the fifth-year energizer who's re-emerged with the Suns after falling out of the Timberwolves' rotation last year. He hadn't started a single game this season before the trade, but he's started all nine games since.
Okogie is one of the NBA's very best defenders, an on-ball hellhound with quick and accurate hands, elite lateral speed, tremendous instincts, and great timing on shot contests. He'd regularly be in the All-Defense mix if he played more minutes. He's also an offensive liability – an extremely shaky jump-shooter and at-rim finisher with questionable ball skills – which is why he's never played enough to be part of those conversations.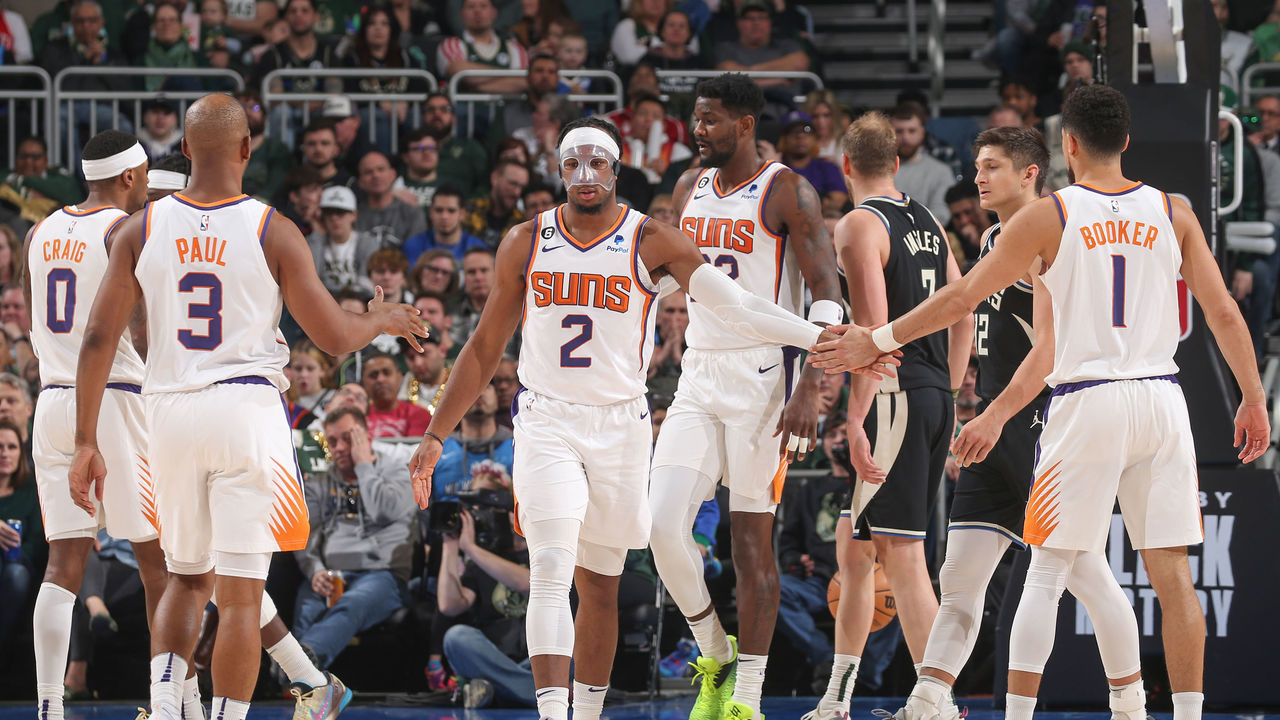 It makes sense that coach Monty Williams and his staff saw Okogie as a fit next to Durant, Chris Paul, Devin Booker, and Deandre Ayton. With that quartet around him, the bar for his offense is lower now than it ever was in Minnesota, and lower than it would be on almost any other team. He's protected, in a way, by all the offensive talent around him, the same way a weak defender can be surrounded and insulated by a strong defensive infrastructure. Meanwhile, his athleticism and boundless energy provide a shot in the arm for an oldish, slowish group, and he does things on defense that no other Sun is capable of.
Okogie can pick up opposing ball-handlers full court and pester them for 94 feet. At a wiry 6-foot-4 with a 6-foot-10 wingspan, he can switch across four positions and provide legitimate rim protection as a low man. He's as good at blanketing smaller guards as he is at getting into the body of bigger wings. And despite having played only 921 minutes this season, he leads Phoenix in offensive fouls drawn, mainly by inducing illegal screens because of his uncanny knack for evading legal ones.
The Suns' base pick-and-roll coverage calls for a lot of late switching, and Okogie has become an absolute master of veering from the ball-handler to the screener. Watch him on these plays, as he slides from guarding the ball to disrupting the pass to the roll man:
Phoenix has allowed 7.4 fewer points per 100 possessions with him on the floor than with him on the bench, and his 107.9 on-court defensive rating puts him in the 97th percentile among individual players, per Cleaning the Glass.
The question with Okogie has always been whether he can do enough offensively to allow him to do all those wonderful defensive things on a consistent basis, especially when the stakes ramp up. The early returns in Phoenix have been encouraging, and these nine games as a starter represent probably the best offensive stretch of his career.
Since the lineup change, he's averaged 15.4 points on 61% true shooting, including 40% from beyond the arc on six attempts per contest. His three highest-volume 3-point shooting games as an NBAer have all come during this stretch.
Despite his lack of finishing craft, the rim pressure he provides (especially in transition) is a nice boon to a Suns team that sorely lacks it. If you exclude Durant's three-game jaunt, Okogie ranks second on the team in free-throw attempt rate (6.8 per 100 possessions) behind only Booker. The Suns have registered a 120.2 offensive rating with him on the court since making him a starter.
Okogie has unearthed another kernel of offensive utility by crashing the hell out of the glass and creating heaps of second chances, which is something Phoenix has placed a major emphasis on this season after years of neglecting it. Okogie's had a big hand in enabling that philosophical shift with his nose for the ball, quick second jump, and sheer relentlessness:
Per Basketball Reference, he's grabbed 10.2% of all available offensive rebounds when he's been on the floor, second on the team to Jock Landale and the highest mark in the league for a non-big (though Okogie feels those opportunities starting to dry up on a team now stupidly stacked with shot-makers).
In spite of the marginal ways he's contributed offensively, however, being the one guy in the starting lineup whom opponents consistently help off of – even when he's in the strong-side corner – still puts a lot of pressure on him to take and make open shots. Even on a team with this much offensive firepower, his presence on the court can be a major hindrance if he isn't hitting these:
I mean, look at where his defender is planted in those clips, and how cramped the floor becomes for the ball-handler as a result: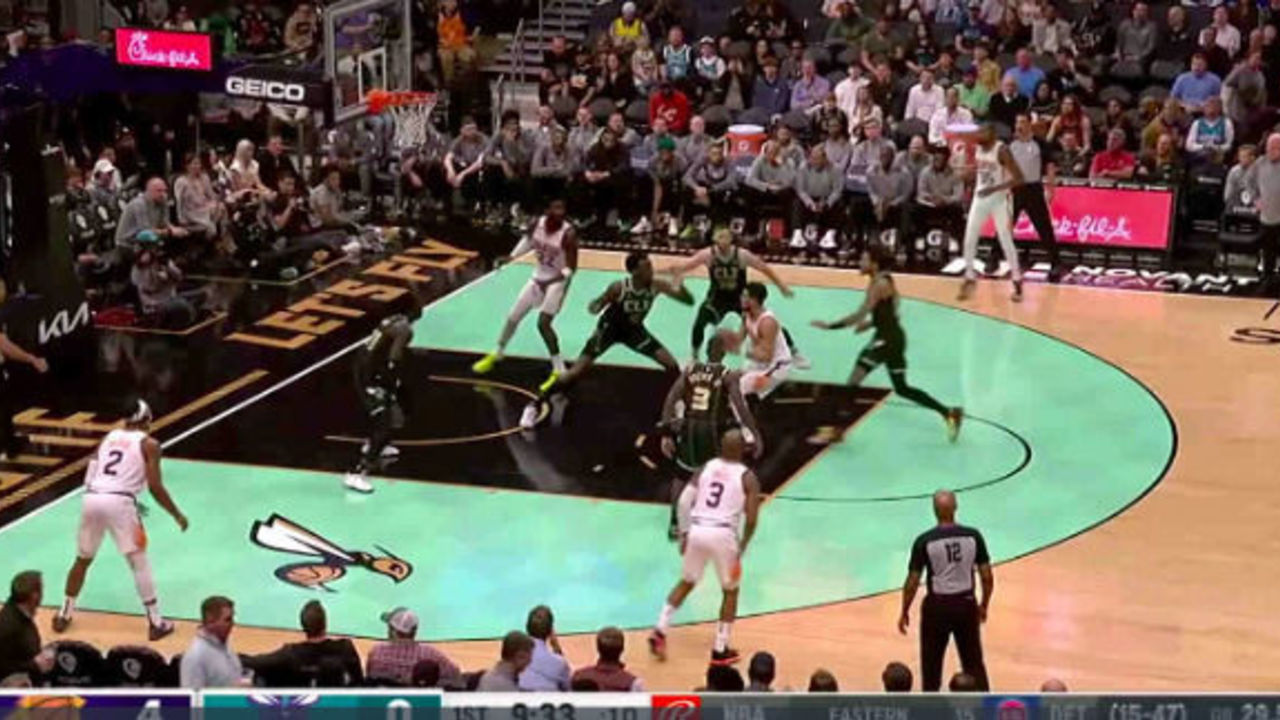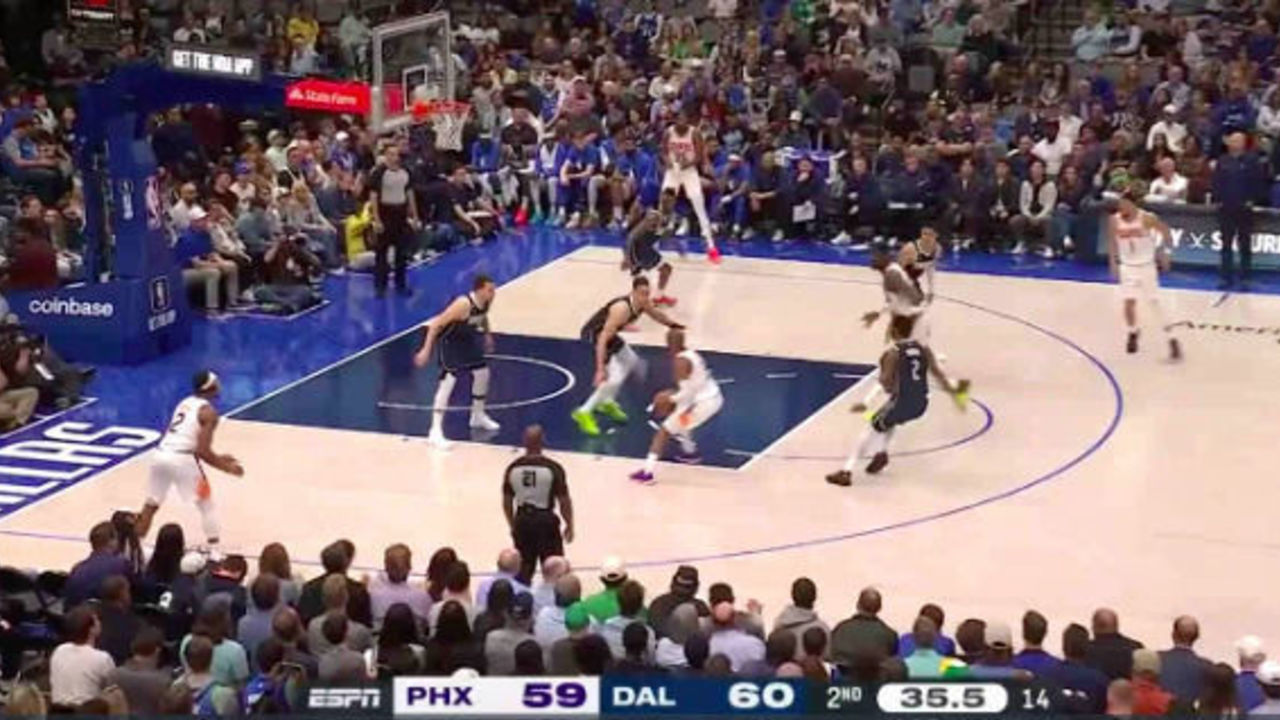 Opponents will continue to do their utmost to funnel the ball into his hands and live with whatever he does with it. That's why his usage rate (a career-high 18.4%) has increased since he joined the starters, despite him moving from a thinned-out bench unit into a role that asks him to fill gaps around superstars.
So, the uptick in his 3-point volume cuts both ways. A wide-open shot taken by Okogie, necessary though it might be in the flow of the offense, will almost always be a better outcome for the defense than a contested shot taken by one of Durant, Booker, or Paul. Even after this recent mini-hot streak, Okogie's shooting just 33.1% from deep this season and is at 28.6% for his career. He hoisted eight threes in Phoenix's high-profile matinee against Dallas on Sunday and missed all eight of them. The Suns had to close that game with Ish Wainright (not exactly an offensive dynamo himself) in his place.
One way to mitigate a player's lack of off-ball gravity is to use them as a ball-screener, but Okogie isn't much of a passer on the move, and doesn't quite have the pacing of screen-and-rolling down. He screened for Booker here, and when Booker got double-teamed Okogie never made himself available as a release valve, causing the play to break down:
Because of those limitations, the Dallas game surely won't be the last time Phoenix is forced to go in a different direction with their starting or closing group. There will be other times when Torrey Craig is deemed to be the superior option, or T.J. Warren, or Landry Shamet, or Damion Lee. But none of those guys remotely replicates Okogie's defensive impact. (Craig comes closest, but he's far less agile and doesn't pressure the ball to nearly the same extent.)
That's why the best-case scenario for the Suns is Okogie remaining viable enough offensively to stay on the floor in high-leverage spots. If he can, he might just be the final piece of their championship puzzle.