How the Cavaliers fell apart, and what comes next
The potential pitfalls for the Cleveland Cavaliers were evident the moment they made their blockbuster offseason move to bring in Donovan Mitchell. A roster built around two small guards in Mitchell and Darius Garland and two non-spacing bigs in Evan Mobley and Jarrett Allen, with no two-way wings to bridge backcourt and frontcourt, would likely encounter complications at some point in spite of the obvious talent of the players in question.
But it was still a bit jarring to see how swiftly and brutally that roster flaw was exposed once the playoffs began, especially on the heels of such an encouraging regular season.
The Cavs won 51 games and produced the league's top-ranked defense, seventh-ranked offense, and second-best net rating. Mitchell took his pull-up shooting and driving to another level, authoring a surefire All-NBA campaign in his first year in Cleveland. Mobley started to build out his offensive skill set and finished third in Defensive Player of the Year voting in his second season in the league. Garland continued to grow into one of the league's best playmakers, and he arguably performed even better than he did as a first-time All-Star last year. Allen remained a rim-running, rim-protecting menace with slowly evolving playmaking chops.
That all amounted to bupkis in a first-round series against a smart, tough, extremely well-prepared New York Knicks team that leveraged its physicality and pressed on Cleveland's weak spots with relentless cruelty. The Cavs were flicked away in five games and finished the series with a 101.9 offensive rating. For context: The league-worst Hornets finished the regular season at 108.4. Cleveland's stout defense mostly held up, save for the fact that New York manhandled the Cavs on the glass. Led by Mitchell Robinson, Julius Randle, Josh Hart, and Isaiah Hartenstein, the Knicks rebounded an astonishing 39.4% of their own misses and grabbed 54.9% of all available boards. Robinson hauled in 11 offensive rebounds in New York's series-clinching Game 5 win.
Despite starting two 7-footers, Cleveland was a poor defensive-rebounding team all season. That's partly because when it comes to controlling the glass, heft can be as important as height, and Allen and especially Mobley are both slight of build. It's also because a tall frontcourt's impact can be undercut by poor rebounding wings and guards, which is exactly what the Cavs have. In any case, it's tough to start two traditional bigs without reaping one of the major theoretical benefits of doing so.
Cleveland's lack of good options on the wing, a major point of concern coming into the playoffs, was laid painfully bare. Isaac Okoro was the only Cavalier who could really trouble Jalen Brunson, but when he played, that typically meant having three non-shooters on the court at once. The Cavs' offense was crippled by the Knicks' ability to neglect defending him, helping way off of him even from the strong side and daring his teammates to pass him the ball in the corner. When they did, he shot 31% on a diet of wide-open threes. Often, Okoro's teammates chose not to and simply drove into traffic instead.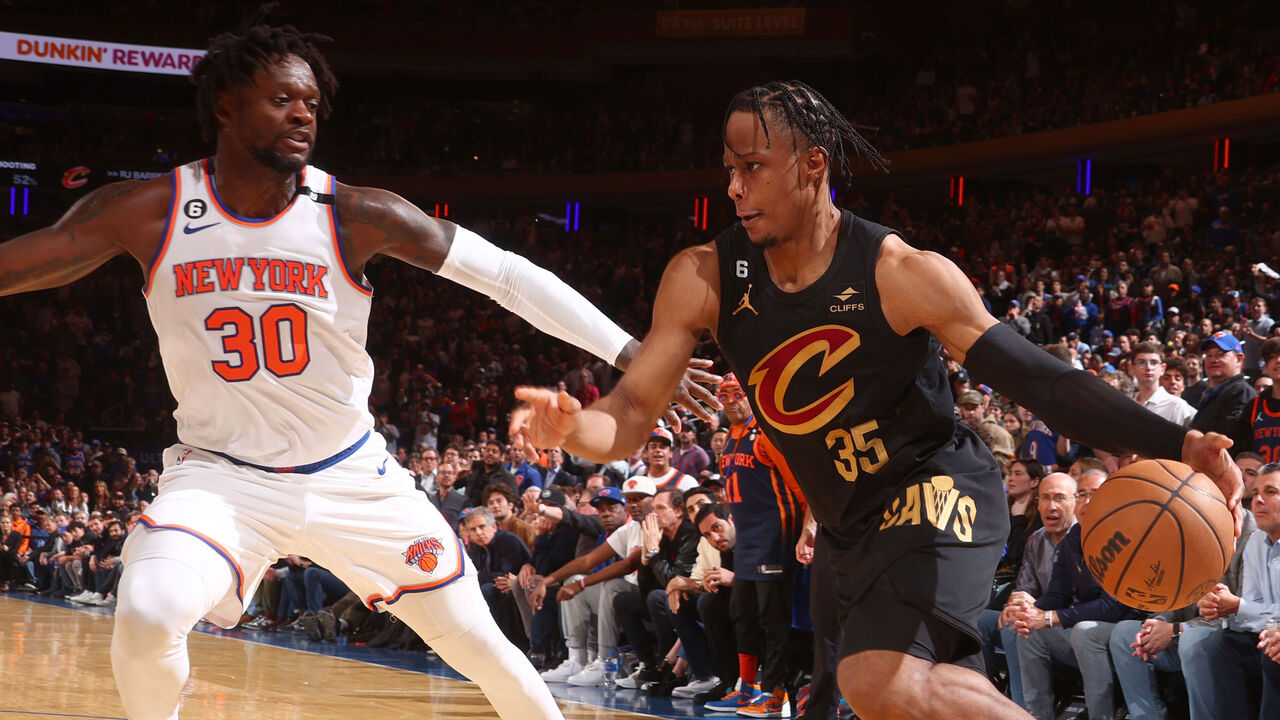 The Cavs surrendered a microscopic 91.3 points per 100 possessions with Okoro on the floor in the series, 20.1 fewer than with him on the bench. But they also scored just 95.2, which is why they bumped him from the starting lineup after Game 2. Other options like Caris LeVert and Cedi Osman allowed their offense to breathe better, but they still didn't bring enough at that end to offset how badly they compromised the defense. That single issue – the inability to find a fifth guy who didn't take something off the table – bled into everything the Cavs did.
The team's rebounding woes provide a good illustration of how these issues are connected. Cleveland didn't feel comfortable with any of its non-Okoro defenders guarding Brunson without a ton of help. Whether that meant putting two on the ball and rotating behind it or simply pulling over an extra defender to flood the strong side when Brunson was isolating on the wing, that often left one Cavalier to zone up two Knicks on the weak side. And that's how Robinson and Co. came up with a significant number of their offensive boards.
Allen and Mobley struggled in myriad ways apart from their issues on the glass. Neither was able to make much of an impact on offense, in part because the Knicks' aggressive tagging meant there was almost always someone between them and the basket, preventing them from finishing their rolls. The Cavs averaged a laughable 0.49 points on possessions finished by roll men in the series, by far the worst mark of any playoff team.
A number that disastrous can't be chalked up to an opponent's defensive scheme alone. The series really exposed the stilted and dependent nature of the big men's offensive games – an especially disappointing revelation for Mobley, who showed a lot of growth as a self-created scorer over the course of the season. More than anything, the pair suffered from poor short-roll decision-making and execution. They threw wayward lobs and flung up awkward hooks and floaters when trying to finish over the Knicks' help, or they record-scratched and let advantages disappear.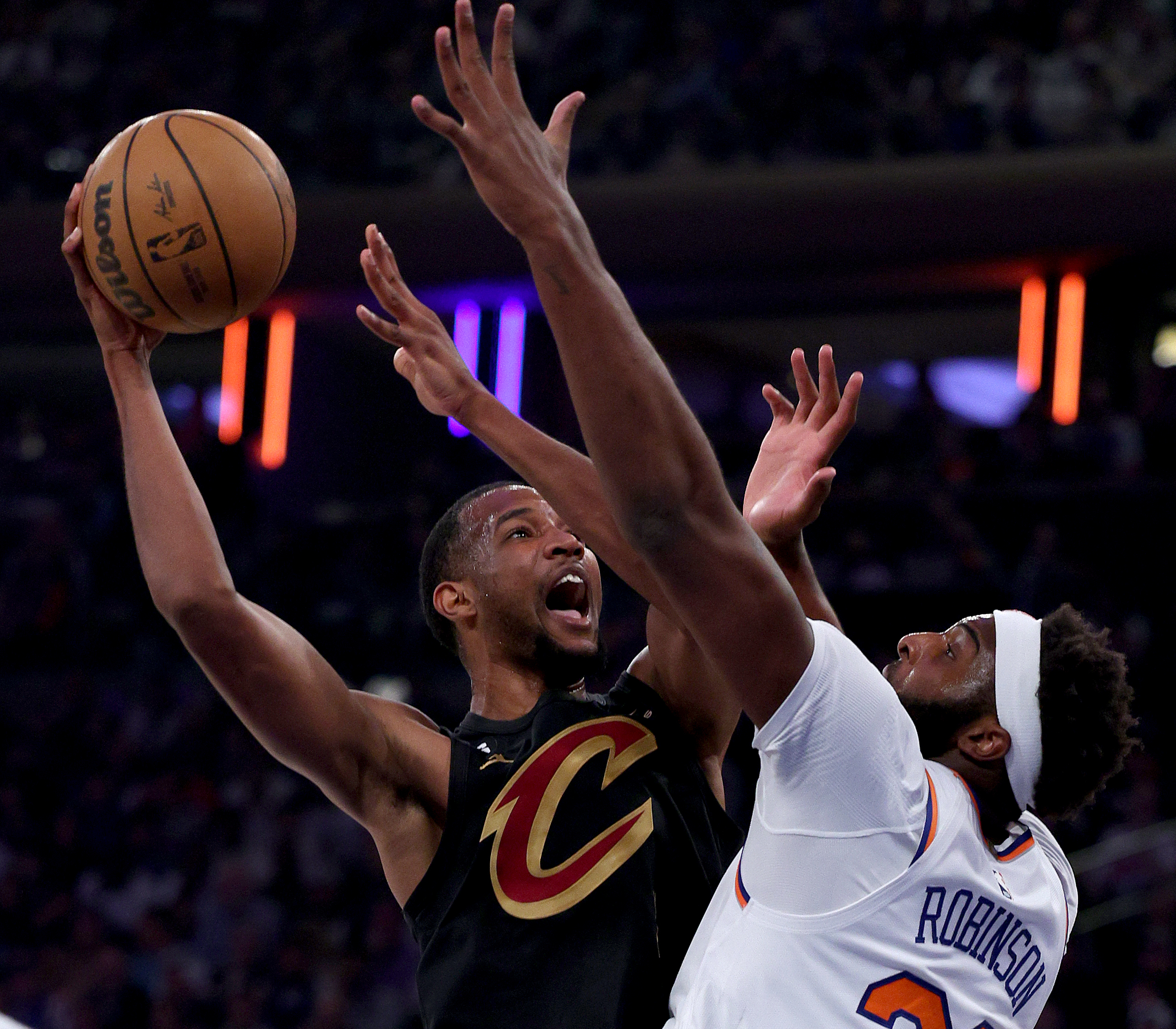 Despite sprinkling some strong moments throughout the series, on balance, Mitchell and Garland also played well below their standards. A lot of that had to do with the extra bodies they saw when they drove or came off of screens in the pick-and-roll. The Knicks felt very comfortable blitzing them, knowing they could treat the rotations on the back side more like three-on-threes than three-on-fours. New York also exploited them at the other end; Brunson hunted them in ball-screen action and RJ Barrett (later in the series) attacked them in weak-side rotation and bullied them in isolation.
It's tough enough to win as a top-heavy team with minimal depth. When you're a top-heavy team whose top guys don't play up to their capabilities, you're toast.
One bad series doesn't erase all the things the Cavs accomplished this season, or dim the sunny long-term outlook of a group that's still extremely young and promising. Mitchell is 26, and he's the oldest member of that core quartet. This was the first taste of playoff basketball for Garland and Mobley, and in hindsight it feels inevitable that they would have to take their lumps. This wasn't Mitchell's first playoff stinker, but he's also put together a couple of transcendent springtime runs that suggest he's capable of much more.
Still, the ease with which the Knicks dispatched them certainly leaves a sour taste in one's mouth. And while the Cavs don't have to do anything drastic at this stage, a loss like that is bound to lead to some tough questions and serious self-reflection. Blanket analysis never tells the whole story, but so much of this series boiled down to the Cavs not being tough enough – and if that wasn't evident to the naked eye, listen to how many of them came out afterward and straight-up admitted it.
"This group, we just weren't physical enough," Garland said after the Game 5 loss. "We didn't punch first. We were always being punched."
"Even for me, the lights were brighter than expected," Allen confessed.
"There's a new level of physicality in the playoffs," coach J.B. Bickerstaff explained. "Are you doing all the things necessary through the season so that when you get to the playoffs, it's not an uncomfortable feeling when things are as physical as they are? We go back and we watch the film and there's plenty of collisions. We just didn't win enough of them. … There are regular-season games that the finesse can help you and get you through it. These games, you have to be built to win in the trenches."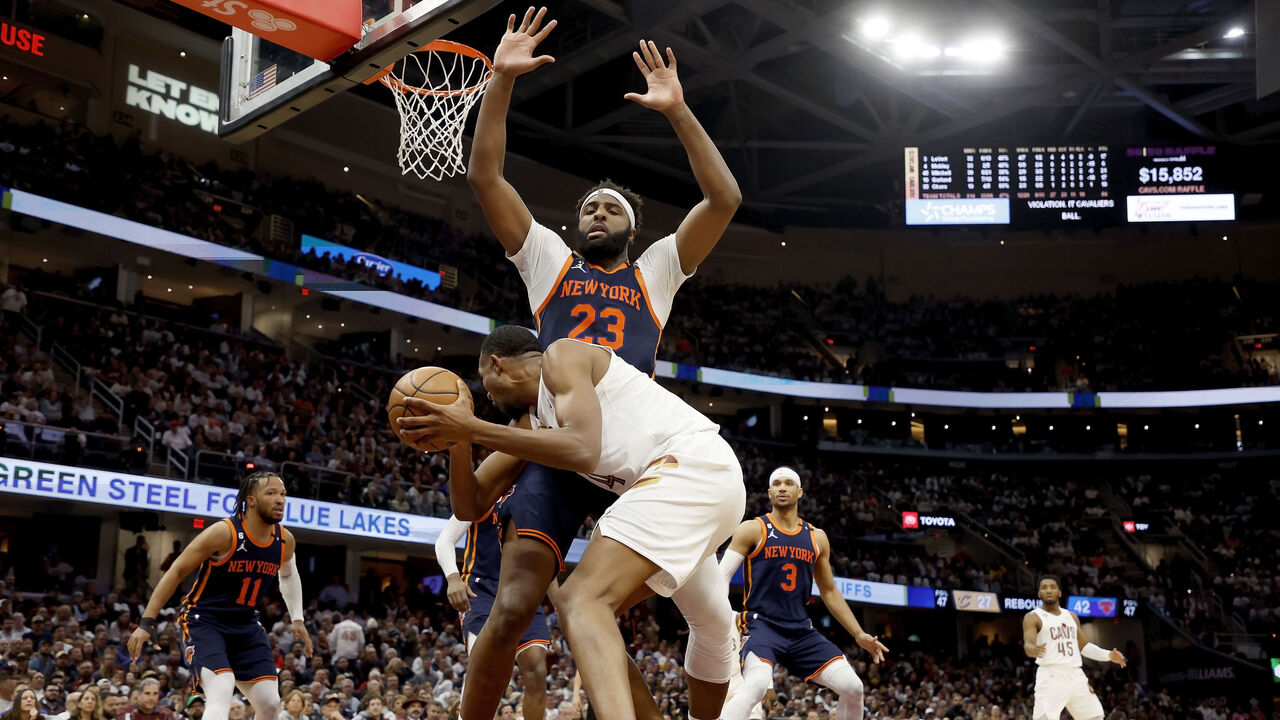 That level of clear-eyed honesty is rare in the gladiatorial culture of pro sports, where it's typically frowned upon to admit weakness or express doubt. Self-awareness is a good first step toward rectifying a problem, though it's fair to wonder how fixable that problem is with the existing group. Experience will help, to be sure. So will physical maturation and skill development, especially for Mobley. But the roster-construction issues aren't going anywhere.
None of this means the Mitchell trade was a mistake. The Cavs got an in-his-prime four-time All-Star who carried their offense all season and who's under contract for at least two more years. They lacked wings before the trade anyway, which is why the 7-foot Lauri Markkanen started at small forward next to Allen and Mobley in his lone season in Cleveland before being shipped to Utah and promptly blossoming into a star.
The issue is, with no cap space and basically no draft picks left to trade, the Cavs' options for filling that void amount to signing a mid-level guy, banking on significant offensive growth from Okoro (who's only 22), or parting with one of their core four (which really means one of Mitchell, Garland, or Allen, because Mobley isn't going anywhere). Are they willing to go that far?
The most logical path might be to trade Allen in a rebalancing move, but there aren't many high-level two-way wings floating around out there, nor are many teams looking for centers. In that scenario, Cleveland would also have to replace Allen in some form or fashion, because Mobley isn't currently built to play the five full time. Even if he gets stronger, he might never be because of his leggy frame and high center of gravity.
Moving one of the guards would be a much tougher pill to swallow, but it would also allow the Cavs to aim higher. If they intend to keep Mitchell long term, they have to get to work at convincing him to extend his contract. They also have to figure out what to do with LeVert in free agency this summer and decide whether to extend Okoro now, let him become an RFA next year, or see what they can get for him on the trade market.
It would be totally reasonable for the Cavs' front office to stay the course, make some tweaks on the margins, and hope the team collectively grows from this experience. It's never a bad idea to exercise patience with a young, ahead-of-schedule team. At the same time, Cleveland already hit the accelerator with the Mitchell trade, and competitive cycles are almost always shorter than people anticipate. Even for a group this green, the clock is ticking.