French GP takeaways: Leclerc's costly mistake, Mercedes keeps chipping away
Following each race weekend this season, Footballlifestyle's editors will offer their takeaways. We continue with the French GP:
More misery for Leclerc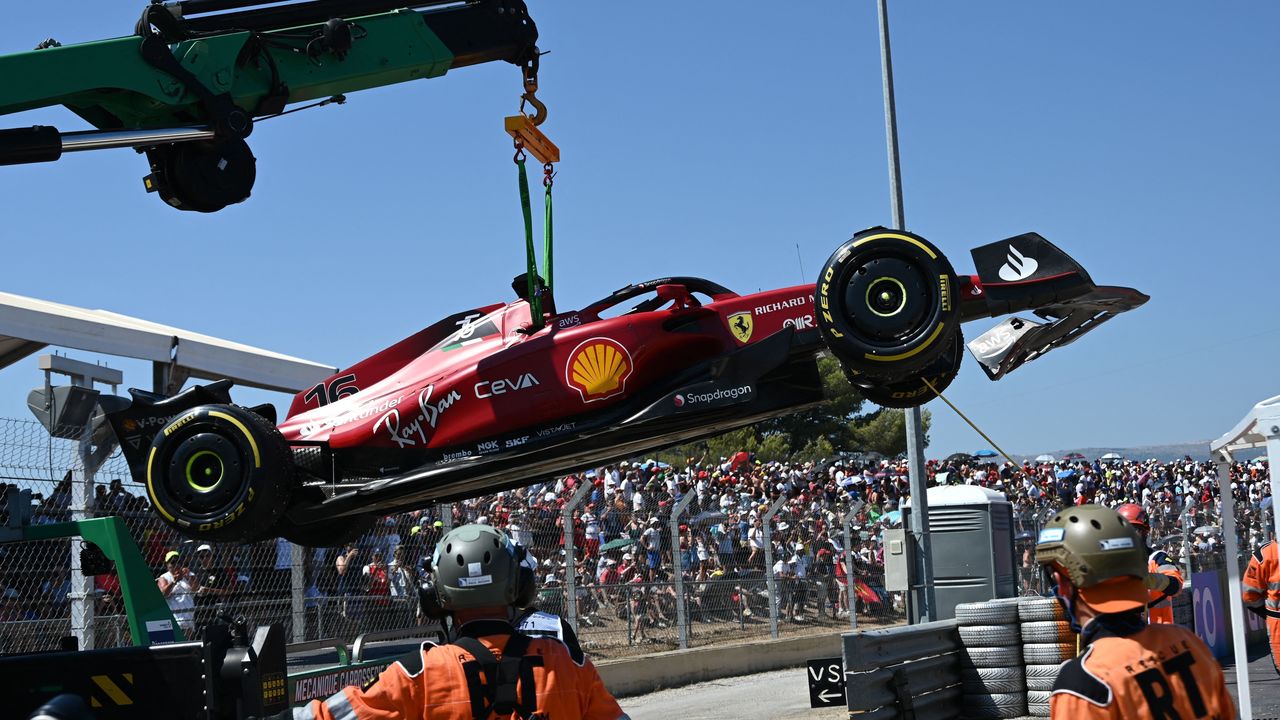 Frustrations seem to be reaching a boiling point for Charles Leclerc.
The Ferrari driver was comfortably leading on Lap 19 when he lost the rear of his car and spun into the barriers, ending his race. It's the third time this season that Leclerc was forced to retire from a race he led.
"Noooooooo!" Leclerc screamed over team radio.
Leclerc, who battled throttle issues during his win in Austria, was emotional after the French GP while taking full responsibility for putting his car into the wall.
"(It was my) mistake," he said. "I think I am performing at my highest level in my career, but if I keep doing those mistakes, then it is pointless. I'm losing too many points – seven in Imola, 25 here. We were the strongest car on track today, so if we lose the championship by 32 points this season, I will know from where they are coming from. It is unacceptable. I just need to get on top of those things."
Leclerc's comments are revealing. He's obviously frustrated with a season full of missed opportunities. He possesses the skills to be a world champion, but he's struggled to put it all together. Ferrari has yet to fire on all cylinders, often getting in its own way by failing to execute strategy, reliability issues, or in this case, driver error.
From 16 career poles, Leclerc's converted just five wins. On the other hand, Max Verstappen has 27 career wins despite claiming pole position 16 times, meaning Leclerc seems to lose concentration throughout a full race.
Instead of claiming 25 points for a win and closing the gap to Verstappen in the drivers' standings, Leclerc fell 63 points behind. He also saw his lead over Sergio Perez for second shrink to seven points.
It's still too early to hand Red Bull the constructors' title, but Ferrari is now closer to third-place Mercedes (44 points) than first (82) despite often being the fastest car on the track.
"We cannot afford mistakes," team principal Mattia Binotto said.
Rivalry between Russell and Perez heats up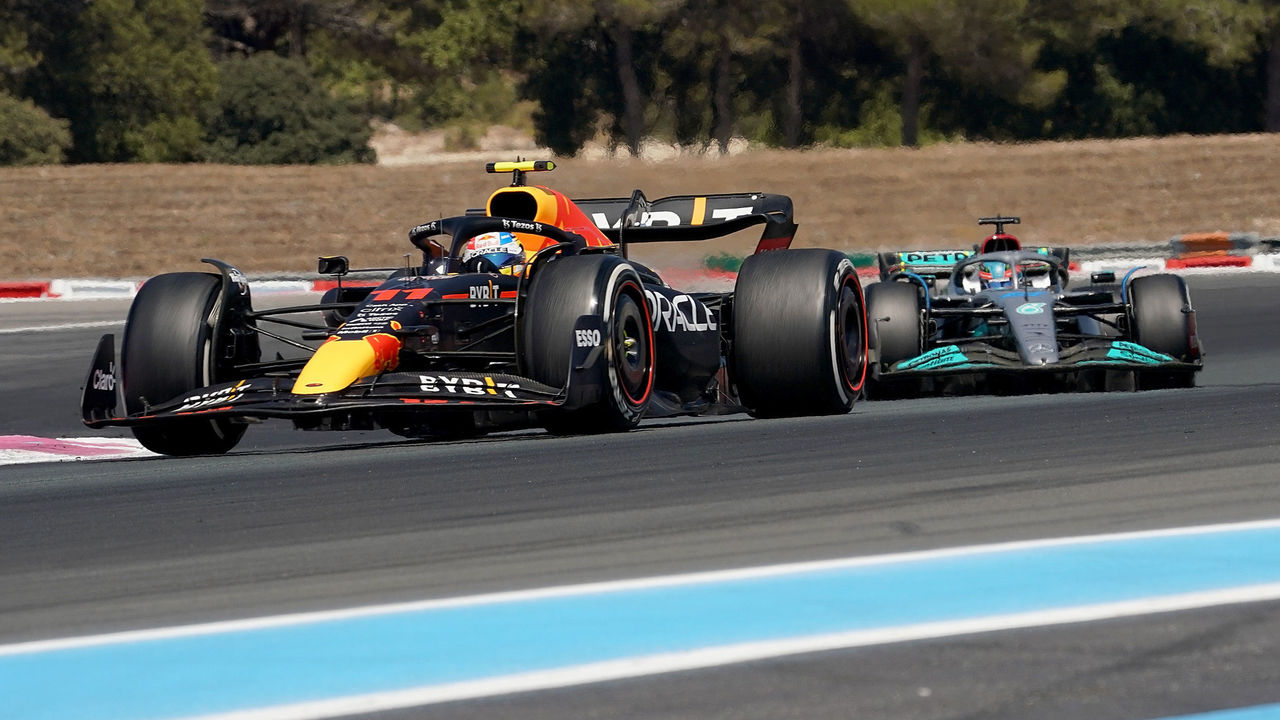 Paul Ricard offered another glimpse into the always feisty Red Bull-Mercedes rivalry, but this clash was again between the grizzled vet Sergio Perez and his younger adversary George Russell.
Perez and Russell are no strangers to creating fireworks on track after the latter sent the Mexican pilot into the gravel in Austria. The two looked set for a repeat Sunday as the Mercedes driver began closing in on Perez during the later stages of the race. It all came to head on lap 42 when the Silver Arrows driver sought a move down the inside on Perez, who had to take an escape road to avoid a similar fate as Austria. It was an aggressive maneuver, but it did not stick – Perez kept his position, which drew dismay from Russell.
"For me, I was down the inside. The rules are pretty clear from front wheel to rear wheel when you are on the inside," Russell said after the race. "That's what I had, and he didn't really leave me much space."
However, the battle was not over. Mercedes team principal Toto Wolff came on the radio to remind Russell to stay composed in the fight for third with Perez. And Russell managed to snatch the final podium spot just a few laps later after catching his older counterpart by surprise following a virtual safety car. Many wondered exactly what transpired as Russell overtook Perez within moments of the virtual safety car ending. While it appeared that Perez was caught napping on the restart, he criticized race control's communication for a lengthy interval between the VSC ending message and the green flag, calling it a "joke" on team radio after the checkered flag.
Drivers are required to move to a specific time delta during the VSC, but Perez explained the delayed restart left him caught out and cost him third place.
"I got the message it was going to end out of Turn 9, so I went for it, and then it didn't end," Perez said, according to Lewis Duncan of Autosport. "Then I got the message saying it was going to end through Turn 12. And I was just too close to it."
The FIA later clarified, stating that a "hardware issue" was the culprit for the confusion.
"A second VSC ending message was sent due to a hardware issue, which led to an automated switch to backup systems that worked exactly as they should in that scenario. The same information is supplied to all teams concurrently." the FIA wrote in a statement.
Safety car shenanigans aside, Mercedes has to be more than pleased with Russell's performance. The same cannot be said for Red Bull and Perez, who was well off the pace of his teammate Verstappen once again. Russell matched and challenged the veteran pilot in a clearly inferior car. With the two trending in opposite directions, there could be more action ahead in their building on-track rivalry.
Rosberg rips Ferrari strategy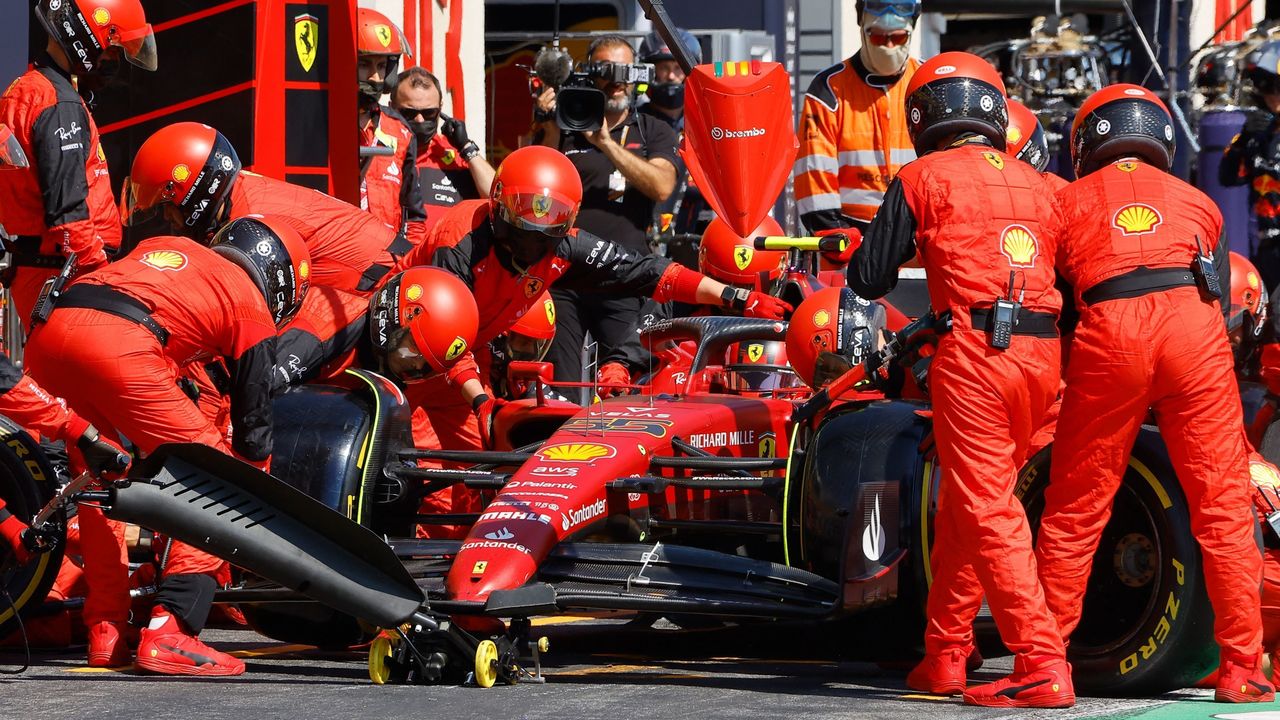 Even Ferrari's bright spot on the day was overshadowed by another questionable strategy call.
Carlos Sainz, who started at the back of the grid after taking new power unit components, made it up to fourth at one point. But while Sainz was overtaking Perez, the team could be heard over the radio asking him to pit. An animated Sainz barked back, "Not now, not now."
The decision's timing drew major criticism from former world champion and current broadcaster Nico Rosberg.
"I was shaking my head," Rosberg said. "What on Earth are they doing there? First of all, he was in the middle of a huge battle on the track, and his whole team wasn't watching that, they had their heads down doing their calculations about pitstops and were talking to him in the middle of wheel-to-wheel action. Carlos is P3 and comfortably would have been able to stay there. The tires would have been fine at the end – he even had a chance to still get Lewis for P2. And then they bring him in with no chance to go beyond P5 where he ended up. It's time to make some serious changes there.
"Terrible judgment there, and I can't explain it."
Sainz was dealing with blistering on his tire, and with 10 laps remaining, it's hard to say if he could have held that position – especially with a five-second penalty being applied. He eventually finished 11 seconds behind Perez and grabbed a point for the fastest lap, so the risk of keeping him out over bringing him in ended up costing Ferrari around four points.
Given Leclerc's DNF, you can understand the team's perspective, but Ferrari's constant head-scratching decisions cost them the benefit of the doubt. Sainz, for his part, backed his team following the race.
"I think the team has done a very good job with strategy," Sainz said. "At Ferrari, we get super criticized for things other teams might go through in their pit stop window. We are not the disaster people seem to say we are. We like to discuss things. Yes, I wanted to stay out, I maybe saw a podium position. We will never know. The team has a lot more data on their screens. They did it with the best intentions and best spirit."
Toto tempers expectations
Mercedes continues to chip away at second place, and for the first time this season, both drivers were on the podium.
The car isn't on the same level as Ferrari and Red Bull in terms of performance, but steady upgrades and sturdy reliability have helped Mercedes secure a spot on the podium in five straight races.
"Winning races and getting results like this is about the whole package," Lewis Hamilton said. "Reliability is a huge part of the whole process, so I am so proud of the team from the reliability we have."
With Mercedes, it really is all about reliability this season. Hamilton has finished every race, securing points in 11 of 12. Russell has one DNF from Silverstone but has otherwise finished fifth or better.
There are reasons to be optimistic, but there is also a bit of smoke and mirrors. While the No. 1 objective is to finish the race, Mercedes has benefited from the cars ahead of them dropping out. Hamilton has one podium finish in which the top four drivers in the drivers' standings finished the race.
| Race | Verstappen | Perez | Leclerc | Sainz |
| --- | --- | --- | --- | --- |
| France | 1st | 4th | DNF | 5th |
| Austria | 2nd | DNF | 1st | DNF |
| Great Britain | 7th | 2nd | 4th | 1st |
| Canada | 1st | DNF | 5th | 2nd |
| Bahrain | DNF | DNF | 1st | 2nd |
"We need to stay humble," team principal Toto Wolff said. "Our car is just not good at the moment to fight with the guys in front – I'm always a little bit pessimistic because I need to be."