Bahrain GP Takeaways: Red Bull dominant, Ferrari plagued by familiar failures
Welcome back to another F1 season. Following each race weekend this year, Footballlifestyle's editors will offer their takeaways. We kick the 2023 schedule off with the Bahrain GP.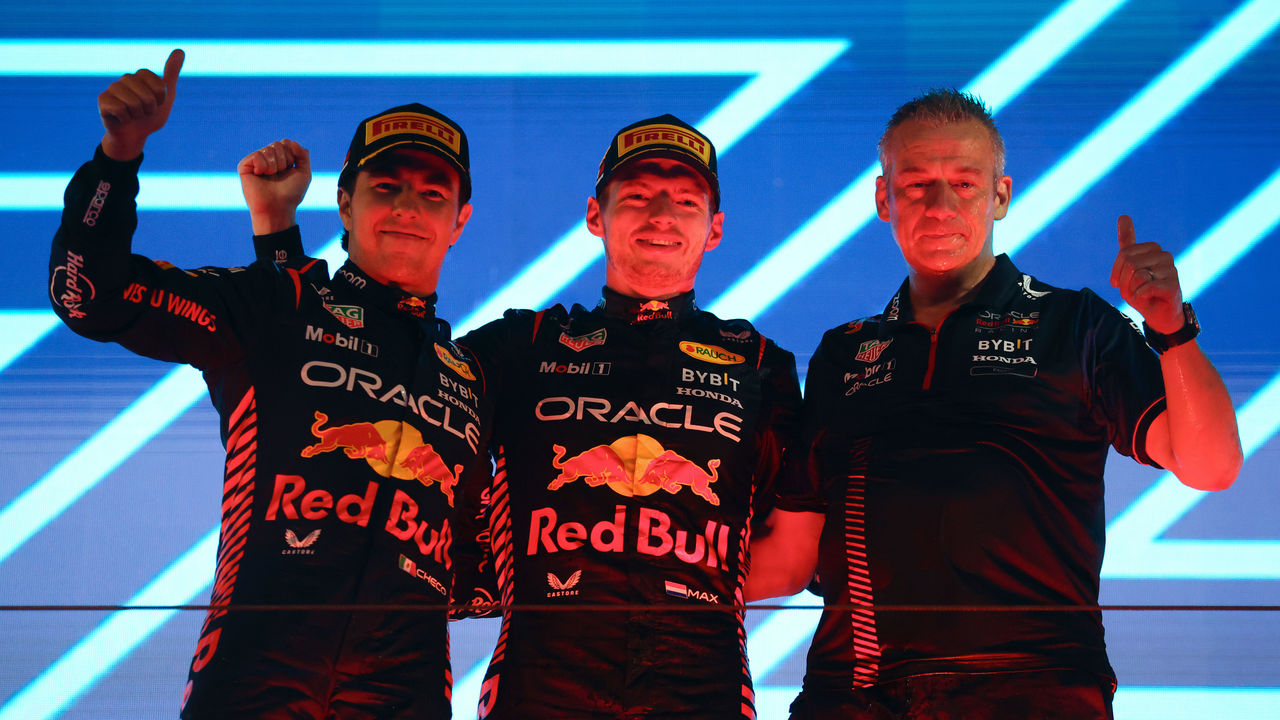 Red Bull on another level
The 2023 season kicked off the same way the 2022 campaign ended: with Max Verstappen on the top step of the podium.
As much as things have changed around the grid, not much has changed at the top. In fact, Red Bull's gap may have even grown larger – an incredible testament to the team's quality considering Verstappen is coming off a record-breaking year. Its RB19 challenger secured a front-low lockout and then managed to hold down a 1-2 finish in Bahrain thanks to a long-run showing that was miles ahead of the grid. That spells serious trouble for the rest of the paddock.
While most of the front-runners opted for a soft-hard-hard tire strategy, the RB19 handled its tires so well that the team could utilize a soft-soft-hard plan. Even with the unorthodox call, Verstappen finished almost 40 seconds ahead of the next closest non-Red Bull car – and that was with very little reason to push to the limit.
"We were able to make the soft tire work for us. The degradation for our cars seemed less than the others, and then that gives you options," team principal Christian Horner said.
It's an ominous feeling considering Red Bull hasn't hidden its hand – a common tactic in the sport – since an impressive preseason display. Verstappen said earlier this week that the RB19 was better "everywhere" compared to its predecessor – he wasn't kidding. Despite altered floor regulations, a cost cap penalty, and every reason for Red Bull to come back down to earth, the Bulls are still in a galaxy of their own.
"It's only a sample of one race, and every track is different. But it's a great start for us," Horner said. – Daniel Valente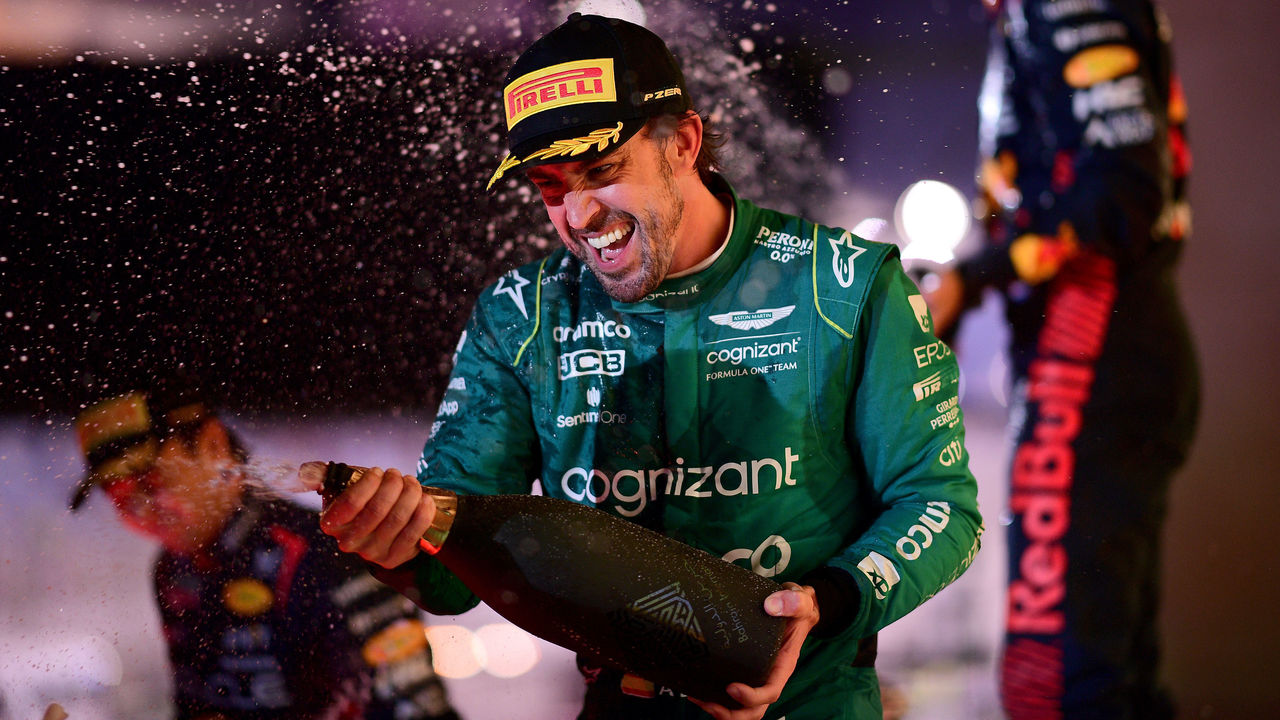 Alonso back on the podium
"El Plan" walked so that "Mission 33" could run. After just one race, we're already at a full sprint.
The new slogan, replacing the memeified catchphrase from Fernando Alonso's Alpine tenure, signified the two-time champion's hunt for a 33rd career Formula 1 race victory this season. Aston Martin would need to make enormous gains from last year to even sniff the top step of the podium, such were its struggles in 2022. But the team has clearly done exactly that. Alonso was coy about his chances of fighting for podiums going into Sunday's race, but there's no stopping the hype train now.
The veteran Spaniard, 41, claimed his second podium finish since 2014 in titillating fashion in Bahrain, providing definitive proof that the AMR23 is indeed a force to be reckoned with. Preseason testing and the pre-race practice sessions hinted at it. Qualifying, too. But Sunday's third-place finish confirmed it.
"This is a lovely car to drive," Alonso said over the radio during the race. Only the two Red Bulls, still seemingly in a league of their own, beat him to the finish line. He overtook both Lewis Hamilton and Carlos Sainz on the track en route to a podium finish that invigorated an otherwise pedestrian race; his wheel-to-wheel battle and unexpected move down the inside of Turn 10 on his former McLaren teammate was brilliant.
Sainz, concerned by the threat posed by Aston Martin, particularly in the capable hands of Alonso, called the pace of the grid's lone green car "very concerning."
"I'm curious to go to Jeddah and Australia – very different circuits. I think in Bahrain, we were strong in things that maybe we don't find in Jeddah and Australia," Alonso said. "If we are strong in the next two races, I think we will have a very good 2023."
Alonso's right. We shouldn't jump to conclusions after just one race – with preseason testing also taking place in Bahrain, we've only seen the AMR23 on one specific circuit. But damn, was it impressive. Everyone on the grid has taken notice – and with good reason.
A word, too, on Lance Stroll, the oft-derided Canadian who, just weeks removed from surgery on a broken right wrist suffered during a bicycle accident, finished sixth. Going into the weekend, it seemed as though he might not even be able to race at all, and he was visibly hampered by the injury during the practice sessions.
"He's my hero. If you see his hands and feet, you would think that he cannot race," Alonso said. "A phenomenal effort. … It's very inspiring to see the determination and motivation from Lance. Sometimes people think he's not motivated to drive. He was impressive this weekend." – Gianluca Nesci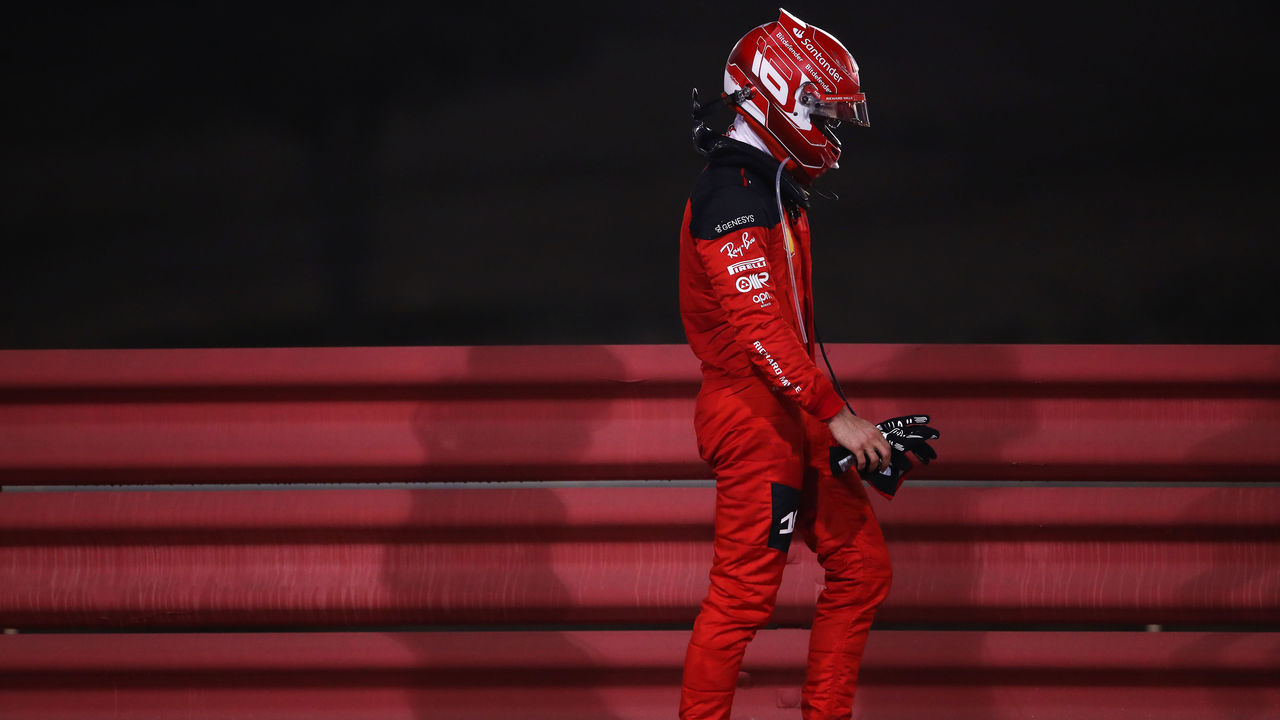 New Ferrari, same problems
Ferrari described the SF-23 as an evolution of last year's F1-75 car. It looked more like a regression, as La Scuderia were plagued by the same gremlins that derailed their 2022 title fight.
Though Ferrari appeared recharged and optimistic following Frederic Vasseur's arrival to replace Mattia Binotto as team principal, not much actually changed on the track. For one, the infamous engine reliability problems returned. Charles Leclerc, running in third place at the time, lost power after 41 laps, bringing an end to his race. Tire degradation also reared its ugly head with Sainz losing a podium place to Alonso as he feared not being able to finish if he pushed any harder. More concerning was that the Prancing Horse's race pace was nowhere near Red Bull's, another common characteristic of last season's downfall.
"In terms of quali pace, (Red Bull is) actually pretty similar to us. At least we managed to extract the lap time yesterday," Leclerc said, according to Haydn Cobb of Autosport. "But then we come to the race, and we are one second a lap off the pace, which was huge.
"So we need to look into that, plus the reliability."
Sainz equated Ferrari's performance to being given a "reality check," but there were signs of trouble beforehand. Struggles in the long runs were evident throughout preseason and in practice. Leclerc also needed a new energy store and control electronics element in his power unit Sunday prior to the race. Only two of each component is allowed before a grid penalty, leaving questions over whether the Monegasque is already at risk of a grid drop.
If the team can take any solace in a disappointing weekend, it's that there's still a long season ahead – and Leclerc finds himself in the same spot Verstappen began his 2022 championship year in.
But based on history, it's difficult to conceive of Ferrari climbing out of a hole without digging itself even deeper into it. There's still a lot of work to do at Maranello. As Sunday's race showed, Ferrari may have to pay more attention to who's in its wing mirrors rather than who's ahead. – Valente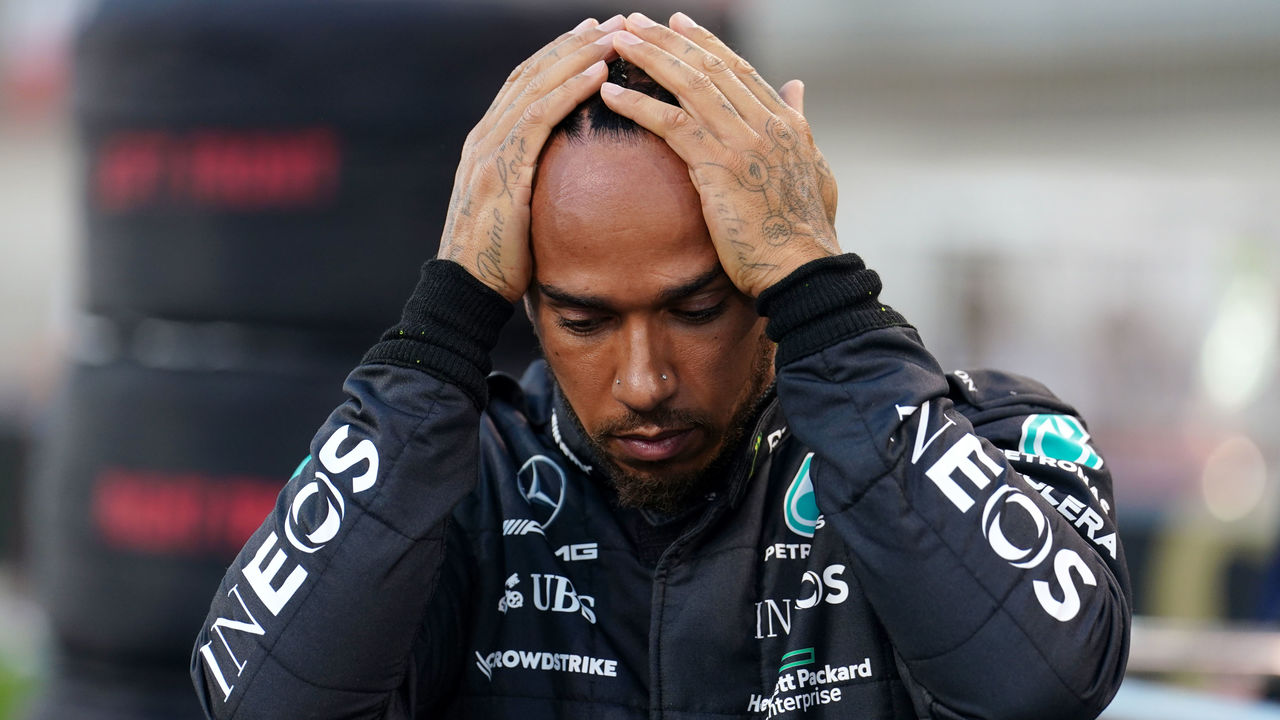 'Radical' change coming for Mercedes?
Listening to Toto Wolff following the season opener makes it sound like Mercedes is in crisis.
The team principal and CEO didn't mince words – though it may have been a slight exaggeration – when discussing Hamilton and George Russell finishing fifth and seventh, respectively.
"One of the worst days in racing," Wolff said. "We were not good at all, just lacking pace front, right, and center. The Aston Martin is very fast, and Red Bull is on a different planet. (Red Bull is) so far ahead, it reminds me of our best years where we just put a second on everybody else."
Mercedes is coming off a third-place finish behind Red Bull and Ferrari in the constructors' standings and appears to have now fallen behind Aston Martin as well.
The team was able to improve over the course of last season, bringing numerous upgrades. But Wolff was adamant the current upgrades planned aren't going to be enough to cover the massive existing gap. While it's only one race, Hamilton finished 51 seconds behind Verstappen and 39 back of Perez.
"(The upgrade needs to be) much more radical," Wolff said. "Much more radical in the steps than just hope for a three-tenths upgrade."
Russell was equally dejected. He finished fourth in Bahrain in 2022 and only placed seventh or worse three times last season. While it might be a bit of gamesmanship, he already conceded the championship.
"Red Bull have got this championship sewn up," Russell said. "I don't think anyone will be fighting with them this year. They should win every single race this year, is my bet."
So where does Mercedes go from here? Does it scrap its entire plan and go in a different direction? How long would that take? How much will it be able to achieve under the cost cap? Maybe Mercedes just needs to take a deep breath after the weekend.
Hamilton was by far the most optimistic member of the team and wasn't ready to overreact.
"I gave it absolutely everything," Hamilton said. "I'm genuinely happy with the race, it was much better than qualifying and am happy with my performance. Just unfortunate that the car is just not there at the moment. We're lacking downforce so we just got to work really hard to try and add that ASAP. We really gotta push massively to close that gap. The Red Bull pace today was huge. But those around us, I think we could catch." – Brandon Wile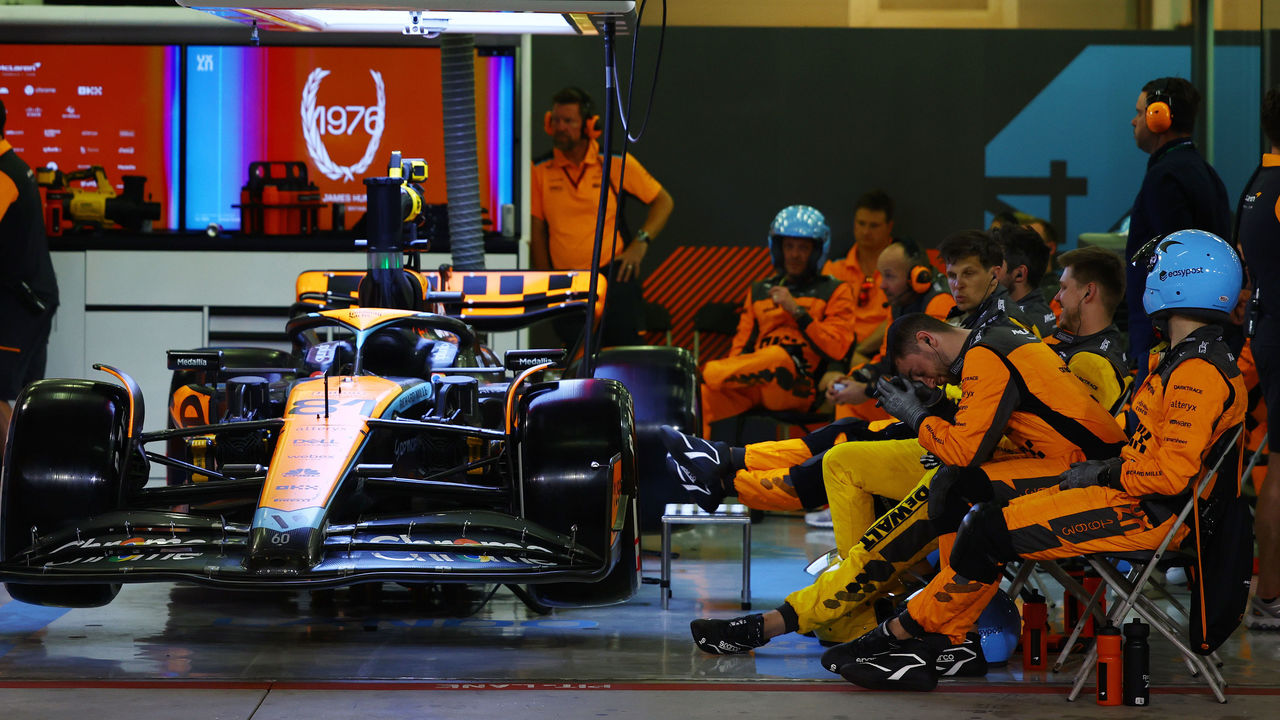 McLaren's miserable opener
Calling McLaren's performance in Bahrain a disaster might be too kind.
After a miserable qualifying session that forced its cars to start 11th and 18th on the grid, only one McLaren crossed the finish line Sunday, and that came without scoring points.
Oscar Piastri's F1 debut lasted 14 laps before he was forced to retire. The MCL60 dealt with a mechanical issue that the team tried to rectify by swapping out the steering wheel, but that didn't work.
Lando Norris spent almost as much time in the pit lane as he did on the track. Norris was forced to first box on Lap 12, and then four other times to deal with a pressure leak. He'd end up finishing 17th – worst among the cars that finished the race – two laps behind Verstappen.
It's obviously too early to sound serious alarm bells. McLaren finished outside the points in Bahrain last season as well, yet Norris scored points in the three subsequent races. But then again, McLaren drastically underperformed last season, and the addition of Piastri is supposed to make up for Daniel Ricciardo's failures. In order to get the most out of a talented young duo, McLaren can't be dealing with debilitating mechanical issues.
"For the level of talent and availability we have at McLaren already, we can recover and we can out-develop other teams because what we see in development right now is a very alive car," McLaren CEO Zak Brown said, according to the Mirror.
On the bright side for McLaren, its primary rival Alpine also had a miserable race. – Wile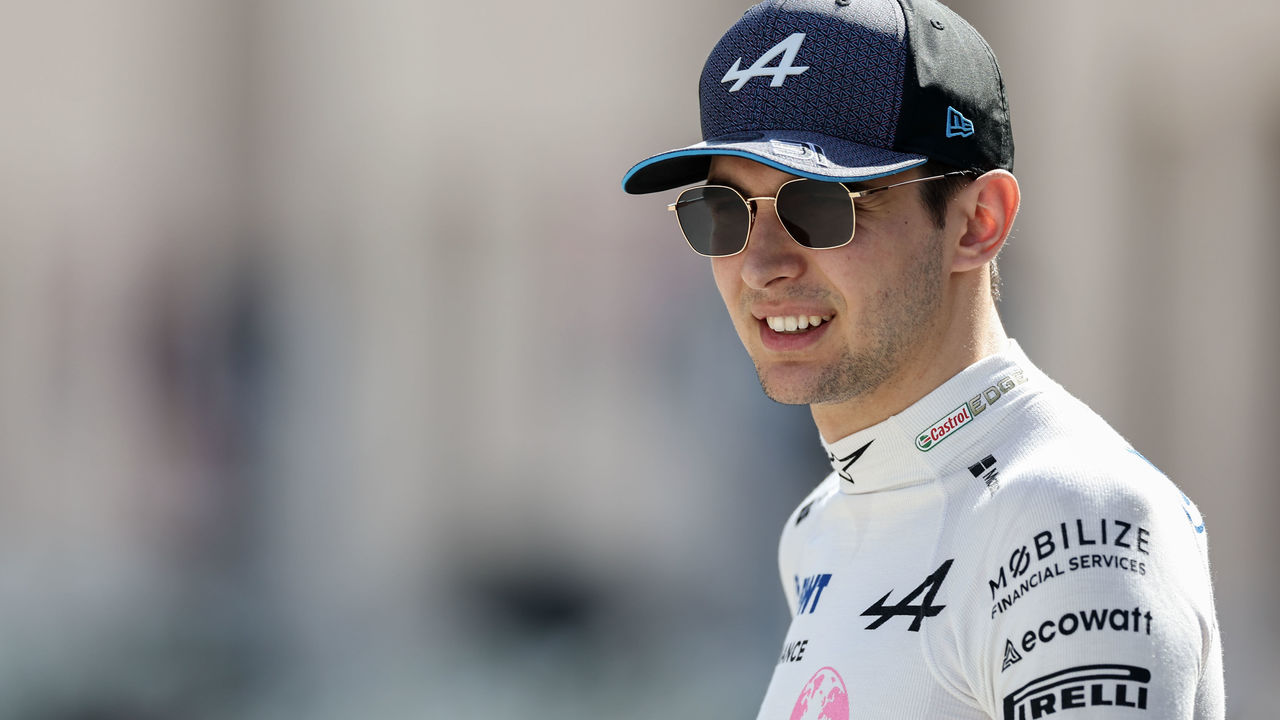 Gasly (somewhat) salvages Alpine nightmare
The silver lining on a brutal opening weekend for Alpine is that the French manufacturer still exits Bahrain with more points than four other constructors – though not by much. With two points, Alpine heads into Race 2 ahead of a trio of teams who were shutout entirely (AlphaTauri, Haas, and McLaren) and one point up on a surprisingly decent-looking Williams. Beating McLaren – who poached Piastri – will always be a nice Pyrrhic victory, but that's really just for Otmar Szafnauer's pride. The fact that McLaren happened to step on more rakes than Alpine is barely a comfort to the fans who watched Pierre Gasly and Esteban Ocon struggle so mightily.
Off the top, qualifying went about as poorly as it could possibly go for the newcomer Gasly. Now being given a shot outside of Red Bull/AlphaTauri's watchful eye, Gasly has to make the most of his opportunity. Instead, he was eliminated in Q1 and then hit with a penalty that dropped him to the bottom of the grid. Thankfully, Gasly salvaged an otherwise forgettable first weekend with his new team by climbing to a ninth-place finish (and narrowly beating old nemesis Alex Albon).
That's where the positives end, though.
"Quite impressive how it was not our day today," Ocon said after serving 20 seconds worth of penalties and eventually retiring.
Ocon's first gaffe was a result of him rolling too far after the formation lap and starting from an illegal grid spot. Not that the extra few inches ahead of the line helped that much, as he was immediately passed by both Valtteri Bottas and Norris in the first few corners.
When he eventually pitted to serve his five-second penalty and get a new front wing, he was dinged even further. First, his pit crew started working on the front wing before his penalty had been fully served, costing Ocon another 10 seconds. Then it was determined he sped in the pit lane, costing him an additional five seconds.
Some struggles are out of teams' control. But these were easily avoidable miscues. Assuming Alpine will look this amateurish again is unwise. But it definitely needs to smarten up soon if it wants to factor into the midfield. – Michael Bradburn