Austrian GP takeaways: Ferrari survives scare, Checo unlucky, midfield battle heating up
Following each race weekend this season, Footballlifestyle's editors will offer their takeaways. We continue with the Austrian GP as the season reaches the midway mark:
Ferrari survives more issues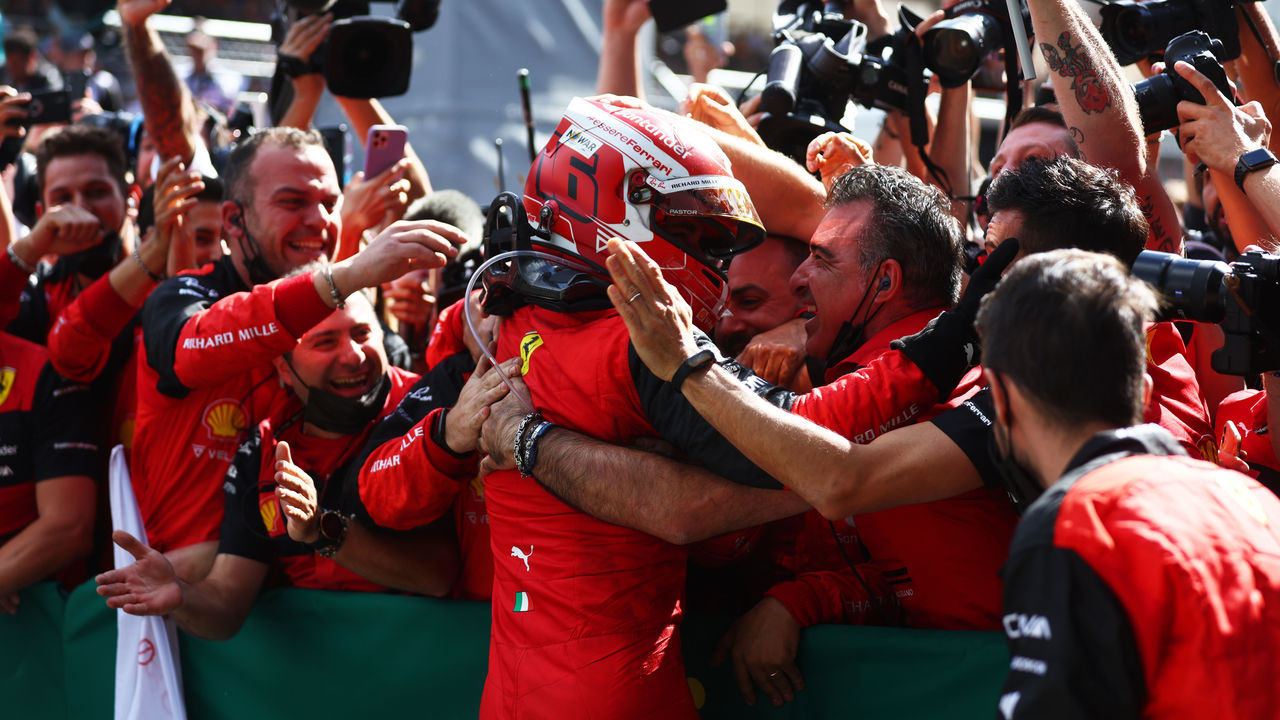 It never comes easy for Ferrari.
The Scuderia nailed their strategy and seemed poised to take home a first 1-2 finish since the season opener in Bahrain before reliability issues once again popped up.
Carlos Sainz – running in third – suffered major engine failure with 14 laps to go. He escaped his car safely – with help from the track attendants – before it became fully engulfed in flames. It's already the fourth retirement of the season for the Spaniard and sixth for the team.
"It was very sudden. I'm a bit lost for words. … It would have been an easy 1-2 today," Sainz said. "A lot of fire. A lot of damage, for sure, which is not ideal."
Almost immediately after Sainz went off, Charles Leclerc came across team radio complaining of an issue with the throttle. Here we go again, right? Luckily for Leclerc, the problem wasn't terminal, and he managed the final laps well to record his first victory in eight races.
"Weirdly, my problem was at the same time as Carlos', but I knew it was a pedal problem rather than an engine problem," Leclerc said. "I definitely needed that one. The last five races have been difficult for me and the team, and it is great to finally get one."
Despite the DNF, Ferrari will likely walk away from the weekend feeling optimistic. It recorded two race wins in a row and moved within 56 points of Red Bull heading to France. The pace of the cars was excellent and there was no infighting over strategy Sunday, either.
"It was important to come back after a few races where we showed potential but did not get the victory," team principal Mattia Binotto said. "It is tinged with disappointment because it could have been even better with Carlos Sainz.
"The drivers did really well, they managed the tires and kept the pressure on Max Verstappen. Fantastic drives from them both. I don't honestly know what the problem was with Charles' throttle, we will have to wait to have the car back to look properly." – Brandon Wile
Checo's bad luck continues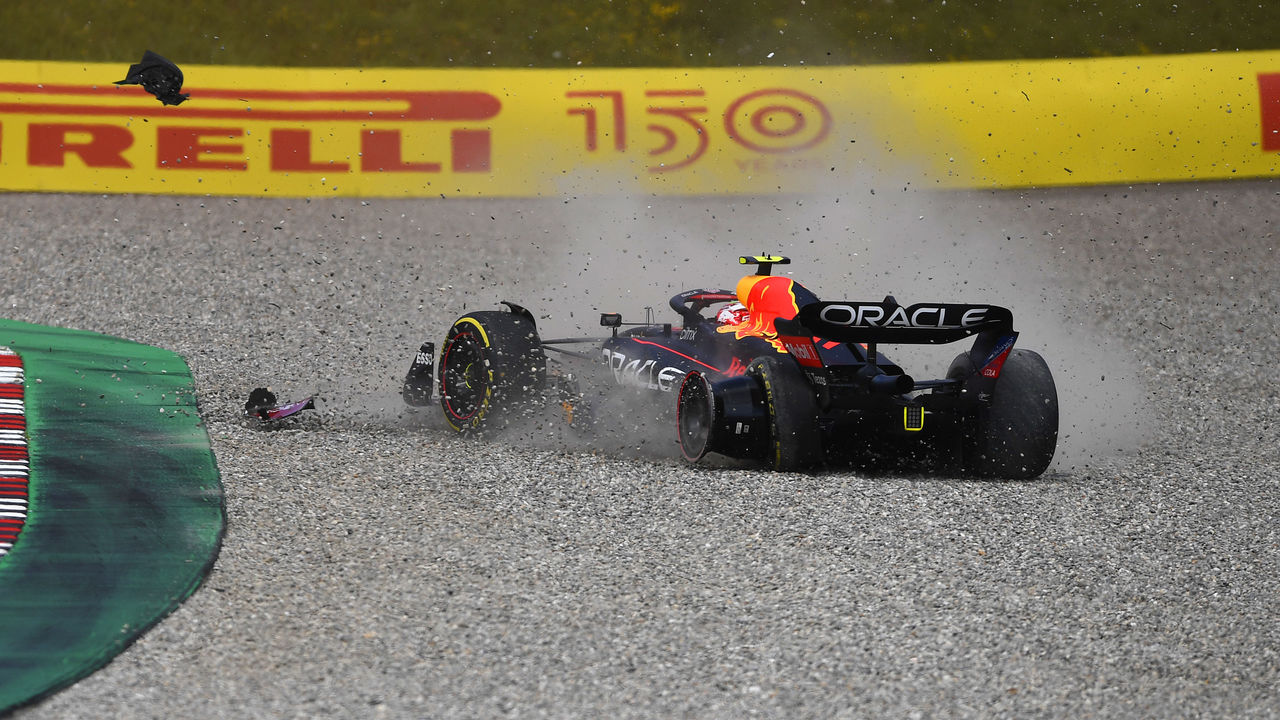 The orange army showed up in droves for Red Bull and Verstappen, but there wasn't much cause for celebration in the garage of Sergio Perez after a disastrous weekend.
For the second race in a row, Perez fell victim to a first-lap incident that was no fault of his own. But, unlike in Silverstone, there would be no recovery drive after George Russell sent him into the gravel at Turn 4. The Mexican driver's race then came to an end on Lap 26 as Red Bull opted to save mileage on his engine with points looking unlikely.
"It is a big shame for us, I clearly felt that we did everything we could to avoid an incident," Perez said, according to Lorraine McKenna of the BBC. "George couldn't control the speed into Turn 4, and we ended up making contact when I was clearly ahead."
Frustration began Friday when a late ruling on a track limits violation dropped Perez out of Q3 and positioned him 13th for Saturday's sprint race. He looked set to make good progress after finishing fifth in the sprint before Sunday's collision.
Silverstone's podium performance is now sandwiched between two DNFs for the veteran pilot. Perez collected just 22 points over the last three contests, which drops him to third in the drivers' standings. Directly in front of him, with a 19-point advantage, is Leclerc, while championship leader Verstappen has a staggering 57-point lead over his teammate.
The future doesn't look great for Perez, either.
"I haven't been as comfortable with (the development of the car) as I was in the beginning," he told The Race's Mark Hughes and Josh Suttill on Thursday.
It's no surprise the RB18's future appears to be more tailored to Verstappen's liking, but Perez falling off the pace is bad news for his own title hopes and the team's defense of the fast-charging Ferraris. – Daniel Valente
3rd straight podium for Hamilton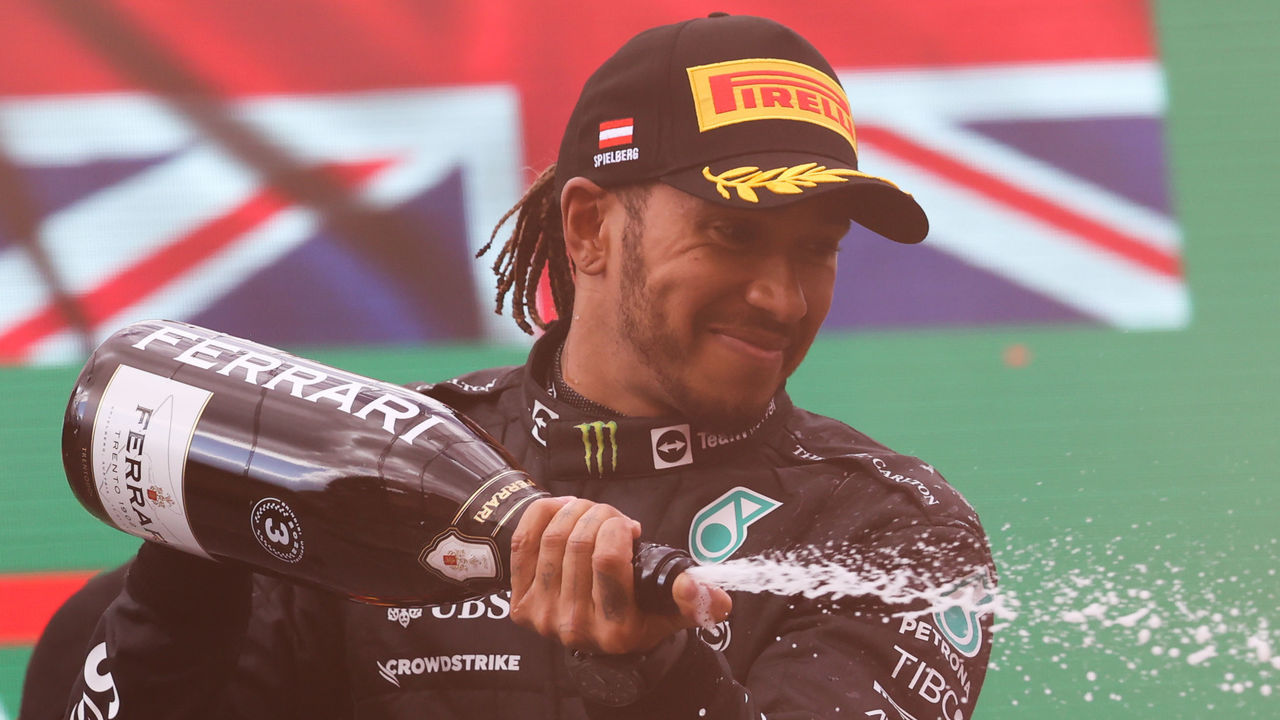 Lewis Hamilton is quietly racking up hardware as he inches closer to reclaiming the top step of the podium.
The Mercedes driver displayed supreme consistency Sunday and positioned himself perfectly to benefit from any drama up the road. With excellent race pace and tire management, Hamilton picked up his third consecutive podium – all from third place – after Perez and Sainz retired.
However, Hamilton's podium shouldn't lose any shine due to his competitors' retirements. Starting the race eighth, the 37-year-old had his work cut out for him following a tricky sprint drive and uncharacteristic crash in qualifying that left his car in need of a serious repair.
The result is another encouraging sign for Hamilton, who showed impressive pace in Silverstone but didn't expect to be as strong in Austria.
"This is a great recovery for us as a team to get a third and fourth, so we have to keep our heads down and keep chipping away," Hamilton said, per McKenna. "We're slowly eating into the guys ahead, but we have to keep going."
Mercedes' two-part equation has worked wonderfully of late. The factory and team are providing key upgrades in addition to understanding more of the car's performance window, while Hamilton and Russell have been brilliant at maximizing the W13.
There's also cautious optimism that the good times could continue for the seven-time world champion. Coming up on Formula 1's calendar is a date with Paul Ricard, a traditional track like Silverstone and Barcelona that may play to Mercedes' strengths. – Valente
Alpine ready to battle McLaren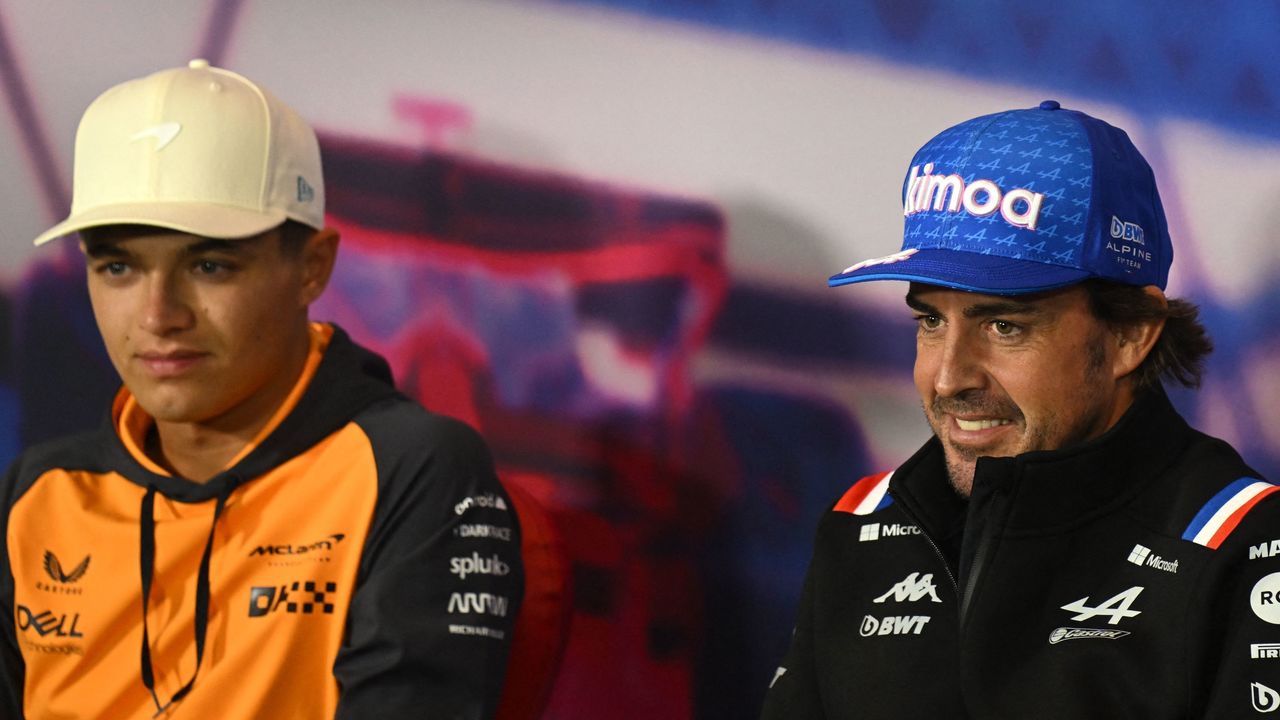 "El Plan" is in motion.
Alpine is surging, with Austria signaling the sixth consecutive race in which Fernando Alonso or Esteban Ocon finished inside the top seven; Ocon crossed the line fifth at the Red Bull Ring, matching his illustrious teammate's accomplishment from last weekend at Silverstone.
"It was awesome. It's a perfect weekend, I think, for us," a jubilant Ocon said after his best finish of 2022. "There is nothing better that we could have done. … We are going to France with good confidence!"
Alonso, meanwhile, showed off the raw pace of his A522, roaring back to finish 10th after starting P19; the Spaniard dropped to the back of the grid after mechanical issues ruled him out of the sprint race and forced the team to fit new parts and take an engine penalty. He was particularly strong at the end of Sunday's 71-lap race, using a pair of late overtakes to slingshot himself into the points.
He also provided the most entertaining moment of the weekend, channeling his inner Dikembe Mutombo and wagging his finger at Yuki Tsunoda while overtaking the young Japanese driver. The 40-year-old remains feisty as ever.
The 13-point haul allowed Alpine to draw level with McLaren for fourth in the constructors' standings, teeing up what should be a riveting scrap throughout the remainder of the season as erstwhile foes fall by the wayside.
Alfa Romeo, hindered by reliability issues, hasn't been able to build on Valtteri Bottas' strong start to the year; Haas appears on the rise but lacks consistency; AlphaTauri and Aston Martin are enduring miserable campaigns after coming into 2022 with high expectations; and Williams, unable to call on Russell's services, will be lucky to break double digits in points.
A home race in France could be the perfect opportunity for Alpine to establish itself as the undisputed leader in the unofficial "best of the rest" rankings. – Gianluca Nesci
Haas moving in 'right direction'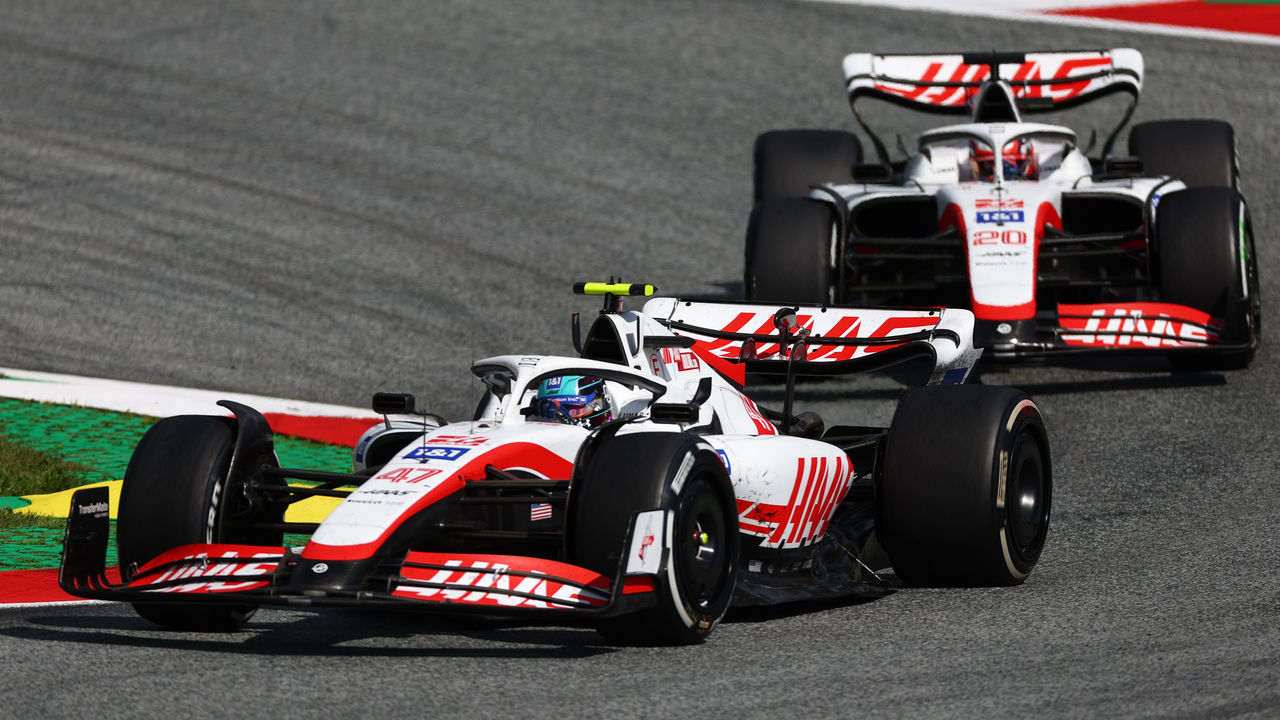 Momentum finally seems to be swinging in Haas' direction.
Mick Schumacher finished sixth, securing back-to-back top-10 finishes after waiting 32 races to grab his first F1 points. Teammate Kevin Magnussen finished eighth, his second-best result of the season.
"I think we're all going in the right direction," Schumacher said. "We have scored points at Silverstone, we scored points today, we could have scored points yesterday. I think it shows a steep (upward) trend, which is really what we're after. Hopefully, we'll be able to keep it at Paul Ricard."
Austria marks the second straight weekend both Haas drivers scored points. The car looked very fast – especially on the straights – despite not bringing any major upgrade packages yet.
"Their straight-line speed is crazy," Hamilton said over team radio when trailing both Haas drivers earlier in the race.
Haas now finds itself seventh in the constructors' standings, ahead of AlphaTauri, Aston Marin, and Williams. The team's 34 points are already more than it recorded in the previous three seasons combined, and it eclipses the 28-point total set in 2019. While Haas doesn't appear likely to break its team-record 93 points set in 2018, it has a real chance at recording the second-best finish in team history if it can maintain these encouraging results. – Wile