4 factors that will decide Game 7 of Celtics-Sixers
Whoever wins the second-round series between the Philadelphia 76ers and Boston Celtics is going to be heavily favored to represent the Eastern Conference in the Finals. The Sixers squandered a golden chance to close out the Celtics on their home floor Thursday night, and now this back-and-forth tussle is headed back to Boston for a massive Game 7 on Sunday.
Here are four factors that will determine which East juggernaut is able to advance to play Miami.
Boston's big adjustment, Philly's potential counter
The biggest overarching tactical shift in Game 6 was the Celtics reverting to last year's double-big starting lineup, slotting Robert Williams III in at center and bumping Al Horford down to the four. The two had shared the court for just seven minutes in the series up to that point.
Williams, who played an enormous role in Boston's 2022 Finals run but has been hampered by knee issues, averaged only 18.1 minutes per game through the first five games of this series. In Game 6 he played 27, and his team needed every one of them. The Celtics were a plus-18 in those minutes, and a minus-nine in 21 minutes with Williams on the bench.
On offense, he provided the kind of roll gravity and above-the-rim finishing the Celtics otherwise lack. On defense, Boston kept Horford on Joel Embiid and stuck Williams on P.J. Tucker so he could play free safety and short-circuit Philly's actions at every turn. In 19 minutes with both him and Horford on court, the Celtics held the Sixers to a miniscule 80 offensive rating.
The Sixers eventually realized they could diminish the defensive impact of the two-big look by yanking Tucker and forcing Williams to defend a legitimate offensive threat, rather than allowing him to rove to his heart's content. Swapping Tucker out for Georges Niang early in the third quarter confronted the Celtics with a difficult choice. They could have Williams continue to defend a wing, but in this case one who could shoot, which would make it much less tenable for him to help at the rim; or they could move him onto Embiid, which would keep him involved in the central action as opposed to letting him get spaced out of the play.
They opted for the latter, and if it wasn't already clear that Williams is far more disruptive as a back-line helper than he is as a ball-screen defender, it became abundantly so almost immediately after the substitution was made. In the span of about 80 seconds, the Sixers got an Embiid short-roll jumper, a James Harden and-one layup, and an Embiid dunk out of pick-and-rolls involving Williams as the screen defender. After the last one, Williams was pulled for Derrick White.
Those plays weren't necessarily Williams' fault (though he got juked pretty badly on Harden's layup); they just demonstrated the impact of taking him out of help position. And getting him off the floor was a huge win for the Sixers, who ultimately put together a 23-8 run after subbing in Niang and seemed to have taken control of the game. They hadn't, of course, and in the fourth quarter Williams was back out there blotting out the rim, this time while helping way off of the ice-cold De'Anthony Melton.
So the question is: will the Sixers roll out a starting lineup change of their own? That's no easy decision, considering how important Tucker is to their defense, their offensive rebounding, and their overall toughness. It's not as if they've scored like gangbusters with him on the bench this series, anyway (102.6 offensive rating). But Niang is a terrific shooter who has held up surprisingly well defensively in this matchup so far, and Melton, despite clanking more wide-open threes than Tucker did in Game 6, is still a more trustworthy long-range weapon.
Maybe just using Tucker in more dynamic ways – like as a handoff trigger for Tyrese Maxey, rather than a stationary corner shooter or dunker-spot scavenger – would do enough to pull Williams away from the rim and dampen his impact. Tucker did show an ability to be a credible DHO hub and short-roll playmaker last year in Miami, including in the playoffs against these very Sixers.
There's no perfect solution, but one way or another, Philly has to find a way to counteract Boston's big lineup.
Jekyll-and-Hyde Harden vs. Boston's PNR defense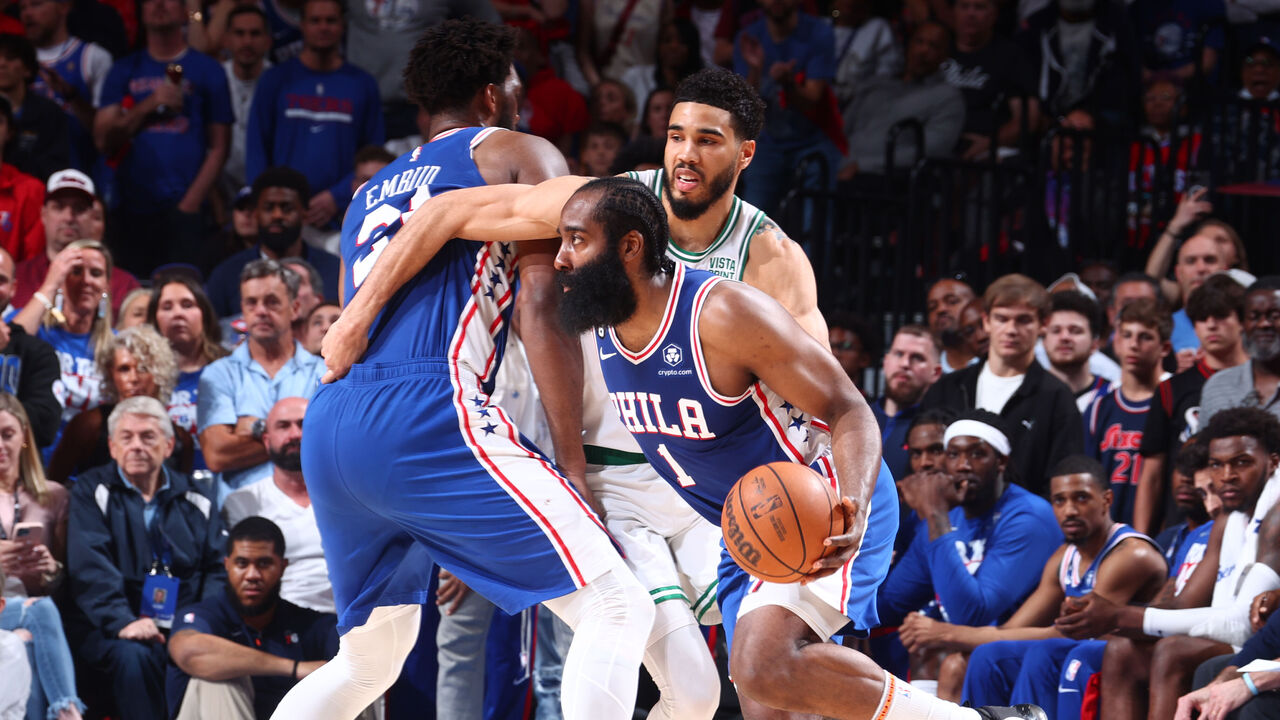 This series has been an all-time roller-coaster ride from His Beardness. He authored probably the two best and most consequential playoff performances of his career in Games 1 and 4, pouring in a combined 87 points on 33-for-53 shooting and drilling game-winning threes in the last 20 seconds of both contests. He didn't have that same scoring juice in Philly's big Game 5 win, but he picked his spots and was masterful as a table-setter. In the other three games, though? He managed just 41 total points on 9-for-44 shooting, including 2-for-19 from deep.
Harden's Game 6 (13 points, 4-for-16 from the field, nine assists, five turnovers) was his loudest dud of the bunch, not only because of the situation and the stakes but because of how he was being guarded. After getting picked apart by the Harden-Embiid pick-and-roll in Game 5, the Celtics tweaked their coverage, making a point of keeping the screen defender stapled to Embiid rather than holding to provide help on Harden.
The schematic tweak was enabled largely by Boston's aforementioned lineup change, which let the roving Williams do the work of deterring Harden at the basket while Horford stayed locked in on Embiid. It was also enabled by the fact that Philly shot 6-for-25 on wide-open threes, ensuring that the Celtics would get away with their aggressive late help rotations.
The Celtics robbed Embiid of most of his short-roll comfort food, forcing him to forage for buckets in the post and in isolation. In doing so they gave Harden a runway to the middle of the floor, but he struggled to get comfortable there without his bread-and-butter pocket-passing read. He eventually diagnosed the scheme but it didn't matter because of all the bricked threes and his own inability to make an impact as a scorer. When faced with a wave of back-line help, including from the strong side, he opted to defer.
In a vacuum, Harden made few objectively bad decisions against that coverage. But the Sixers needed more assertiveness from him in Game 6, and they'll need him to put more pressure on the Celtics' defense and make them reconsider their tactic in Game 7. Getting all the way to the rim might be tough with Williams back there, but Harden needs to keep hunting mid-rangers and floaters when Boston invites him to probe the in-between zone. The extent to which he stopped trying to challenge the Celtics at the rim and eventually stopped looking for his own shot entirely – even when Williams was on the bench – was enervating, to say the least.
He chalked his rough performance up to the officials, who, according to him, copped to missing a couple calls that would've sent him to the free-throw line. Maybe it's understandable that Harden would be reluctant to keep driving after going to the rack a few times early, drawing contact, and ending up on the floor with nothing to show for it but a Celtics' runout the other way. But that can't be his mentality if the Sixers hope to survive.
Marcus Smart's offensive orchestration
It's no secret that last season's Defensive Player of the Year – the first guard to win the award in nearly three decades – helps Boston prevent opponents from scoring. Smart's offensive contributions are far less heralded, for obvious reasons. His inconsistent shooting and the sometimes-questionable shot selection that compounds it tend to overshadow the great work he does as a floor general.
While Smart's shoot-or-pass decision-making can and will go haywire at times, the Celtics' offense almost always flows better when he takes the initiating reins from their two high-scoring wings. We got a perfect illustration of that in Game 6, during which Jayson Tatum spent 45 minutes struggling through an epic shooting funk and Jaylen Brown got top-locked and denied the ball wherever and whenever possible. Smart put his team's wheezing offense on his back and carried it just far enough that the Celtics' airtight defense and Tatum's timely rediscovery of his stroke could get them across the finish line.
In Games 1 through 5, Smart averaged 56 touches and 3.5 minutes of possession per game. In Game 6, he got 70 touches and spent 4.6 minutes with the ball in his hands. He wound up with a team-high 22 points and seven assists, and equaled Williams as a game-best plus-18 across 41 dogged minutes. The scoring burst was obviously huge – he seemed to hit a timely three or burrow his way to the basket any time Boston was firmly rooted in mud – but just as important was his ability to dictate tempo and keep the offense organized.
He helped Tatum shake loose late in the fourth by working both ends of the pick-and-roll with him. He also played a huge part in making the two-big lineup viable offensively, because his ability to jail Sixers defenders on his hip – and probe patiently enough to engage the screen defender – allowed Williams to creep behind the defense and get up for lob finishes. Their two-man game became one of Boston's most reliable sources of offense.
Smart isn't going to do that every game, especially not the scoring part, but he made a strong case for the Celtics to continue to tilt more of their offensive creation duty in his direction. If he can reward them with comparably savvy orchestration in Game 7, they'll very likely prevail.
Maxey's defense vs. mismatches
Coming into the series, Maxey seemed like he'd be a pressure point the Celtics would be able to hit consistently. Their offense is built around two wing-sized shot-creators, so mismatch-hunting is a central component of it, and Maxey is the type of small guard who tends to get hunted in the postseason.
Tatum and Brown have indeed dragged Maxey into a lot of screening action, looking to generate advantages by forcing the Sixers to either switch themselves into the mismatch or put two on the ball to avoid it. But they haven't had as much success doing so as might've been expected. Philly has largely opted to give the switch in those scenarios and Maxey has battled, bodying up those much bigger wings and consistently denying them easy looks.
Even when running inverted pick-and-rolls at Maxey has yielded good results for the Celtics, Maxey has made them work for everything. He gave a hell of a contest on this Tatum three late in Game 6, and it said a lot about his faith in his ability to handle the matchup that he actually called for a pre-switch with Niang to make sure he was the one who ultimately wound up guarding him on an island:
Maxey being viable defensively is a huge deal, because Philly's offense would likely die without the oxygen he pumps into it. Whether he's playing off-ball and attacking the gaps created by Embiid and Harden or roasting drop coverage as an on-ball creator, his downhill attacking and shotmaking are indispensable. He is the Sixers' only insurance against another Harden clunker.
The Celtics have other soft spots they can look to attack (Harden, Niang), but given what an important X-factor he is, it might behoove them to keep pressing the issue and make Maxey work at the defensive end.