Harden and the Sixers still need each other, but will they stay together?
The Philadelphia 76ers have sure undergone a lot of changes over the last few years just to end up in the exact same spot.
Since they broke out on the strength of Joel Embiid's first full season in 2017-18, the Sixers have won more regular-season games than everyone but the Bucks and reached the second round of the playoffs five times. Two first-round picks have come and gone in that span, along with two general managers, two coaches (farewell, Doc), one Jimmy Butler, and several sets of role players. Each iteration of the team has gone home before the conference finals.
James Harden is the latest would-be complementary star who seemed capable of getting Embiid and the Sixers over that hump. The trade that brought Harden to Philadelphia at last year's trade deadline remains an absolute slam dunk, and it's hard to quibble with his fit or his production on balance since the move. But another desultory performance in the team's latest season-ending loss leaves some pressing questions about what the next phase of his career is going to look like and how much of it (if any) will be played in a Sixers uniform. Harden has a $35.6-million player option for next season, and odds are he'll decline it to become a free agent.
There's obviously good reason for Philly to try and bring him back. Until things went up in smoke at the tail end of the second-round series against Boston, Harden had given the Sixers everything they'd long wanted and needed in a point guard. He led the league in assists and helped Embiid finally break through and claim his first MVP award. The two of them honed the NBA's deadliest pick-and-roll combination, with Harden spoon-feeding Embiid all the short-roll jumpers he could eat.
Embiid still did a ton of the heavy lifting with face-up isos, but in general, he was able to reorient his game around Harden's on-the-move touches and lean away from the arduous post-up-heavy style that's defined most of his career. Harden-to-Embiid was the most prolific assist combination in the league by far, with 89 more than the next-highest duo, according to PBP Stats. The Sixers posted a 120.7 offensive rating and outscored opponents by nine points per 100 possessions with the two of them on the floor during the regular season.
Harden's playmaking wasn't just a boon to Embiid but to the whole Sixers offense, which had been starved for high-level off-the-bounce creation throughout Embiid's entire career, save for the six months Butler was around. The ascendant Tyrese Maxey also benefited greatly from Harden's passing, namely the hit-aheads that fueled his rubber-burning transition game and the half-court skips that allowed him to rev up and attack scrambling defenses from the weak side.
On the flip side, Harden's scoring, particularly on the interior, became much more of a struggle. His 25% rim frequency was the lowest of his career, and his 57% conversion rate on those rim shots was his worst mark since his rookie season, per Cleaning the Glass. That plummeted to a catastrophic 38% in the playoffs – the worst of any player to attempt more than seven shots inside the restricted area. That limitation became particularly problematic when the Celtics tweaked their pick-and-roll coverage in a way that took away his bread-and-butter passing reads and essentially invited him to drive.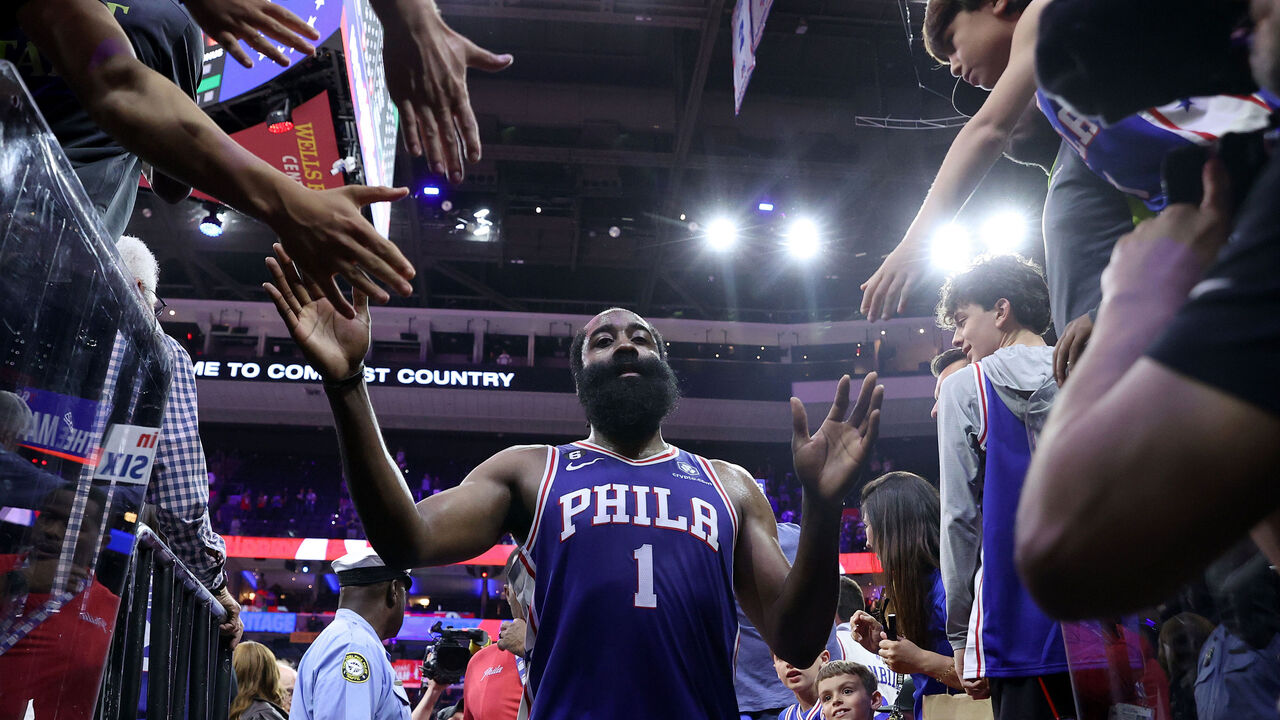 To a certain extent, Harden was able to adapt his game this season to suit his environment and mitigate some aspects of his decline; on top of embracing distributor mode and fully deferring to Embiid as the team's No. 1 option, he started seeking out his mid-range step-back in a way he hadn't done in years, accounting for the waning downhill burst that made it harder for him to get all the way to the cup. He had one of the best 3-point shooting seasons of his career (thanks in part to his newfound willingness to shoot off the catch) and still managed a true shooting percentage over 60%.
Other things didn't change, though. While he did start to make use of Embiid's on-ball magnetism as a spot-up shooter, he still took more than 75% of his threes off the dribble during the regular season and more than 80% in the playoffs. There were still a few too many instances in which he tried to attack the front end of switches instead of looking for Embiid against mismatches in the post. He remained a one-man transition defense wrecker, frequently compromising the Sixers in that area by casually jogging back after flailing for a whistle on a drive.
And then, of course, his season ended in all-too-familiar fashion: with a nine-point, five-turnover dud in which he seemed to check out as soon as Boston started to pull away.
It's hard to know how to characterize the Sixers' postseason. It feels strange to call it a disappointment, considering they took care of business in a first-round sweep and then pushed a superior and heavily favored Celtics team to seven games despite Embiid suffering yet another ill-timed injury that cost him Game 1 and hindered him for the remainder of the series. But it also feels impossible to view it as anything other than a disappointment, considering Philly blew a golden chance to slay its demons and close out Boston at home in Game 6 and then got humiliated on the road in Game 7, with putrid offensive performances in both games.
It's even harder to know how to characterize Harden's postseason specifically. The Celtics series wouldn't have gotten as far as it did if not for his turn-back-the-clock heroics in Games 1 and 4, when he poured in a combined 87 points on 33-for-53 shooting, including a pair of game-winning threes. Strip out those games, though, and Harden averaged 13.4 points on 25.4% shooting in the series.
His performances in those final two games were particularly galling considering the way the Celtics were defending him. They essentially sold out to take away Embiid on the roll, which meant opening the velvet rope for Harden to waltz into the middle of the floor. But he couldn't get comfortable there and failed to solve Boston's second level of defense. He scored a total of 22 points on 7-for-27 shooting with 16 assists and 10 turnovers across Games 6 and 7.
Embiid, it must be noted, was equally disappointing in those games, and this loss will stick to him as much as it does to Harden. Embiid was also playing through a knee injury and facing a defense that game-planned to slow him down. Harden was supposed to provide the pressure release in that kind of scenario, and while he did so early in the series, he very much couldn't once elimination games came into play.
Those great numbers the Sixers compiled when the two of them shared the court during the season? In the Celtics series, they registered a meager 101.3 offensive rating and got outscored by 12.3 points per 100 in the pair's minutes. So, yeah, it's probably fair to question the postseason viability of this partnership.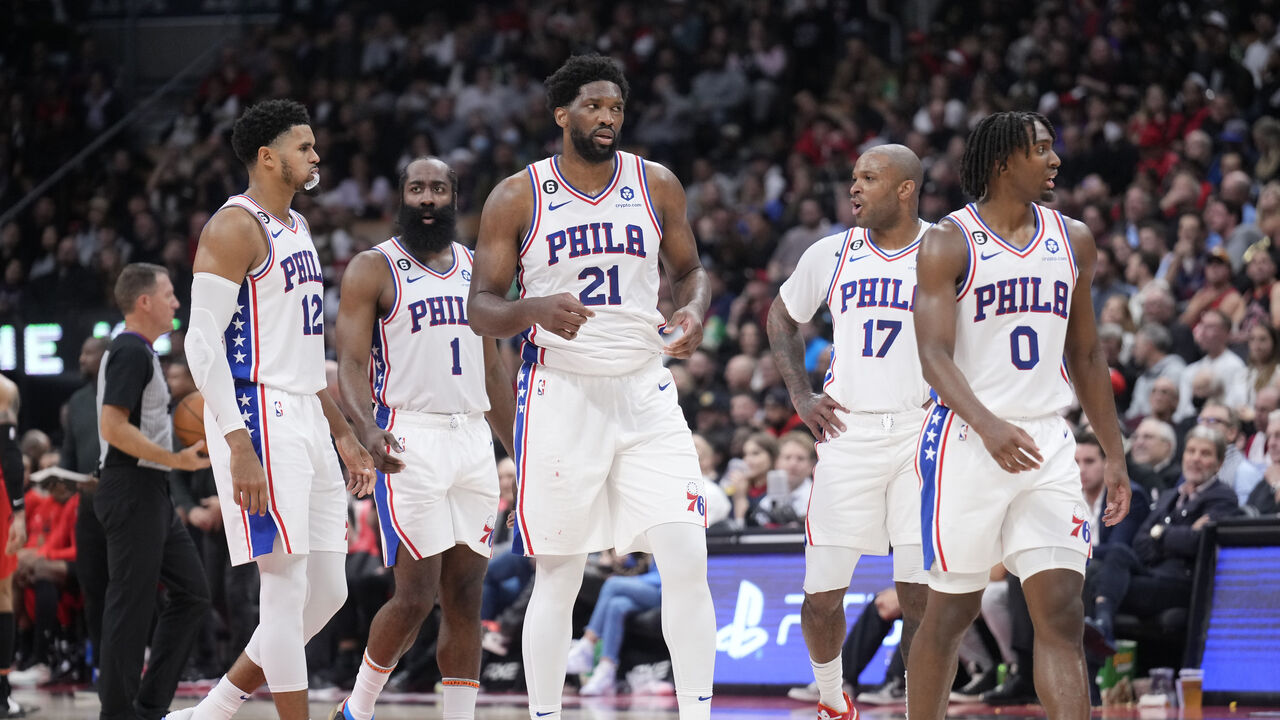 It's also fair to wonder what the shelf life of this core group will be if Harden and the Sixers are indeed able to reach an agreement this offseason. He's going to turn 34 in the summer, and for all his remaining ability, he's plainly in decline. He's also getting less durable, having missed an average of 23 games over the last three seasons after missing no more than 10 in any of his first 11 years in the league. Embiid is squarely in his prime, but that prime might have an earlier expiry date than most because of his sheer enormity and all the accumulated wear and tear his body has sustained. He gets injured in the playoffs literally every year.
P.J. Tucker is still surprisingly useful at 38, but the bill is assuredly going to come due on the last two years of his full mid-level deal. Maxey's star is on the rise, but he figures to get majorly paid right when Tobias Harris' contract comes off the books, so if Harden is retained there likely won't be a path to financial wiggle room in the near future. If the Sixers weren't good enough this season, it's hard to see how they're going to be good enough next year or the year after that or the year after that.
At the same time, every season is different, and the landscape around the Sixers is inevitably going to shift. The Celtics probably aren't going anywhere anytime soon, but the Bucks might be inching toward the end of their contending cycle, the Heat's devil magic is probably going to run out at some point, the upstart Cavs might be fatally flawed, and no other young team is currently banging down the door trying to break into the inner circle of East contenders. The window is still open for Philly.
The team also doesn't have a way to replace Harden, and taking any kind of short-term step back feels like a nonstarter with Embiid's clock ticking. If the Sixers are to take advantage of that open window, Harden probably needs to be there helping them wriggle through it. Of course, that won't entirely be up to them; it's Harden's free agency, and he may not have any interest in sticking around. If there was truth to recent reports about his unwillingness to play for Doc Rivers again, then Rivers' ouster may help facilitate a renewed commitment. But the Rockets rumors that have been swirling all season refuse to go away.
It'd be strange to see a Hall of Famer like Harden opt to spend the next and possibly last phase of his career on a rebuilding team rather than on a contender with the reigning MVP, but he obviously has a connection to Houston, and maybe spending his twilight years in a city he loves is all that matters to him. Maybe he likes the idea of being a veteran who can help a disorganized young team get its bearings. Maybe he just wants to get back to dominating the ball and scoring 30 a game. Or maybe he really believes in Jalen Green and thinks that the addition of a top-three pick and Ime Udoka on the sidelines will make the Rockets competitive in a hurry.
It still feels like, on a professional level, sticking it out with Philly for at least a little while longer would be the right move and represent Harden's best chance at legitimate postseason redemption. He might have to continue adapting and cede more ball-handling responsibility to Maxey, but that feels like a worthwhile trade-off if it means continuing to contend. Houston will probably be there as an option for him a couple years down the road.
In short, the Sixers and Harden still need each other for now, and a short-term deal could make a lot of sense for both sides. It'd help Philly stay in the hunt and hopefully keep Embiid happy, before allowing the team to potentially open up some cap space and chase a younger star to complement him and Maxey down the road.
Ultimately, one of the most interesting and consequential mutual decisions of the offseason rests on what Harden wants, what Philly needs, and whether those two things are compatible.